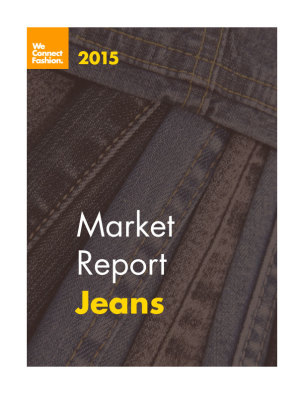 USA Jeans Market Research Report
With high-end jeans struggling, fast-fashion retailers pushing lower-priced alternatives and many retailers turning to denim as a promotional weapon during a back-to-school season marked by poor traffic, the average price of a pair of women's jeans dropped 3 percent to $25.02 from $25.86 in the 12-months ended in August 2014.
Although a smaller business and one less affected by fashion preferences and more by replacement, men's jeans sales traveled a similar, if slightly less dramatic, trajectory. Dollar sales declined 5 percent in the 12 months through August 2014 to $5.4 billion and units pulled back 4 percent to 207 million. Why the decrease in sales? One word: athleisure. . .
Now more than ever, information is key when making any kind of business decision. Our fashion editors have been building reports specific to the fashion industry for over 10 years and this report will give you a strong overview of where the market stands.
SO, WHAT'S INSIDE ?
The USA 2015 Jeans Market Research Report provides a comprehensive overview of the entire US jeans industry in one superb, value-price package. This report is ideal for assisting in business plan development, major business decisions, new product design and launches and for identifying key industry players, marketing vehicles and entry barriers.
HOW IS THE REPORT SENT?
Reports are sent as a PDF attachment to your email address within 1 business day after processed payment. We do not print nor ship.
All research is conducted secondary and from information that can be found in public domain. Our expert fashion editors compile this information into comprehensive market reports, supplying your business with the intelligence it needs.