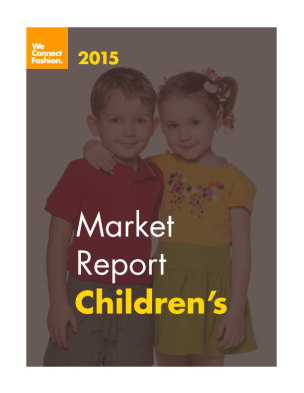 USA Children's Market Research Report
As Gen-Xers and Millenials embrace and enter parenthood, childrenswear is getting increasingly cooler! Spend per child is rising as adults become parents later in life and the average family size shrinks.
As celebrities enter parenthood, the spotlight is on them and their mini-me-fashioned children. Having kids in expensive, trendy fashions is a new status symbol. Childrenswear has been more resilient than either womenswear or menswear during the dark recession years as clothing needs couldn't be put off as little one got bigger. While fears continue to rage that the falling birth rates will negatively effect childrenswear, the business world should not discount the economic opportunities of older parents (with a larger net worth than younger ones) spending more on the children they have, even if it is fewer than in the past.
Sales of US children's apparel topped $57 billion in 2013 and is projected to maintain a +4% CAGR from 2014-2019.
Now more than ever, information is key when making any kind of business decision. Our fashion editors have been building reports specific to the fashion industry for over 10 years and this report will give you a strong overview of where the market stands.
SO, WHAT'S INSIDE ?
The USA Children's Fashion Market Research Report provides a comprehensive overview of the entire US children's industry in one superb, value-price package. This report is ideal for assisting in business plan development, major business decisions, new product design and launches and for identifying key industry players, marketing vehicles and entry barriers.
HOW IS THE REPORT SENT?
Reports are sent as a PDF attachment to your email address within 1 business day after processed payment. We do not print nor ship.
All research is conducted secondary and from information that can be found in public domain. Our expert fashion editors compile this information into comprehensive market reports, supplying your business with the intelligence it needs.