Urban Warrior Women's Dress Trends
Fall / Winter 2008-2009 - In hiding or ready for battle, dress this fall is both gutsy and guarded. Collars creep up and materials expand, creating a look that envelops. Bands, belts, and metallics create warlike undertones. Urban Warrior presents a much needed counterbalance to the girlieness that has saturated the market in recent seasons. (Nina Ricci, left. Gareth Pugh, middle. www.turbosquid.com, right.)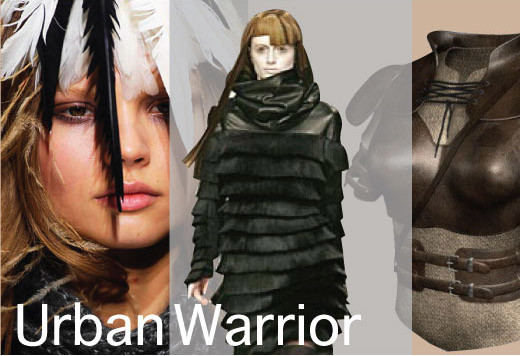 This armor is not just for the battlefield. Fitted bodices (Lewis Cho, bottom right) with metal accents evoke images of courageous female warriors (Marios Schwab, top right), and designers channel medieval times with cuts that mimic the knightly plate armor that characterized this era (Mel en stel, middle). High collars offer added protection (Shelley Steffee, far left).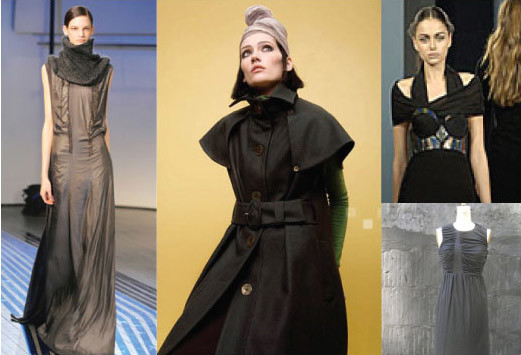 For the warrior who prefers a defensive strategy, pieces that nestle and envelop offer an appealing alternative. Plush furs surround and conceal the body (Roksanda Ilincic, top left) (Jean Paul Knott, far right), while woven fabrics offer similar advantages (Ramon Gurillo, bottom left) (Giles, middle).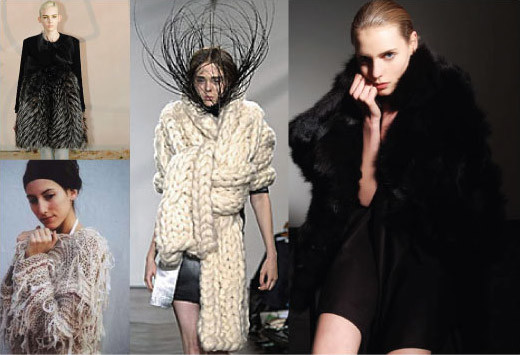 New constructionist wrapping also offers protection. Delicate, white fabrics channel organic, cocoon-like shields (Lunar, far left), while heavier materials, paired with straps and banding have more of a futuristic protective flair. Hoods offer added protection (Jessup, middle).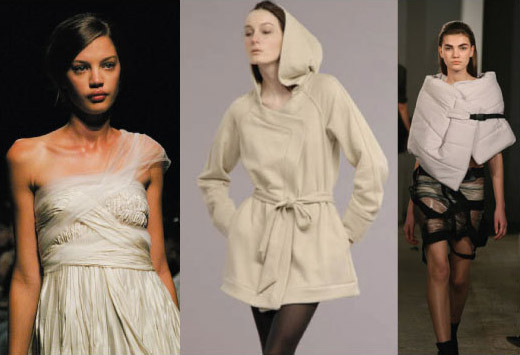 This catalog was created for hardworking fashion merchandisers devoted to their consumer and their well-stocked boutiques. Above is a small tasting of extraordinary labels promised to bring any shop success. For contact details on manufacturers shown, conduct a keyword search.