Top Footwear Styles, Men's FW 2014-2015 Report
There is a wide range of footwear options for men in the slip-on and boot categories for Fall / Winer 2014-15. This report presents a round-up of picks from the Fashion Snoops editors, including ankle boot, brogue boot, durable derby, loafers, monk strap & monk strap boot, saddle shoe and trainers.
The Key Footwear Silhouettes
ANKLE BOOTS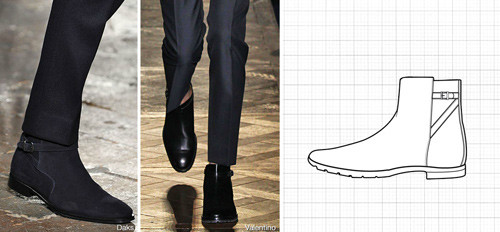 The ankle boot was one of the strongest footwear items for men this season. The silhouette can go from casual to formal, with brands like Hardy Aimes choosing a low-cut combat boot to pair with suiting. Valentino and Daks alluded to a slight moto influence with their use of buckles and strap to toughen the boot.
BROGUE BOOT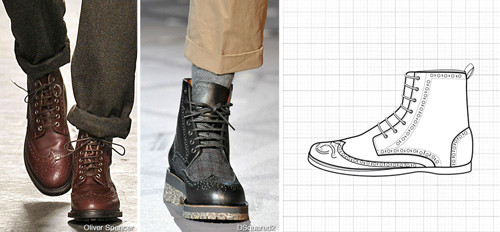 One of the strongest boot options for men is the brogue boot. Design elements like wings, wingtips and side perforations are taken from a brogue shoe and put on the combat boot shape. Variation is brought to the style through mixed materials, burnished treatments, brighter colors and contrast soles.
HIKING BOOT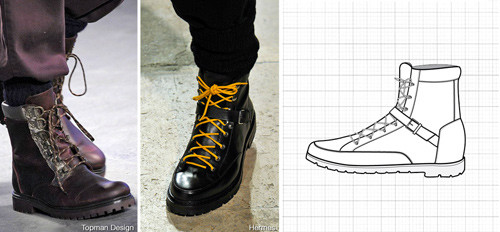 Hiking boots continue to trend with slight variations. Speed and d-ring lacing remain but are not as prominent as in the past. Topman Design provides great commercial direction for this style, appealing to both the contemporary and young men markets. We also love the simplicity of Hermes' hiking boot for fall/winter.
LOAFER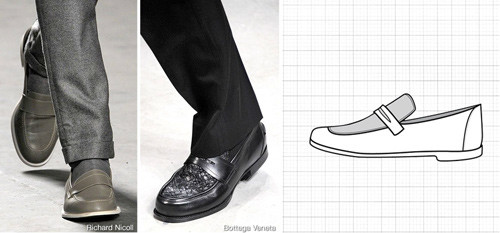 Loafers have proven themselves as a versatile footwear option for men through its ability to transition through all seasons. The winter loafer will see updates like a thick treaded sole (Prada and Versace), while those dapper English elements like tassels still appear (Oliver Spencer). We love the focus on the top, whether just a contrast or a technique like woven leather (Bottega Veneta).
SLIPPERS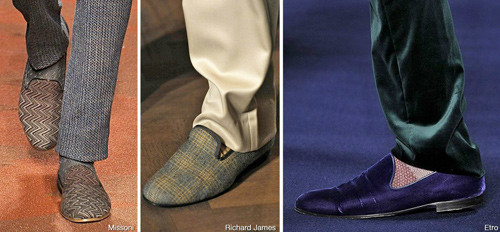 Slippers are more luxurious than the monochrome styles of past seasons. Prints and patterns such as plaid, zig-zags and optical stripes, join lush materials like velvet to highlight this dandy footwear option.
Purchase the Full Report
F/W 2014-15 Key items, styles & sketches for women and men's accessories are now available for purchase through the new WCF digital Trend Shop. These concise trend reports are here to guide you through the most important accessories trends of the season for jewelry, eyewear, neckwear, legwear, gloves, belts, headwear, handbags & footwear - as forecasted by the Fashion Snoops editors.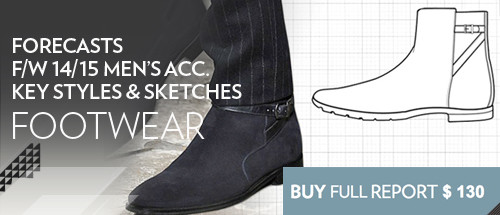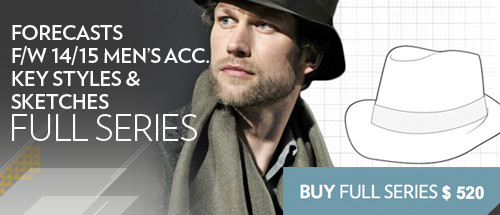 Each key item report includes an overview, written analysis, an index summarizing top styles, the top trends selected for each item, along with runway reference images. Also included with each key item, is an archive of downloadable sketches, representing all the top trend callouts from the most recent New York, Paris, London & Milan runways.