The Top Must-Have Colors, Menswear FW 2014-2015 Report
Confirmed by the runways, the color forecast for F/W 14/15 places a renewed emphasis on elevated and updated basics for the Menswear market. The dominant palettes illustrate a wide array of themes, with plenty of luxe classics that can translate to both cityscapes and country scenes.
The Dominate Apparel Color Direction
The dominant palettes illustrate a wide array of themes for the menswear market- Victorian gentlemen, rugged aviators, space-age activewear, and plenty of luxe classics. Super saturated jewel tones are the most important, while a slew of industrial hues that could easily be the new neutrals pointed towards a more refined version of workwear and time-honored uniforms. Finally, eye-popping brights, Sci-Fi metallics, and a range of neutrals add a surprising novelty to winter assortments.
PINE GREEN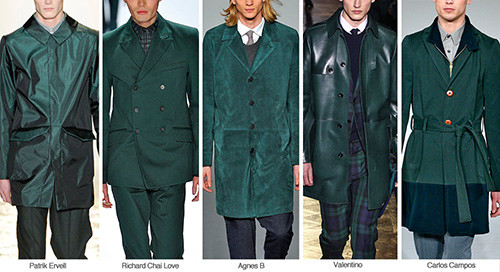 As one of the most essential key colors for F/W 13, pine or bottle green was part of the importance of jewel tones. Often styled with inky blue and claret red, pine green was the perfect choice for colored leathers, velvets, and corduroys. With a subtle blue cast, it looks masculine and formal at once. In New York, the shade took on a much more active look for anoraks, quilted blazers, and color-blocked jackets.
CLARET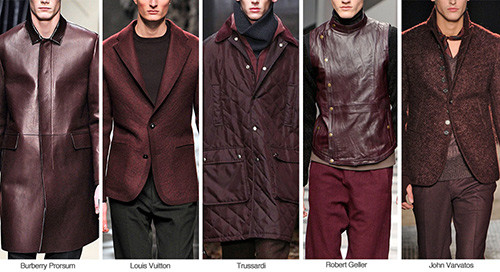 As one of the most important colors for F/W 2013, designers made wide use of shades of wine to emphasize the rich influence of the season. With "almost black" merlot to true claret, it was an essential color for all classifications.
PLUM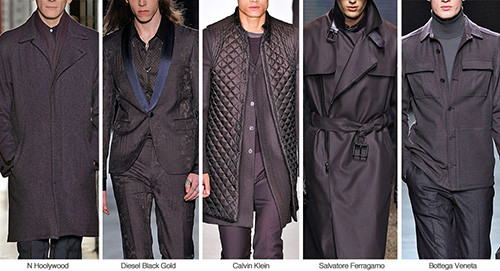 After plenty of regal influences in Europe, purple took on a new meaning in New York. Complementing the many grungy and gritty influences, the shade was much darker than other cities, often found on slouchy outerwear and knits. A much bolder hue, while only showing up on a few runways, coincided with the acceptance of jovial and playful brights for fall.
MUSTARD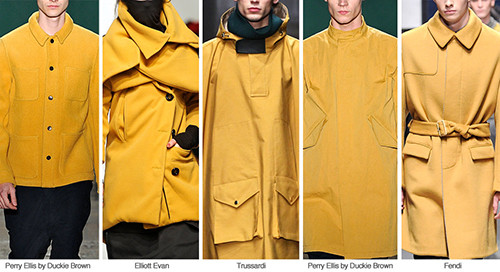 A surprising shade of mustard found its way to the fall collections. Much warmer than the bold nautical yellows of seasons past, this season's hue feels more utilitarian. It complements many shades of olive and beige for the season, and looks new for outerwear and tailored clothing.
SIBERIAN RED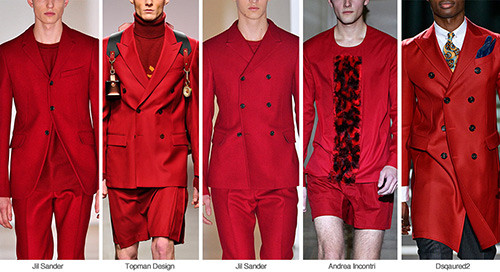 After prevailing in Europe, Siberian red was not as influential to the neutral-driven collections in New York. The bold shades of crimson and scarlet were super saturated and certainly breathed new life into a wide array of classic menswear. The blue-based hue was the most prevalent, showing up on everything from overcoats to bulky cable knit sweaters. In New York, its appearance on active outerwear like parkas was especially strong. The boldness was only accentuated when paired with black and charcoal.
Purchase the Full Report
This FW 2014-15 Men's Color Seasonal Guide by Fashion Snoops is a visually comprehensive report breaking down the key men's colors & palettes for the season. The full coverage available for online purchase includes a complete downloadable Color Map with over 50 Pantone references, an analysis of all key colors represented by an inspiration collage, Pantone color references, an archive of color reference images from the latest runways and an analysis of key color immersion from previous seasons - each demonstrated through a color comparison collage with the current season and key color combinations in every category.