The Future 100: Trends and Change to Watch in 2016
The Future 100 connects the dots between the "what" and the "why," spanning categories including culture, beauty, brands, food and drink, innovation, lifestyle, luxury, retail, sustainability and technology. Courtesy of JWTIntelligence.
Post-hipster visual irony, Gen Z's responsible icons, New frontiers of diversity, Employ-vertising – just a few items from the JWT Future 100 list of what's next in the year ahead. And a couple more….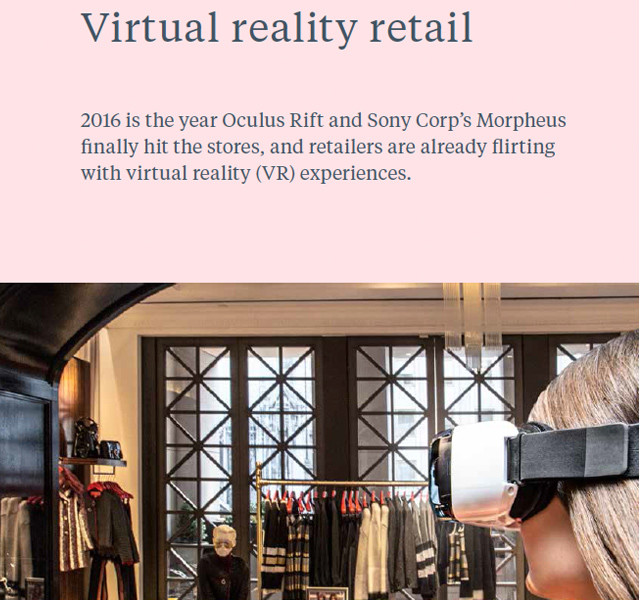 Outdoor sportswear company The North Face has experimented with Google Cardboard; luxury boutique The Apartment has used Samsung Gear VR to create a remote shopping experience; and Tommy Hilfiger's Fifth Avenue flagship store has installed Samsung Gear VR headsets, allowing shoppers to view and shop the label's fall fashion show virtually. Pictured: In-store virtual reality catwalk experience at Tommy Hilfiger flagship store, NYC.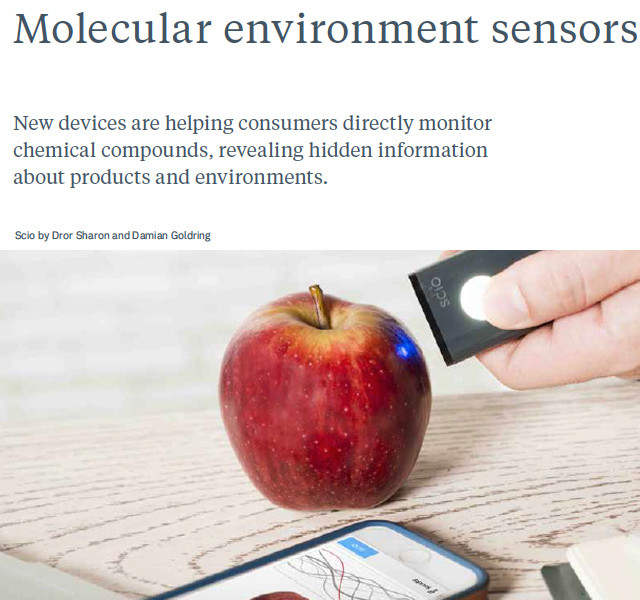 These devices will empower consumers with even more information about their surroundings. Air quality monitors could also help consumers tailor their skincare regimens to prevailing conditions. Pictured: Scio by Dror Sharon and Damian Goldring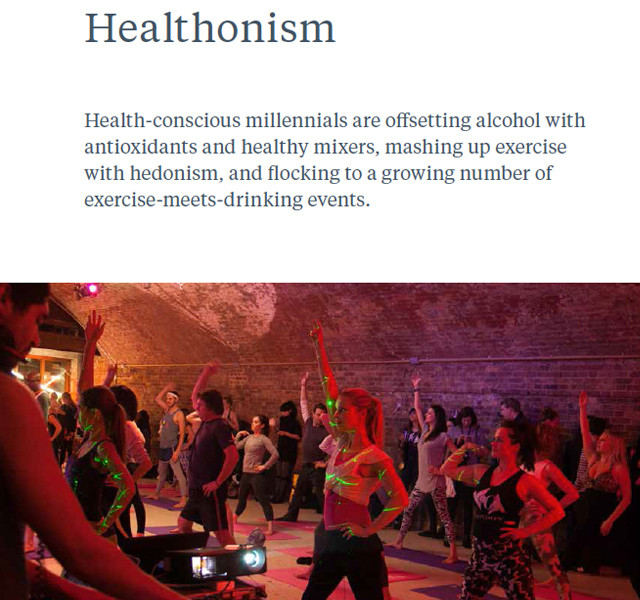 Consumers are engaging in health and wellbeing in a contradictory, divergent, have-it-all way, putting healthy habits alongside fun. Pictured: Voga by Juliet Murrell, London.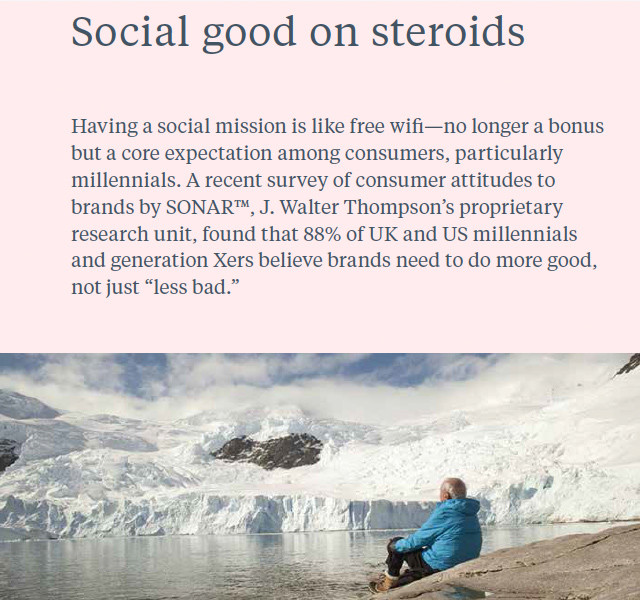 As tech luminary Biz Stone said during South by Southwest Interactive 2015, "The future of marketing is philanthropy." The Innovation Group has been charting this shift for some time. In our recent JWT SONAR™ data survey, we found that 86% of US and UK millennials believe that brands are more important to society today and that they should be accountable for public services and education. Also, 75% believe brands should act as cultural benefactors. Pictured: Ice & Sky film by Luc Jacquet, co-produced by Kering Group.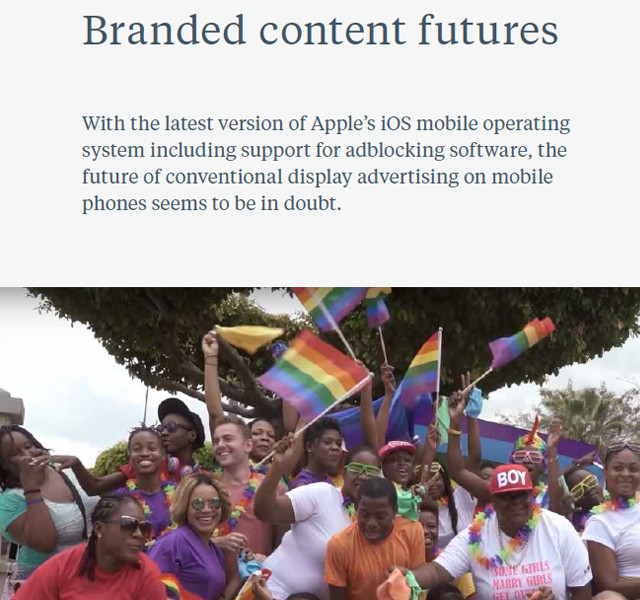 As a result, spending on native ads, which are relatively impervious to blocking attempts, is rising: BI Intelligence estimates spending on native ads will reach $7.9 billion in 2015, and grow to $21 billion by 2018. Are we nearing a time when native advertising becomes the new norm, on mobile and elsewhere? Increasingly, this looks to be the case. The New York Times is expanding its native content shop, T Brand Studio, "into an agency in its own right," according to an October 2015 company memo.
Vice Media is showing signs that it may be considering wrapping native advertising content into the core of its new suite of TV channels, which will include Viceland, in the US and 12 channels across Europe. "We were the first people to do native advertising and we're going to move that over to TV," co-founder and chief executive Shane Smith told The Drum. "We're going to change the way TV is monetized." Pictured: Welcome to Viceland, a new TV channel by Vice.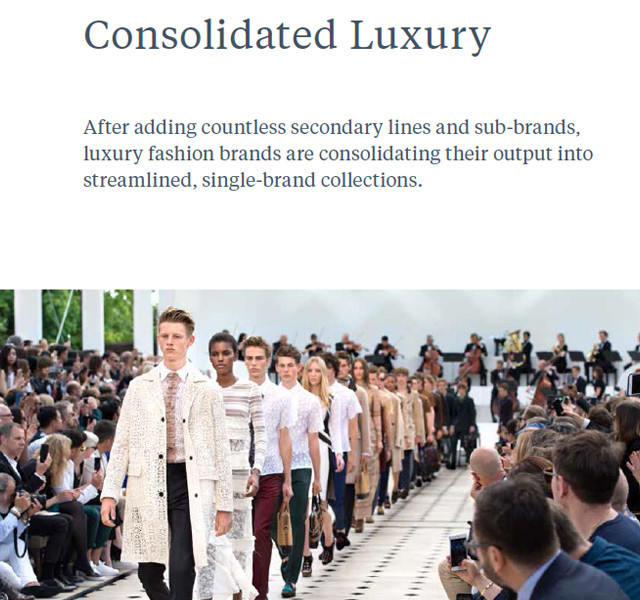 Accessibly priced collections by luxury brands grew rapidly during the boom years of the 2000s, allowing aspirational luxury customers to buy into the labels they loved. But as tastes have become more sophisticated, attempts to separate these sub-brands from designer mainlines have tarnished overall perceptions of quality. Meanwhile, consumers have become more confident with mixing designer and mass-market styles, as shoppers combine discount t-shirts with premium denim, designer one-off handbags, and diamond encrusted watches. By bringing all their collections under one roof, brands can capture this impulse, while also controlling the experience. Pictured: Burberry SS 2016 menswear show.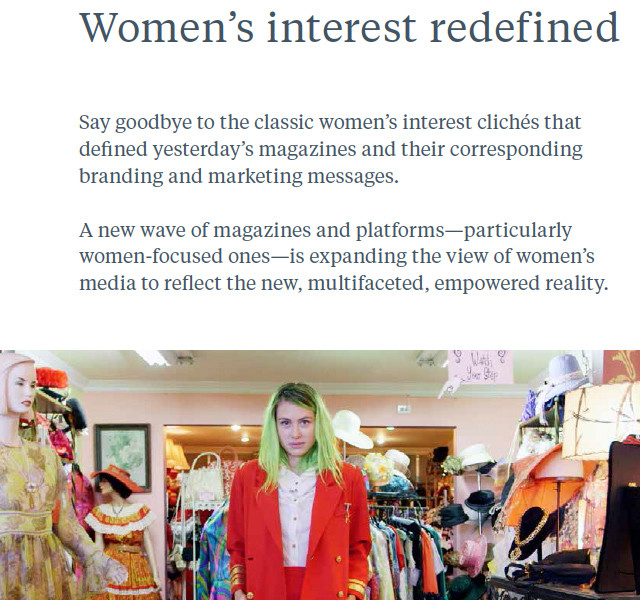 Meet Lena Dunham's Lenny, Thalia Mavros's The Front, Vice Media's Amuse and Broadly, and other new titles such as The Debrief and The Pool.
Unlike the previous wave of women's online media, these new titles aim for a more general-interest scope, rather than sticking to received norms about women-specific topics and content. They also, in many cases, feature content questioning the definition of femininity and including a broader range of sexual and gender identities. They represent a new way of thinking about femininity that has far reaching implications for marketers. Pictured: Broadly by Vice.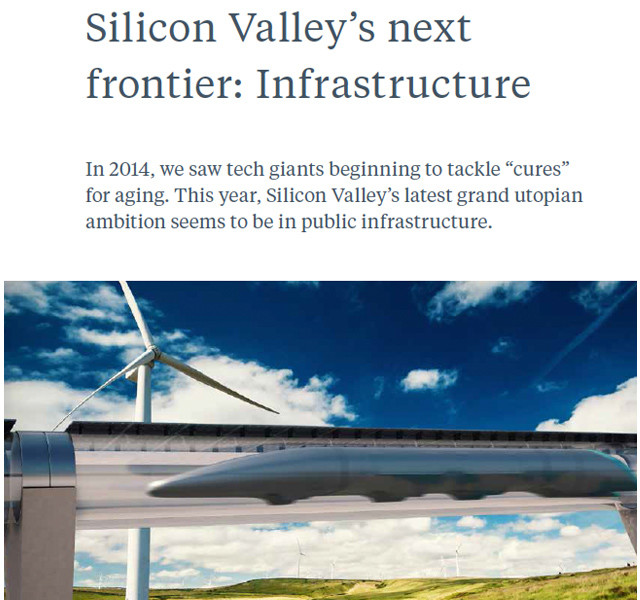 The Hyperloop Transportation Technologies project, inspired by Elon Musk's vision laid out in 2013, envisions a high-speed vacuum-tube transit system straight out of science fiction. The company is forging ahead with commercial partnerships and aims to begin construction of a full-scale, passenger-ready version sometime in 2016.
Silicon Valley companies are stepping in where government now seems unable to tread, charting a grand vision for public works not heard from Washington in decades. Their role in public policy is only set to grow. Pictured: The Hyperloop Transportation Technologies project.



More Report Details
Click here to download your complimentary copy of The Future 100. You will need to sign-up. This report, 141 pages filled with keen observations, is worth the effort.
JWTIntelligence is a center for provocative thinking that is a part of JWT, the world's best-known marketing communications brand. JWT makes sense of the chaos in a world of hyper-abundant information and constant innovation, finding quality amid the quantity.