Stretching Beyond. Textiles 2012 Creora Trend Report
Textile Report Women's Men's Kid's: Stretching Beyond. Trends and directions for 2012 from creora, a major spandex/elastane supplier to the global activewear, intimates, hosiery and apparel markets. View influences, & moods that will be shaping the fashion industry in 2012, along with new fabric developments. Presented on WeConnectFashion, courtesy of !!! ABIWH0000990 !!!.
Textile Directions for Intimate Apparel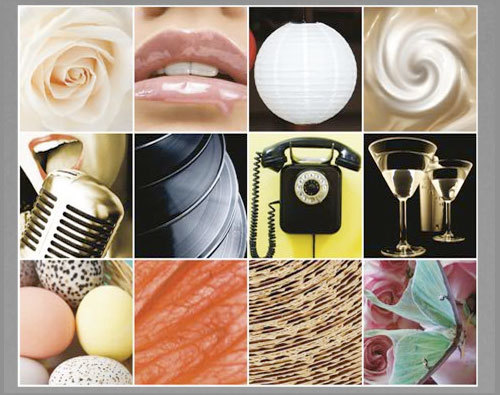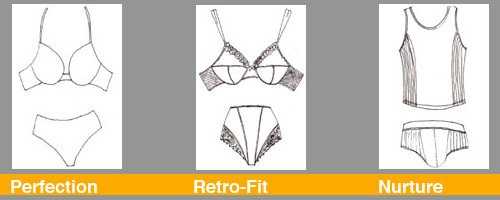 PERFECTION
Second skin fabrics embrace the body, perfect in construction but with high performance through the power of creora spandex/elastane yarns. Progressive in its delivery, the mood of this direction incorporates matte and clean finishes through to a highly revised modern spirit as gloss aspects project a futuristic look. Featherweight fabrics get lighter, compact in their knit construction up to 50 gauge knits without losing performance. Clean cut technology, bonded seams, ultra flat selvedge fabrics and laser cutting offer a clean and precise flawless finish to intimate apparel. Look to ultra smooth surfaces from gloss finishes to papertouch stretch and support with a diaphanous finish, the mood is pure perfection in appearance but also in fit. The reduction in CMT with today's modern technology combined with the consumers' interest in lighter shapewear and the perfect fit for daily intimate apparel drives this textile direction.
RETRO FIT
Modern fabrics packed with power embrace the female form as a desire for the glamour of the1950s continues for shapewear and lingerie. The retro influenced fabrics have the look with enhanced softness combined with control from the inclusion of spandex/elastane fibers. Black dominates with intense matt, satin and high gloss fabrics enhanced with creora black. Also important is the fresh aspect of virginal white and cosmetic tones in sparkling forms highlighting a synthetic content that is set to shine through the intimate apparel sector. The core of this inspiration stretches the scale from the darker side of 1950s burlesque to the moody aspects of the era's film noir for dark and seductive elements. The original frisson of this era also encourages a brighter aspect, with sharp sherbet tones injecting a softer feminine delivery in glossy and sugary aspects. The appeal of this direction is that it looks synthetic, shiny and new, real glamour with a retro twist as softness and stretch embrace the body.
NURTURE
With ecological aspects impacting consumers' daily lives it is a matter-of-course that it is seen as a core inspiration for intimate apparel. Less energy intensive fabrics will lead to a greener future and this is where creora eco H-550 completes the story in blends with natural fibers but also the new generation of sustainable fibers from both natural and synthetic origins. As the textile process of regular cotton is improved in keeping with a greener image while organic cotton offers a premium option, the king of natural fibers features in finer counts for featherweight circular knits with that desired natural touch. Other fibers can include seaweed, wood, lyocell, soya and bamboo viscose. But it is the recycled synthetics that take a hold of this direction, offering the consumer the benefits of microfiber performance combined with peace of mind on the environment. Both natural and synthetic yarns are offered in very fine counts enabling a soft direction for seamless and circular knits, eliminating annoying side seams so these fabrics can embrace the body. With nature the core of this direction, it doesn't just influence the fiber content but also transpires through to the fabric appearance. From raw and dry hand feels to nature's glossy aspects, contrasting finishes feature.
Textile Directions for Active Wear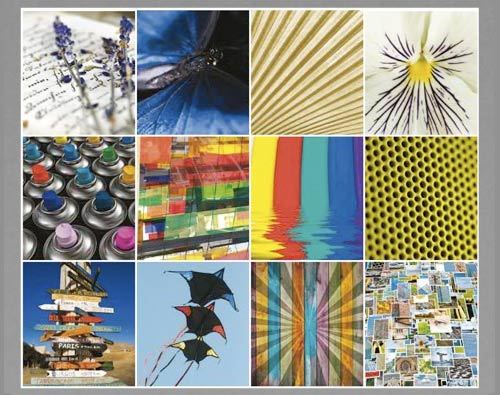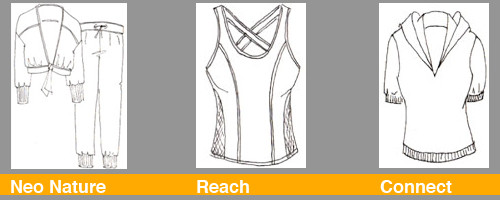 NEO NATURE
Achieving a balance of healthy body and mind sees apparel for core stability fitness programs like yoga and Pilates reaching new levels. These garments offer function and performance to the wearer, shaping the physique but at the same time enhancing the wearer's eco consciousness as fibers rely on natural resources and sustainable practices. creora eco H-550 works perfectly with sustainable natural fibers including organic cotton, wool, Tencel® and Micro Modal® in delivering performance and meeting the ecological aspect. Recycled synthetics feature with a natural touch to surface fabrics. Cotton continues to be a contender with mercerized cotton bringing forward a natural luster to lightweight knits. Embracing, soft and natural to touch, fabrics are light but through the inclusion of stretch delivered by creora spandex/elastane yarns enhance the experience of low impact workouts. While the source is naturally inspired and ecologically conscious, don't just rely on the obvious natural-inspired color palette, instead opt for bright hues and indigo-inspired knits to create a streetwise look.
REACH
When it comes to high impact sports, channeled mental skills and performance prowess is enhanced by today's high compression and multi performing fabrics that embrace, support and recover the body during and after exercise. Synthetics feature with creora performance H-350 delivering targeted high compression support for those pursuing the zone. Quick dry, moisture management and lightweight functional fabrics aid the wearer in achieving new targets. Pushing the boundaries, synthetics fibers are key to this direction but take on new guises including recycled synthetics. Fabrics and garments take on a bright 80s 'glee' factor with obvious synthetic aspects to the eye in bright tones contrasting with natural-touch synthetics. Another key performance factor for outdoor high impact activities is UV protection. Black and steely grays continue to be bestsellers in this sector, enhanced with creora black for intense tones and high definition stretch, but there's also a strong direction towards perfect high gloss and bright surface effects featuring in 4 way stretch compact knits or innovative mesh effects. Artificial in appearance and tone, the inclusion of recycled synthetics for sports is a growing sector.
CONNECT
Connecting with the great outdoors continues to be an activewear sector that demands not just function but also a strong fashion element. Escaping to the countryside, mountains or coast for cherished leisure time, today's consumer wants their garments to perform whatever the level of activity whether it's excessive hiking, invigorating snowboarding or simply withstanding nature's elements enjoying a picnic. The increased interest in outdoor activities ties in with ecological issues in protecting the environment, evident through the growth of recycled fibers and sustainability throughout the textile chain. creora eco H-550 hits the spot when teamed with natural fibers including cotton and wool, with its inherent thermoregulating system and eco angle. Also does well in delivering comfort in blends with new recycled synthetics that now perform in providing fabrics with unique properties. The fabric focus in this sector is for lightweight fabrics with a technical twist that will perform all day and adapt to changing weather conditions and activity levels yet will also compliment streetwear and casualwear.
Textile Directions for Swimwear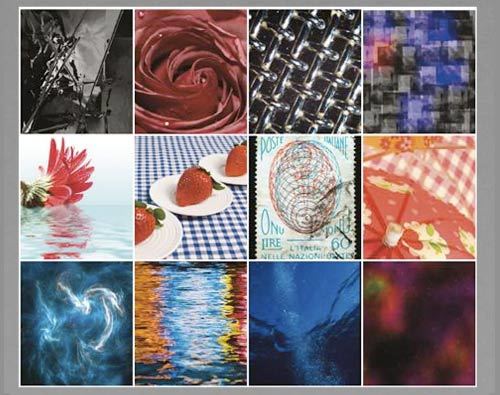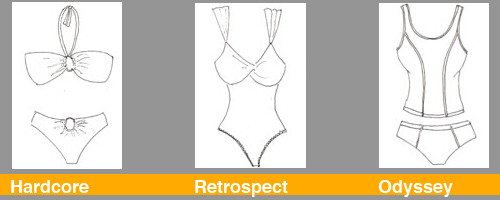 HARDCORE
A rebellious mood infiltrates swimwear fabric as a punkish-inspired direction delivers intense gleaming blacks through to lacquered gloss looks. Packed full of attitude, this direction offers both a high fashion statement through to a revised offering of traditional best-selling black. creora black/nylon blends are complimented with bruise, sangre and fluorescent accents that break the code of classical swimwear. Fabrics are compact and smooth in matte or glossy finishes, with a high percentage of creora performance H-350 used for body smoothing and lasting fit. Prints make the most of the rebellious attitude in abstract and graphic motifs. This is a dark and sexy trend, not grungy, but it takes swimwear silhouettes to a new level. A destructive element seizes the day with mesh inserts, laser cutting, abstract printing and innovative heat fix finishes.
RETROSPECT
Fun and freedom come into play as nostalgia continues to influence swimwear with the added benefit of a modern fit delivered by the inclusion of creora spandex/elastane yarns. A look to the 1950s sees a return to glamour on one side as ruched aspects and sophisticated fabric structures feature, but also the inclusion of playful simplicity through gingham and polka dots that define the era emerge as a contender. On the color and print front, tones and images from Hawaii to Havana inspire combined with the Technicolor movie trend of that decade. From glamour through to simplicity, fabrics mimic the dry touch of times gone by in a variety of weights in circular and warp knits. Smooth, compact and matte fabrics contrast with the irrepressible desire for texture as ruching, piqué and plisse fabrics feature.
ODYSSEY
Journeying into the unknown, Odyssey concentrates on the reflective elements of the galaxies through to the depths of the oceans for competitive and fitness swimwear. Mystical in its appearance it not only influences color palettes but light-catching surface finishes in solid through to pixilated and abstract print relief. Performance and fit is guaranteed through the use of creora spandex/elastane yarns, with lightweight and quick dry functions delivered from ecologically sound polypropylene and the new generation of recycled synthetics. Black continues as a bestseller for this group, enhanced through contrasting colored tipping, colored flat lock stitching and sublimation placement prints and colored panels, but there is a growing demand for more fashion focused swim garments. Fabric constructions are incredibly compact and smooth providing core stability to the swimmer through engineered compression zones, reducing drag and enhancing all-round performance right down to the quick dry function.
Textile Directions for Ready To Wear & Denim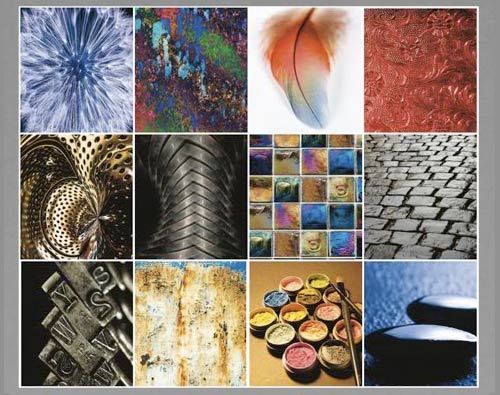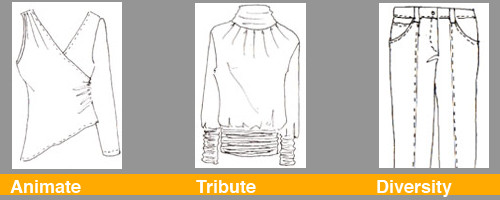 ANIMATE
What you see isn't necessarily what you get with this direction as optical illusion attracts a second look at top and bottom weight knits with creora spandex/elastane yarns. Featherweight circular knits with smooth diaphanous and irregular gauzy surface effects feature for transeasonal ready-to-wear applications. Innovative jacquards and mock aspects play with contrasting yarns to create more detailed looking fabrics. Surface structure continues to take on a liveliness ranging from subtle slub yarns through to seersucker jacquard effects. Chevron and yarn dyed stripes feature and double face knits have a builtin woven appeal, perfect for the soft tailored sector and bonding contrasting knits offers versatility to the final garment design. Bottom weights continue to pull from the sporting arena with a retro aspect, revised through new silhouettes teaming fashion with sporty styling for casual ready-to-wear.
TRIBUTE
Perfect surface effects pay homage to the past as knits and wovens embrace the body with the help of creora spandex/elastane yarns. Classic structures from single jersey through to woven gabardine are perfect and uninterrupted for streamlined silhouettes with stretch and recovery. With matte touch key in delivering a nostalgic mood, this direction also embraces a highly polished aspect in lucid finishes for added gleam. Looking towards the future, iridescent surface effects continue alongside natural-inspired lucidity. Luxury is evident through the inclusion of small amounts of noble fibers from cashmere to silk, but can also be applied from the cellulosic side in offering fluid knits that shine. Metallic yarns and polyurethane coatings add luster to basics with the presence of creora bringing control and body to fluid fabrics. Function combines with fashion as performance fabrics from the activewear sector move in to readyto- wear with mono and bi-stretch, windproof, waterproof and breathable aspects working in lighter weight qualities.
DIVERSITY
The global appeal of denim continues to hold its position but can no longer rely on classic cotton counts. Stretch from comfort to power is essential in today's denim market not just for the continued interest in skinny silhouettes but also for the comfort element and fit for mainstream consumers. Premium denim looks dominate in fabric structure and selvedge details with color tones ranging from classic indigo through to black and newly desired raw cotton. Innovations drive the denim scene with new dyeing techniques and finishes that take a variety of looks from heavy industrial to brighter and exposed accents combined with constant creativity on the yarn front.The chemical and water use associated with denim is revised as new eco friendly yarns, dyes and finishes feature in making this favored fabric, despite its dominant blue tones, a green one, as it cleans up its eco credentials.
Visit Creora. View the entire 2012 trend report which also has a trend write up for socks and hosiery textile developments.