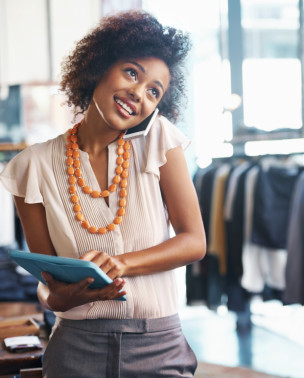 Start A Fashion Business
Do you have what it takes to be an entrepreneur?
Launching a fashion company is hard work. As Cynthia Rowley once said, "the old saying of hard works pays off is true. You really do have to work hard. It gets a little more glamorous over time, but it's still a lot of hard work."
Most major designers, retail owners, stylists and photographers once started in the same place you are now. They had an idea, fought to achieve their goals and finally managed to sell their product and talent. Through perseverance and long hours, finally built their empire. An idea can start from anywhere, as long as you are willing to work hard for it.
10 Great Start-up Resources:
Looking Back
Tommy Hilfiger did not possess any special talents or skills that could have propelled him into any sort of success in the fashion industry, nor did he have an adequate academic background. He used his life savings of $150 to buy 20 pairs of Landlubber jeans, brought them to New York and opened a small clothing shop called The People's Place. The rest is history …
Ralph Lauren first began in the business at the age of 26 by making wide ties that he wanted to sell to Bloomingdale's but they didn't want them because they were too wide:
"The store wanted to call them Sutton East and change their look. I turned Bloomingdale's down and got very sick when I left the office. I knew I was right about what I believed in. I didn't have anything to lose. I turned and walked out the door. I wanted to sell them and had a lot of respect for the store. Six months later, Bloomingdale's came back, and every Thursday night I visited the ties with my family. We visited the rack."
Consider that virtually all successful designers started out small with key items they excelled in. They then branched out into complete collections.
Ralph Lauren started with ties
Kate Spade started with handbags
Calvin Klein started with jeans
Nicole Miller started with printed patterned ties
Juicy Couture started with form-fitting T-Shirts
Vera Wang started with bridal gowns
Josie Natori started with embroidered shirts
Todd Oldham started with sequined and beaded gowns
Liz Lange started with maternity
Eileen Fisher started with French terry coordinates
Linda Evangelista started a clothing company for Yoga devotees
Easel Jeans started with unique jeans
Adolfo started with hats
Gabrielle "Coco" Chanel started with hats
Salvatore Ferragamo began as a shoemaker
Gianfranco Ferre started with jewelry
Halston started with hats
Diane Von Furstenberg started with moderately priced dresses
Giorgio Armani started with Men's formalwear
Anne Klein started with Junior size clothing
Fernando Sanchez focused first on furs then lingerie
Josie Natori started with embroidered shirts
the list goes on …
Where will you get your start?
There is no reason why you need to find out all the business basics you need to get started. We've done that for you. Because we've been in the industry forever, we have great market materials and connections to help you get your idea off the ground.
If you have questions, we have answers. Don't hesitate to email our staff. We're happy to help get you started.