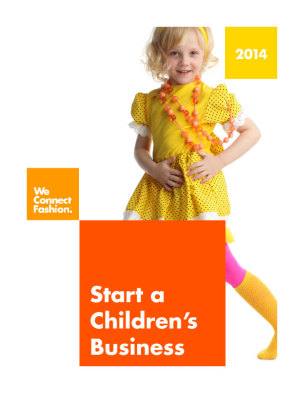 Start a Children's Business
Originally $95. Now $45.
You've designed a childrenswear collection … Now what?
The children's wear market is among the most lucrative segments in the global apparel industry. Though the global economic meltdown has significantly affected growth prospects in the retail industry, the children's wear segment has exhibited considerable resilience to the adverse market conditions, as against the men's wear and women's wear categories.
The market is influenced by factors such as transforming consumer preferences, customer profiles, parents and children's influence on buying patterns, and availability of greater choice. Future growth in the market is also dependent on factors such as brand-related investment, design elements, and ethical developments.
Europe and the United States account for a major share of the sales in the global children's wear market. With growth in double income earning families, working population and greater disposable income, the branded apparel market is expected to experience substantial gains. Increasing exposure to various media, rise in international travel, and enhanced awareness from peers are contributing to the growing fashion-consciousness among children.
With children increasingly exhibiting independent purchasing behavior, they play a significant role in influencing parental decisions pertaining to purchase of kids wear. Growth in the children's wear market is also driven by the trend towards gift shopping.
Know what you're up against.
Half of all new businesses survive five years or more and only one-third will survive over a decade. The odds, unfortunately, are not in your favor.
Starting a children's business is more than just creating cool kids stuff. You'll need to understand the operations of a dynamic fashion industry and how your new children's brand will expand and thrive in the future.
You'll need to understand your market size and appropriately communicate a plan to banks and lenders. That said, you'll need to compose a business plan, organize cost sheets, develop order forms, and, finally, network with industry connections to help you accomplish your sales goals.
Start ups fail because management teams become overwhelmed with death-by-paper-cut administrative duties on top of creative direction. Along with growing debt and unforeseen business expenses, failing to keep a fickle buyer and conscious consumer interested in your product will sink even the most on-trend of fashion vessels.
But, if you're one of the thousands of entrepreneurs launching a business this year, we're on your side.
Did you know?
Most major designers started at the same place you are in right now? They had a great idea, acquired proper knowledge to execute their plan, built and managed their business, and finally, successfully sold product through the proper sales channels – deepening their brand.
To make things easy for you, we provide the answers to the test. We've gathered various business texts, market specific industry data, how-to guides, forms, and supply checklists to make sure you're covered on fashion business basics.
Start a Children's Business is built by industry experts who have been there, done that. This PDF publication is designed to help you plan your company, produce your product, promote your brand, and sell to buyers.
Learn How To
Write a Business Plan
Merchandise Your Product
Edit your line for Presentation
Exhibit at Trade Shows
Find a Sales Rep
Ship and Distribute
Fill out order forms and cost sheets
Contact Buyers
Write a Press Release
Sell your Product Online - and much more…..
If you want to be taken seriously by finance and investment groups, you'll need to know the industry inside and out. How do we know? Because we've done it ourselves – and believe us, you need all the help and information you can get.

If you have questions, email us.