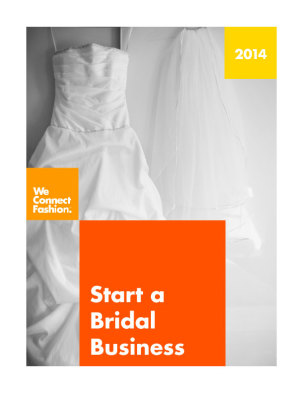 Start A Bridal Business
Originally $95. Now $45.
Know the Bridal Market
The wedding industry is large and varied, ranging from gowns, jewelry, halls, caterers, photographers, florists, etc. Depending on the product and services being included, the overall economic size of the industry can be from 32 billion to 70 billion dollars. That's a huge industry that requires big-dollar purchases.
Did you know that most major designers started at the same place you are in right now? They had a great idea, acquired proper knowledge to execute their plan, built and managed their business, and finally, successfully sold and distributed their product through the proper channels to expand their brand.
Getting into the fashion industry requires a lot of hard work and this guide is here to help. The purpose of this PDF publication is to teach you the proper tools to plan your business, produce your product, promote your brand, and ultimately sell to buyers and customers.
Learn How
Write a Business Plan
Merchandise Your Product
Edit your line for Presentation
Exhibit at Trade Shows
Gain Financing
Find a Sales Rep
Ship and Distribute
Fill out Order Forms and Cost Sheets
Contact Buyers
Write a Press Release
Sell your Product Online
And much more …
If you want to be taken seriously by finance and investment groups, you'll need to know the industry inside and out. How do we know? Because we've done it ourselves – and believe us, you need all the help and information you can get.