SS 2012 Eveningwear, East Meets West
Trendstop's forecast team is giving WeConnectFashion members a glimpse of one of their five Spring/Summer 2012 trend themes, which are further split into specific directions, and discuss color palettes with Pantone references, materials, prints, embellishments, clothing silhouettes, accessories, footwear and trim & detailing. This preview is from their East Meets West forecast, and one of it's capsule themes called Evening Luxe.
Women's Trend: Evening Luxe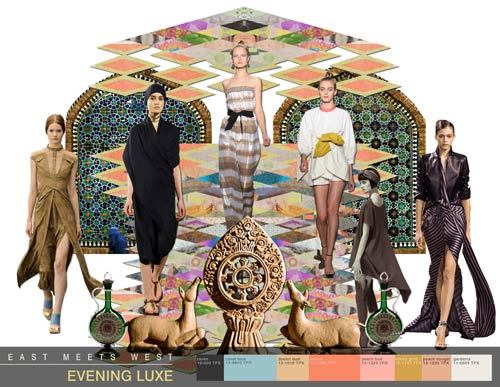 MOOD
Cultures collide to create new traditions. As the world becomes more accessible we embrace, reinterpret and reinvigorate multi-cultural references, mixing East with West.
PRINT & MATERIALS
Conventional Eastern patterning is imbued with a new, modern purpose. Moroccan tile patterns, Arabian screens and Indian carpet patterns traverse across into the realm of fluid minimalism, resulting in an easy-to-wear aesthetic that takes the best from both worlds and improves upon it.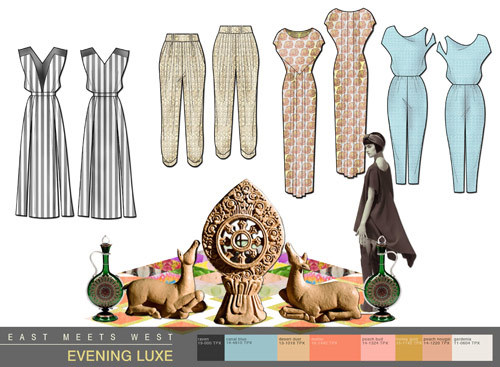 SILHOUETTES
The mysticism of the East is applied to conventional Western attire, creating loose and unstructured shapes, rendered in soft white and dusty sand color palette, lifted with accents of ice blue.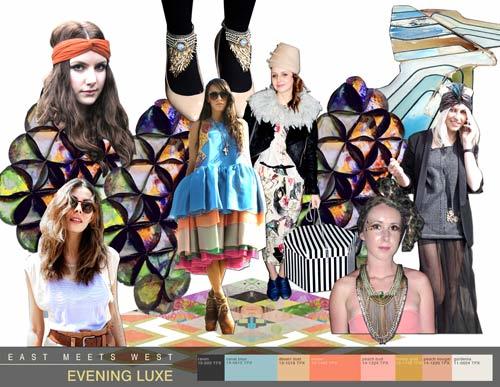 STREET STYLE
The emerging street style interpretation of East Meets West Evening Luxe is playful, combining literal Eastern elements such as oversized jewelry, feather trims and turbans with minimal but exaggerated silhouettes, such as harem pants, long evening columns and tiered and wrapped garments.
More Product Details
Find the earliest, emerging and breaking trend forecasts alongside essential commercially relevant major seasonal trend analysis at Trendstop.com.