SS 2011 Women's Print Direction
The Spring Summer 2011 season inspires itself from a carefree existence; a journey of discovery through streams and barley fields. Here an emerging aquatic theme sees itself through distinctive ripples and drowned floral patterns whilst fragile, hazy and washed out aspects highlight the season's overwhelming sense of ease and calmness. Enlarged motifs take their inspiration from magnified mimicry, oversized butterfly wings and huge florals, where photo real nature prints are also popular. In contrast, chaotic patterns, arty brushstroke prints and bold florals are re-energised with the use of high-octane citrus tones.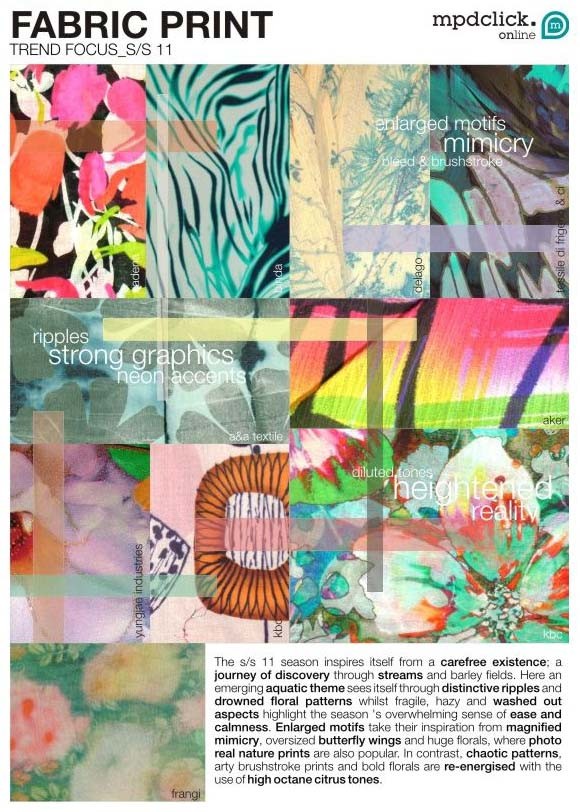 Enlarged Motifs:
Key words: enlarged watercolour florals; magnified mimicry; kilim & ethnic references; butterfly wings; exaggerated proportions; bold outlines; huge leaves; clashing colours; strong graphic patterns; neon highlights; out of frame motifs.

Heightened Reality:
Key words: acidic colour tones; 3d effects; enlarged butterfly wings; hyper real photographic images; re-drawn & re-coloured elements; heightened reality; carnivorous flowers; scientific; fantasy colourways.

Ripples:
Key words: under water scenes; waves & ripples; bleached effects; marine inspired colourways; aquatic world; drowned florals; water reflections; turquoise & aqua; exotic fish & coral.

Washed & Diluted:
Key words: washed out patterns; refined delicacy; hazy prints;  relaxed spirit; plays on transparency; airy tones; sketched & enlarged florals; shimmer coatings; watercolour effects; barely there prints.

Strong graphics:
Key words: neon accents; pop art graphics; youthful & experimental; 3d effects; abstract & digital variations; awakening patterns; irregular checks; variegated stripes; subverted patterns; high octane colourways; bleed effects.

High Octane Neons:
Key words: energetic approach; natural & artificial mix; full on patterning; digital brushstrokes; impressionistic; spontaneous; exaggerated colour use; charming floral arrangements; stencil patterns.

Bleed & Brushstrokes Effects:
Key words: painted quality; colour clash; high-level visuals; enlarged motifs; chaotic geometries; strong graphic quality; blown-up structures; splatter & bleed effects; spontaneous brushstrokes; art inspired techniques.