SS 2009 Kid's Trends
Blend, Mix, And Look To The Future. Mudpie presents its children's wear trend forecast at the Copenhagen International Fashion Fair, CIFF Kids. The report features four seasonal themes: Nomadic, Southern Bite, State of Art, and Techno Organic. Inspiration spans the world, time periods, and celebrates new technologies for an eclectic Spring / Summer 2009 children's wear outlook.
Nomadic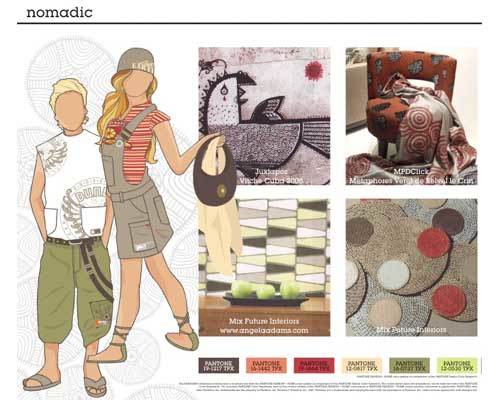 The sublime blank canvas of the desert provides the perfect backdrop for Bedouin inspired Saharan adventures and festivals. Dry tones and a rich colorful chromatic create an enchanting atmosphere within a converging Arab, African and Ottoman Persian fusion, which draws on ancient design language whilst looking forward towards the emergent digital future. Old, new, global and local embrace a cosmopolitan and progressive lifestyle. Animal print has a firm place within this trend, along with natural hemp, bamboo and naturally dyed cotton.
KEY POINTS
Bedouin inspired Saharan adventures
Natural hemp and bamboo
Animal Prints
Dry tones and rich colors
Southern Soundbite
A surf style influenced by the retro iconography of Old Havana from the iconic Che Guevara to the Spanish influenced Cuban rhythms and the sounds of blues and New Orleans. This is a trend inspired by revolutionaries of Cuba whilst meeting with the beaches of Miami and Southern California. This counterculture spirit can be seen at its origins in Jazz from the "Big Easy" to defiant pulsating beat of hip hop and modern day Cuban taut and loose. Relaxed styling featuring ombre knits and sandy denim surfaces are key.
KEY POINTS
Retro iconography of Old Havana
Relaxed surf style
Sandy denim surfaces
Sounds of Blues and New Orleans
State of Art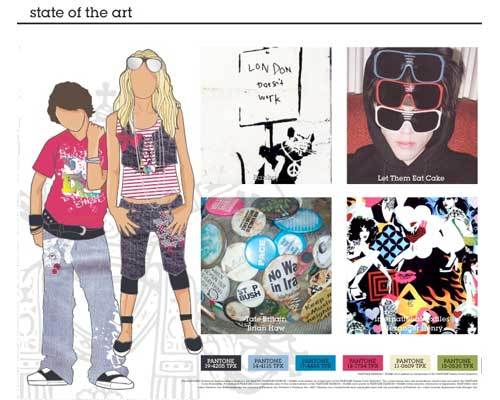 The vocabulary of shock. Slogans and a bright pop art aesthetic blend in a collage of self expression. Design rides high on a comedy of shock, neon, brilliance and self expression. Juxtaposition and displacement are key elements as is the notion of magnifying everyday images and popular topics. This metaphorical vision takes Pop Art, agitpop, and surrealism mainstream into the irreverent attitude of the modern multicultural metropolis. Streetwear utilizes decadent laminated effects, wet look plastics, geometric prints and sponge like jersey.
KEY POINTS
Bright neon pop art slogans
Collage of self expression
Wet look plastics
Geometric Prints
Agitpop influence
Techno Organic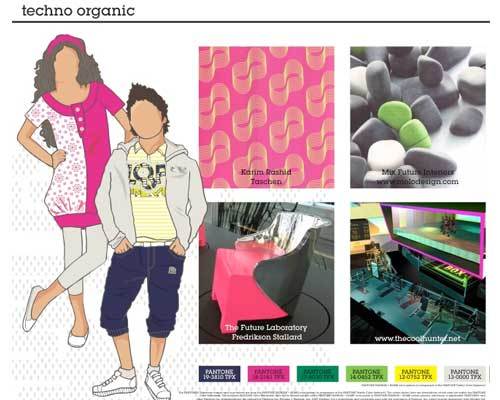 The modern organic lifestyle becomes a functional utopia represented by a combination of simple functional materials and an exuberant and uplifting bright plastic aesthetic. Pure space age technology utilizes stylish and functional forms which redefine the relationship between function, modern design and environmental concerns. This is a trend where fashion looks froward not back, with sustainable fibres, metallic shot textiles and a simple sporty aesthetic.
KEY POINTS
Modern organic forms
Bright plastic aesthetic
Pure space age technology
Sustainable fibres
Fashion looks forward not back
Sporty Aesthetic