Spring 2013 Men's Color Forecast
This exclusive report is a sneak preview from Trendstop.com's inspirational Color Trend Book for Spring / Summer 2013 Men's Market. These two trend boards come from a set of 30 across four color groups; fashion colors, base colors, accents and metallics. The two key fashion colors presented here, one a shade and the other a group story both show a mood, a Pantone Fashion + Home reference and early product translation.
Emerging Trends. Be Inspired.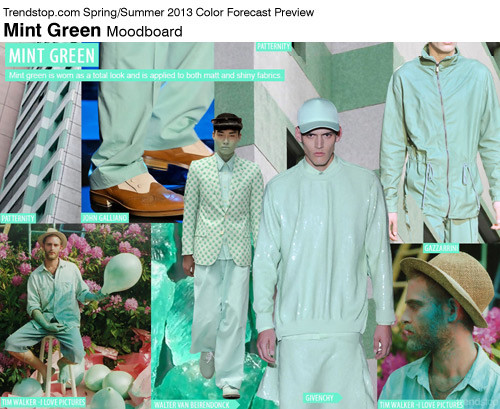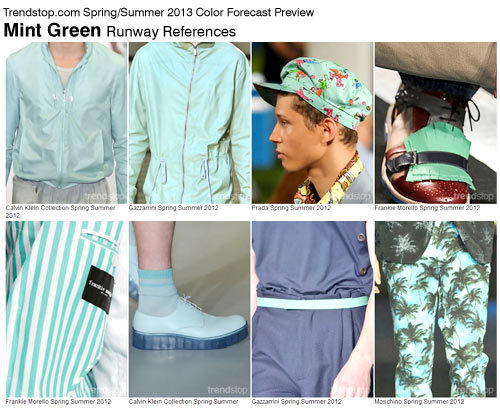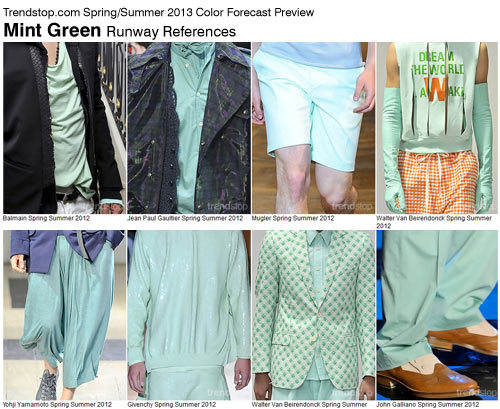 MINT GREEN
A cool blast of mint green throws a frisson of springtime color into the mix. Spearmint and pistachio hues pulls on retro references from both sides of the Atlantic, with 50's interior and leisure shades, alongside deckchair and candy stripes with a sportswear twist.
When used as a block shade this luscious pale absinthe is undeniably casual and can be used with alacrity on techy nylons and finished cottons. Mint greens are applied to lightweight anoraks, sequined sweatshirts and baseball caps for a sportswear feel, as well as 80s inspired Miami chinos, casual button down shirts and loafers, making this shade work well for youthful first timers as well as nostalgists.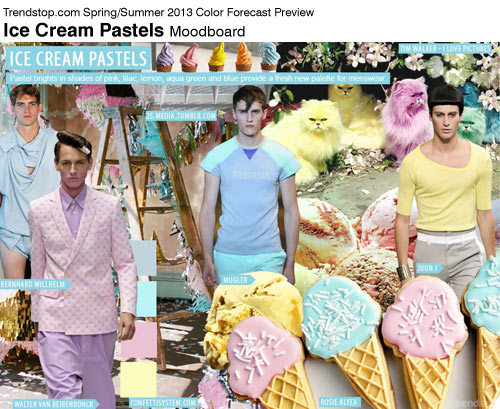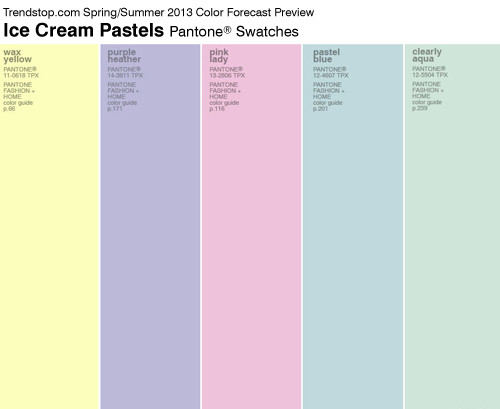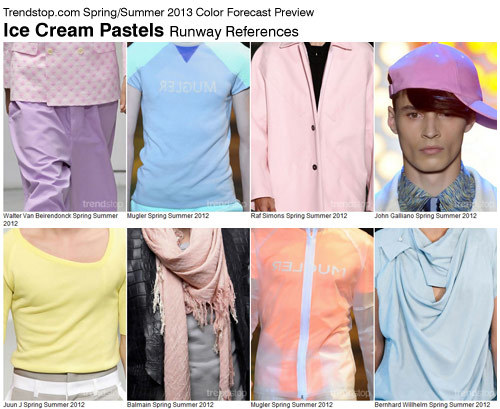 ICE CREAM PASTELS
Disarmingly retro pastels anchor some of the season's more starkly futuristic trends in soft, familiar shades. Mouthwatering washes of vanilla, strawberry and lemon bring a sense of lightness and delicacy. Silhouettes are sleek and refined. Surface design demonstrates restraint within the vibrancy of geometric-pattern tailoring. Sportswear inspired semi-formal looks emit phosphorescent glows of orange, lilac and mint, and exude classical elegance in the palest of powder blues.
MORE REPORT DETAILS
Full reports are available at Trendstop.com, one of the world's leading trend forecasting agencies for fashion and creative professionals. The agency is renowned for its insightful trend analysis and forecasts. Clients include Forever21, Ralph Lauren, H&M, Hugo Boss, and L'Oreal.