Space Age Textiles, Women's FW 2014-2015
Fall/Winter 2014-15 materials inspire notions of Space Age style, as textures shimmer with Down the Milky Way or borrow the scaly skin of a Futuristic Reptile, say the trend analysts at Trendstop. Both ideal for Junior and Contemporary markets, these trends dress up seasonal shapes with a distinctive sci-fi appeal. Sparkling, futuristic, and Luxe.
Down The Milky Way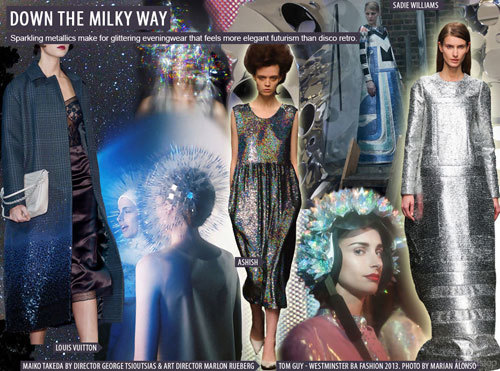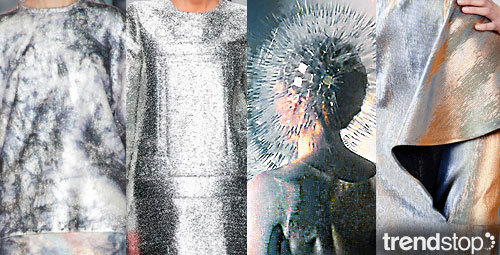 image courtesy Trendstop: Mary Katrantzou, Sadie Williams, both F all/Winter 2013-14, Maiko Takeda by Director George Tsioutsias & Art, Talbot Runhof Fall/Winter 2013-14.
Sparkling metallics create glittering eveningwear pieces that speak of an elegant futurism (as opposed to disco retro). Silver surfaces are reminiscent of a starry galaxy, as seen in simple separates at Mary Katrantzou and embossed loose-fit dresses at Sadie Williams. Talbot Runhof incorporates abstract stripes on unusual asymmetric silhouettes.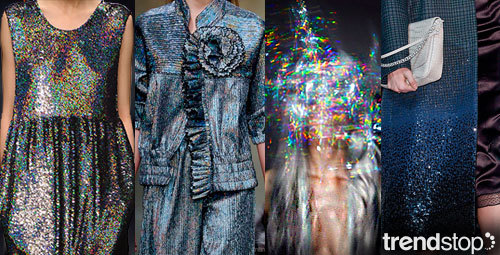 image courtesy Trendstop: Ashish, Fashion East Ryan Lo, both Fall/Winter 2013-14, Anna Murray & Grace Winteringham, Louis Vuitton Fall/Winter 2013-14.
Going further into deep space, other styles incorporate darker colors and intense sparkle. Ashish's coated dress catches the light with rainbow holographic tints, as Ryan Lo's vintage futuristic ensemble mixes ruffled edgings with elasticized hems in a shimmery blue. Additionally, Louis Vuitton's wool coat is updated with sequined embellishment that graduates from light to heavy in texture.
FUTURISTIC REPTILE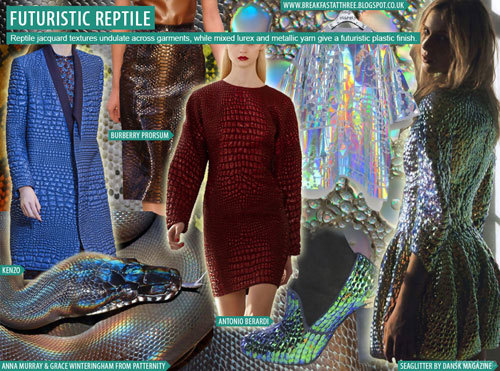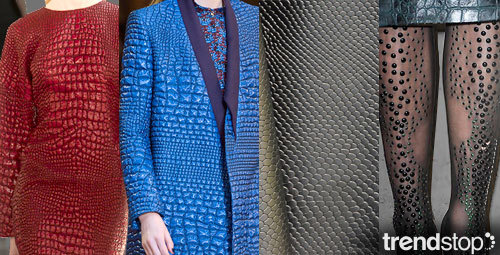 image courtesy Trendstop: Antonio Berardi, Kenzo, both Fall/Winter 2013/14, Il Panda at Premiere Vision February 2013, Cynthia Rowley F all/Winter 2013-14.
Reptile jacquard undulates across Fall/Winter shapes for a serpentine finish, on show in non-natural colorways for an alienesque feel. Shiny snakeskin surfaces appear in rich oxblood at Antonio Berardi and bold blue at Kenzo across outerwear, as Cynthia Rowley updates sheer hosiery with scaly embellishment.
image courtesy Trendstop: Gucci, Burberry Prorsum, both Fall/Winter 2013-14, Anna Murray & Grace Winteringham, Tory Burch Fall/Winter2013-14.
This luxe look also proves ideal for eveningwear styles, dressing up apparel and footwear alike with a serpentine chic. Gucci's black formal separates gleam with a glossy shine, as does Burberry's brown midi skirt. Meanwhile, Tory Burch's iridescent shoes incorporate a dressy materials mix with suede and gold metal.
Purchase the Full Report
The Material Trend Book Fall/Winter 2014-15, purchase the full report at Trendstop.com.

Trendstop.com is one of the world's leading trend forecasting agencies for fashion and creative professionals, renowned for its insightful trend analysis and forecasts. Clients include Forever21, Ralph Lauren, H&M, Hugo Boss, and L'Oreal.