Sartorial Summer 2008 Men's Trend Report
Sartorial Summer… self-assured menswear that owes homage to David Hockney's Splash, Miami Vice, refreshing brights, meticulous cuts, fine tailoring and effortless grace. After formality comes subtlety with a distinct European touch, for a refined menswear theme. Dapper motivators include the likes of Lord Willy, Duncan Quinn, Paul Smith, Jordan Carlos, Steven Alan, and others. Spring / Summer 2008 trend inspiration.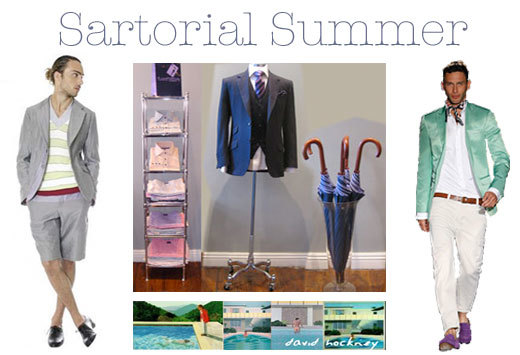 After formality comes subtley for Spring/Summer 2008, with a distinct European touch, as seen at D Squared2 (right). The result? A featherweight, neat and a romantic take on masculinity. A refreshing color palette of washed out pastels contrasts with angular, contemporary tailoring for truly self-assured elegance as seen at Erokotic.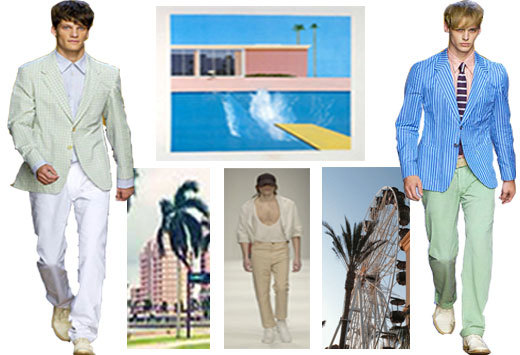 Taking inspiration from David Hockney's Splash, colors are a fresh mix of complex neutrals with flashes of brights as seen at Victor Glemaud (left) and !!! INFWP0000794 !!! (middle). Weathered browns are enlivened by soft lavender, jade and cream as seen at !!! IMPWP0000943 !!! (right), and the look also features a new watermelon pink that's both stylish and masculine.
Meticulous cuts give the look an effortless grace, as seen at Duncan Quinn (right). There is though, nothing effortless about the technical expertise that goes into each piece, as seen at Ozwald Boateng (left). Starting with beautifully cut shirts by Steven Alan Showroom Inc (middle), the look is perfected in the detail with touches of refreshing brights.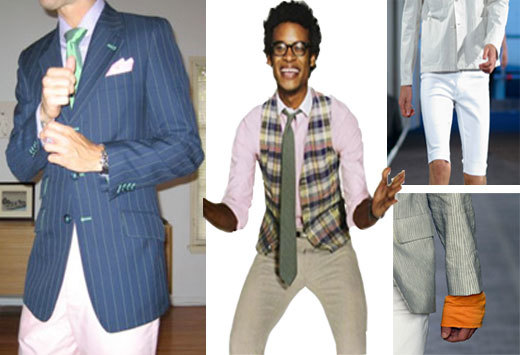 Color and fine tailoring continue to the details, as seen at Brit New York based Lord Willy's (right) and on comedian Jordan Carlos (middle). There are also flashes of color at !!! IMPWP0000943 !!! (bottom left), with shorts and trousers kept severely tapered, paired with loose fit T-shirts for contemporary style, as seen at designer Acne (top left).
This catalog was created for hardworking fashion merchandisers devoted to their consumer and their well-stocked boutiques. Above is a small tasting of extraordinary labels promised to bring any shop success.