Sartorial Runway, Spring 2011 Mens Collections
The Spring /Summer 2011 catwalks exploded with a riot of color and print, as designers in both Paris and Milan reveled in a sartorial renaissance. Jil Sander's unexpected brights set the anticipated standard in Milan, the conceit reiterated by Miuccia Prada's simplified, practical green scrubs. The mood in Paris was somewhat more introspective, with several designers - including Kris Van Assche and Raf Simons - taking inspiration from manual labor and functional attire. early trend identification.
Milan & Paris Highlights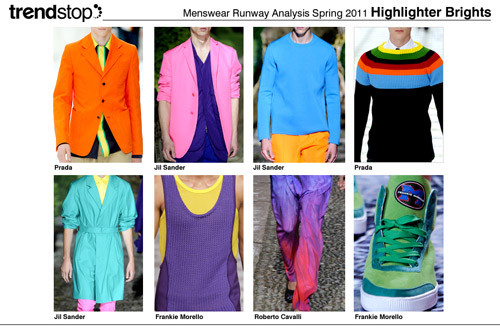 Highlighter Brights
Succulent and saturated; glaring greens, Yves Klein blues, acidic oranges, full bleed pinks and effulgent turquoise ricochet from the runways in an lively rebuttal of dour, winter darks. Clashed as whole pieces, bleeding watercolor or mixed width stripes, classic cuts are endowed with optimistic minimalism.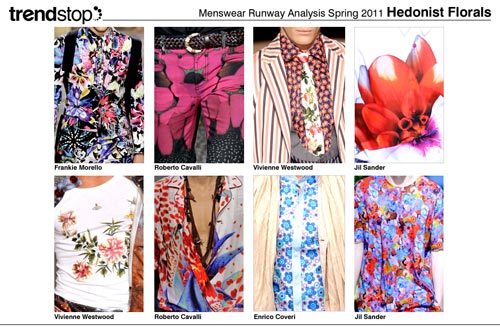 Hedonist Florals
Florals return for Spring with a generation spanning sweep. From circular sixties, to watercolor blooms, kaleidoscopic Hawaiian to Peter Saville Technicolor, saturated tones of blood red, cerise and highlighter blue elevate the characteristically feminine to hyper real hedonism.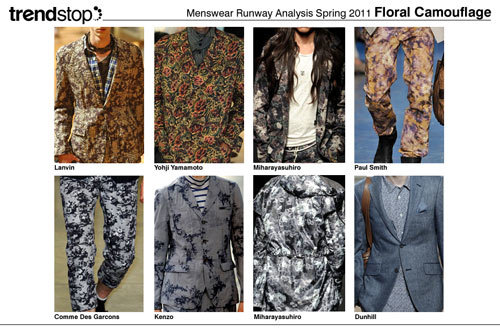 Floral Camouflage
Disguised florals embrace femininity without overt references, as tonal blooms are blended in a discreet camouflage. All over prints clash with plaid, stripe and check, the mix-and-match of pattern reducing the impact of the floral print.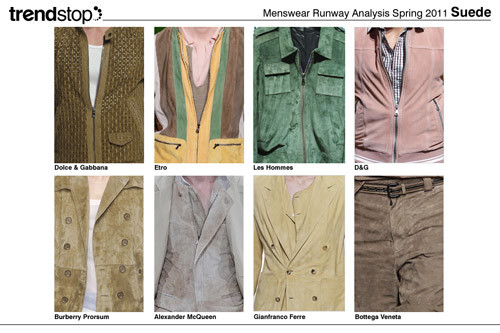 Suede
A key outerwear fabric for Spring Summer 2011, suede is effective in classic sandy tones. Solid color blocks showcase the soft tactility of the fabrication; lightweight versions are pliable and easily manipulated. Update for a contemporary market with panels and contrast weaves.
Gingham
Gingham is reinvigorated when paired with paisley prints, check and stripe. The classic print is scaled-down or oversized, faded and colorways and seersucker fabrications evoke a worn inn effect, reminiscent of nostalgic summer days.
More Report Details
Trendstop.com is a leading trend agency whose clients include leading brands, luxury brands, retailers, etailers, stylists and celebrities. Trendstop.com specializes in the commercial translation of conceptual trend looks to help you create best-selling on-trend styles. With access to vast image galleries, focused key trend reports, emerging trends and major themes updates, trendstop subscribers are always ahead of the trend.