S/S 2017 Womenswear Print on the Catwalks
This week, WeConnectFashion readers get an exclusive insight into three of the most essential and inspirational print directions impacting the SS17 season, courtesy of the Trendstop catwalk team.
Art Gallery Nautical revitalizes nautical themes with a fresh modernist feel, Sketchbook Scribbles offers a contemporary take on handcrafting with freehand monochrome graphics while From The Retro Archives takes inspiration from times past with a re-imagining of retro originals.
Sketchbook Scribbles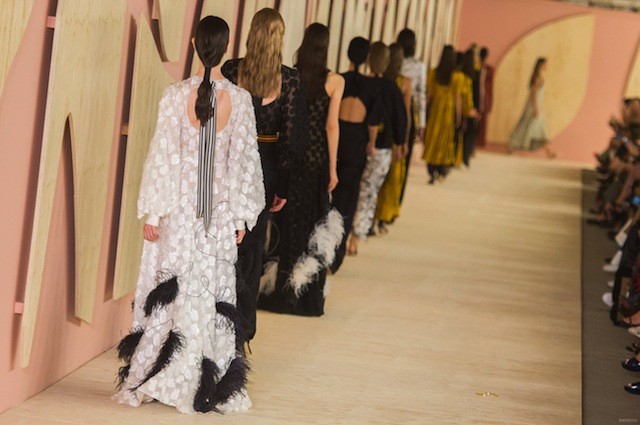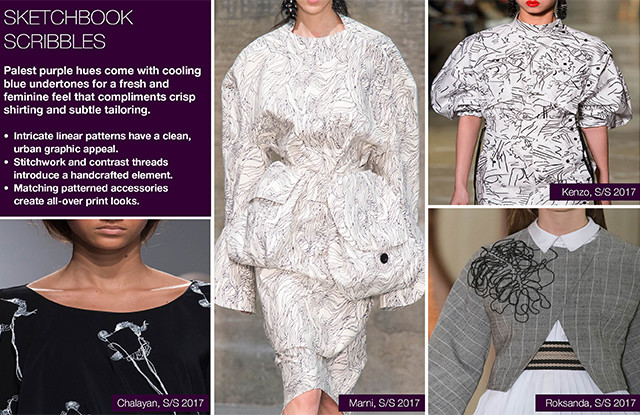 Hand drawn scribbles, urban graphics and illustrative effects in monochrome color-ways add an artistic license to apparel and accessories.
Intricate linear patters have a clean urban graphic appeal.
Stitchwork and contrast threads introduce a handcrafted element.
Matching patterned accessories create all-over print looks.
Top image courtesy of Trendstop: Roksanda S/S 2017 Collections.

Art Gallery Nautical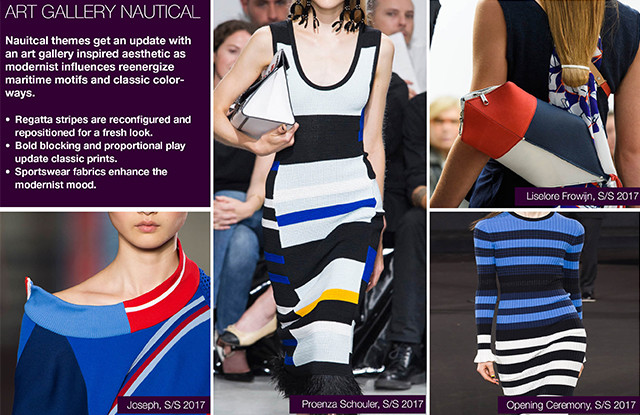 Nautical themes get an update with an art gallery inspired aesthetic as modernist influences reenergize maritime motifs and classic color-ways.
Regatta stripes are reconfigured and repositioned for a fresh look.
Bold blocking and proportional play update classic prints.
Sportswear fabrics enhance the modernist mood.

From The Retro Archives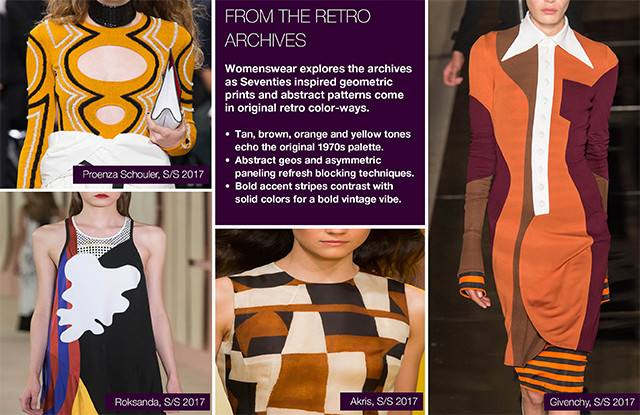 Womenswear explores the archives as Seventies inspired geometric prints and abstract patterns come in original retro color-ways.
Tan, brown, orange and yellow tones echo the original 1970s palette.
Abstract geos and asymmetric paneling refresh blocking techniques.
Bold accent stripes contrast with solid colors for a bold vintage vibe.
All images courtesy of Trendstop.

Exclusive Offer
WeConnectFashion readers can get get a taste of Trendstop's expertly curated reports with a with a special offer. Our Catwalks Overview Presentation, featuring the most directional designers, and key catwalk collections.


The Trendstop catwalk team brings you the latest print trends spotted on the international runways, helping to ensure that collections have the optimum expert analysis to inform decision making. This process begins with identifying and developing the key print trends manifesting in womenswear and our expertly curated seasonal reports evaluate each individual trend's commercial value and their longevity over the coming seasons.
Trendstop.com, is the world's leading trend forecasting agency for fashion forward trend information that is validated through early consumers to give you confidence in your trend decision making. Clients include H&M, Primark, Forever21, Zalando, Geox, Evisu, Hugo Boss, L'Oreal and MTV.

RELATED REPORTS