S/S 2011 Runway Women's Print Textile Trends Pattern People
An inspirational report from a surface design team's perspective. View prints from the Spring 2011 runway collections - Louise Gray, (pictured); Rodart, Marchesa, Vivienne Tam, Marc Jacobs, and Alexandre Herchcovitch - offer a trove of print and pattern that will influence future seasons. Great visuals and witty commentary, courtesy of Pattern People. We love Pattern People.
LOUISE GRAY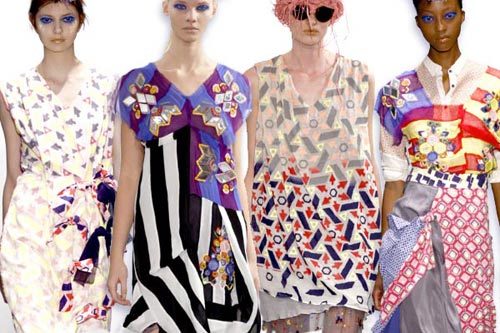 With her second runway collection, Louise Gray showed some interesting geometrics, stripes and arrow shapes colliding to surprizingly soft effects. The look is casual and layered, and as with her last collection, has an updated African feel. The appliqued medallions look like Military pins conceived by your artsy granny, and overall, there is a wit and worldliness to this collection.
RODART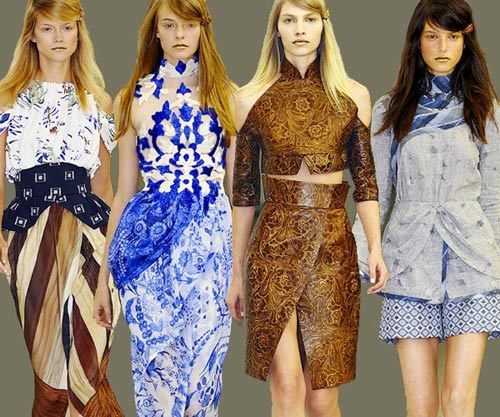 A clear stand-out at New York fashion week, Rodarte's collection draws on nature and the Redwoods of Northern California as inspiration. Also present is embossed crocodile, leather tooling and china blue patterns, all of which coalesce to give a sort of Old West/ Goldrush impression. The Mulleavy sisters' signature collage style is more structure and tailored than their previous collections, perhaps channeling Mr. McQueen? The wood grain and crocodile prints bring to mind the digitally printed dresses from McQueen's Spring 10 collection. But here, it is less Lady Gaga, more Star Trek.
MARCHESA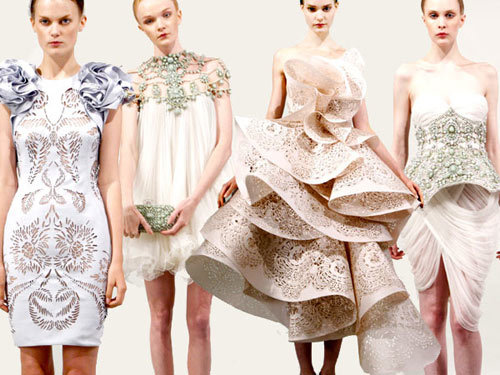 Oh, the breathtaking dresses of Marchesa! Looking at these is like being transported into some kind of Couture mythology. There are the Cruela De Villes, in sculptural hand-painted gowns with sharp edges, and Roman Goddesses in white draped gauziness affixed with lattices of lace and jewels. The punched out lace fabrics are like intricate tablecloths from a lavish feast, whirled into dresses. Delicious!
VIVIENNE TAM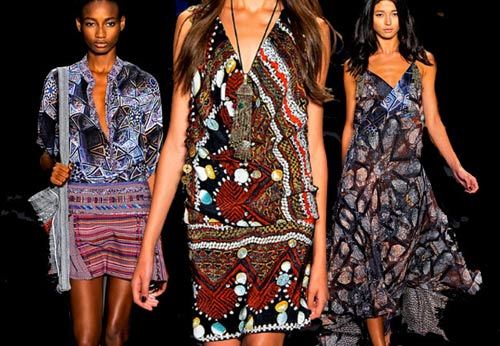 One of our favorite Spring 11 collections so far, as far as prints go, is Vivienne Tam. Ethnics inspired by places all over the world feel relaxed but vibrant and perfect for Spring.
MARC JACOBS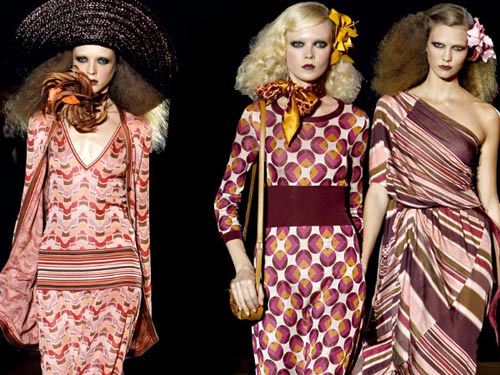 Are we really going to end up regretting that we've given our 70?s polyester from the 90?s back where it came from-Goodwill? Marc Jacobs's Studio 54 Collection seems to be saying YES (oh no!) Brown, burgundy, mustard yellow and army green come together in Missoni-like optical prints and stripes. Eyebrows are painted over, frizzy hair made bigger and frizzier, and adorned with big floppy hats, flowers and bows. For the more mass market-friendly Marc by Marc line, colors are brighter and crisper, the silhouettes more casual and the prints more graphic and bold, giving us a more loosely interpreted Studio 54 aesthetic with the 40?s and the aughties mixed in.
ALEXANDRE HERCHCOVITCH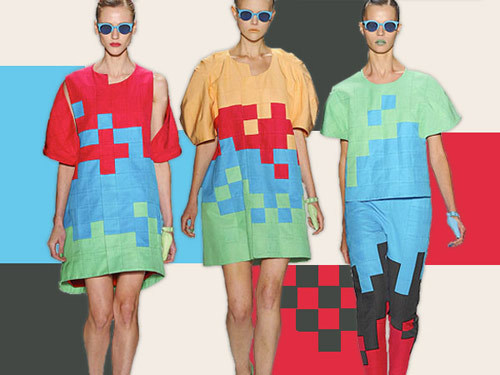 Color blocking has hit the runway in a big way. For Brazilian designer, Alexandre Herchcovitch, it was in a moving patchwork of pixel-inspired red, blue and yellow blocks. And, as if to punctuate this as a summer collection, he included blue-on-blue sunglasses.
MARY KATRANTZOU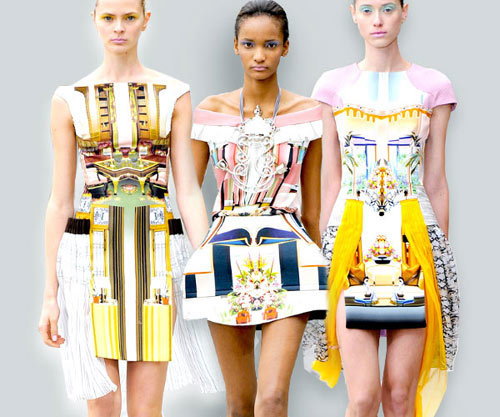 Looking at seventies photos from Helmut Newton and Guy Bourdin, Mary Katrantzou had a stroke of genius… Photos from old Architectural Digest and World of Interiors sit with razor-sharp precision on tailored dresses. To all this, tromp l'oille details are added. Opened curtains flank a skirt and reveal a posh living room. Candelabras serve as necklaces, and lampshades create pretty skirts with fringe. The effect is sometimes sleek, modern and 70's, and sometimes Baroque and opulent, but somehow always accessible and totally wearable.
More Report Details
For more surface design inspiration, visit: Pattern People. Be sure to check out their print collections along with the latest projects for Stussy, Nike Swim, and others.