Runway FW 2009-10 Print Direction
An insightful report from a surface design team's perspective. Oversized perfume bottles, gems, sci-fi and futuristic expressions, '80s Palmer Girls, bonker pattern mixes to molten earth action – Fall 2009 runway collections present a trove of print and pattern inspiration that doesn't hold back.
Mary Katrantzou, Fall 2009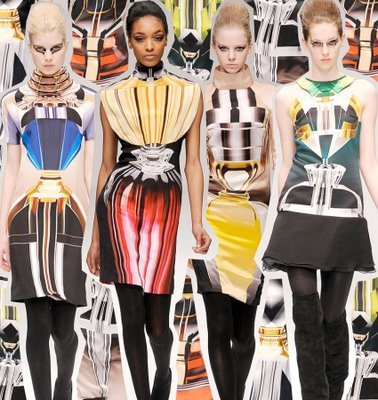 Mary Katrantzou's original collections focused on a combination of impossibley large necklaces and printed versions of the jewelry on dresses. For her second London Fashion Week show, most of the prints are inspired by perfume bottles. It seems to be an update to Alexander McQueen's Spring 09 collection, which featured a close-up of a jewel filling each dress. The interesting thing about the perfume bottles is how they start to get abstract and turn into something sci-fi and futuristic. For print lovers everywhere, this greek designer is definately one to keep an eye on.
Danielle Scutt, Fall 2009
Might as well face it, you're addicted to…the eighties. Danielle Scutt, barely a fetus as the eighties got under way, has absorbed that sleek Palmer Girl essence, and distilled it into something bright and new. Flame-like collars, snake-like prints, and gigantic tassle necklaces look a bit punk and dangerous. Yes, even tassles can look menacing in this girl's hands.
Kinder Aggugini, Fall 2009
These gorgeously painted florals from the debut runway of Kinder Aggugini, brings us some more good news from London. Romance is back! (it doesnt cost anything, dahling.)
Eley Kishimoto, Fall 2009
What is going on in London? It's bonkers! Print studio-turned fashion label, Eley Kishimoto, are not holding back due to hard times or anything else. It's a cacophony of large dots in ethnic configurations, checks on checks on paisleys on circles, zig-zags and animal prints. I just want to click my magic red heels and be in London… stat!
Stinha-Stanic, Fall 2009
Stinha-Stanic present two interesting print directions. They've recycled some photos they used in last show's back-drop,bringing a mysterious and exotic look to these simple draped pieces. The second trend, as we've also seen from Karen Walker, is the pearl beading, which is quite beautiful and adds something fresh and new to the biker imagery.
United Bamboo, Fall 2009
Another New York fashion week favorite was United Bamboo. The print on left has a molten earth, primordial feel to it, and the one on right is like 'Wilde Style' meets 'Jackson Pollack' meets '2001: A Space Odyssey.' Artist Rita Ackerman designed a print for them this season.
Jonathan Saunders, Fall 2009
Jonathan Saunders' Fall 09 silhouettes are very Star Trek meets Blade Runner (although the inspiration is birds), but the prints bring a softer touch to the squared off shoulders and severe lines. The models looked like clones flying forward to take over the world. The prints look like they were created by martians (The spacey geometric one on left was created by Saunders when he was a student at St. Martin's. He was a print designer first.)
For more surface design inspiration, visit: the Pattern People blog, be sure to look through past posts.