Revamped Print Classics, Menswear S/S 2016
An Early Indicator Trend. Looking ahead to the S/S 2016 season, Trendstop has spotted two key print trends emerging for the menswear wardrobe. While flower and nautical themes are frequent favorites, this time around the prints are revisited and revamped with a contemporary flair. Florals are blown up to statement proportions in PURIST FLORALS, while native patterns are revamped into MONO MARITIMEs. trend translation.
Mens Prints, S/S 2016.
PURIST FLORALS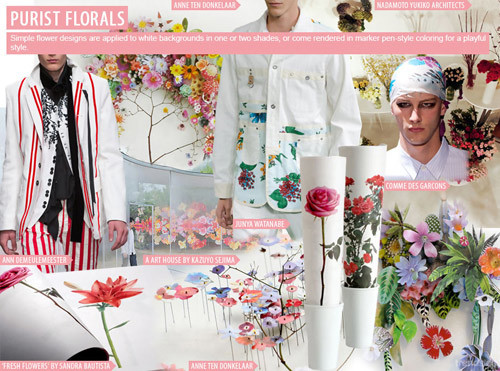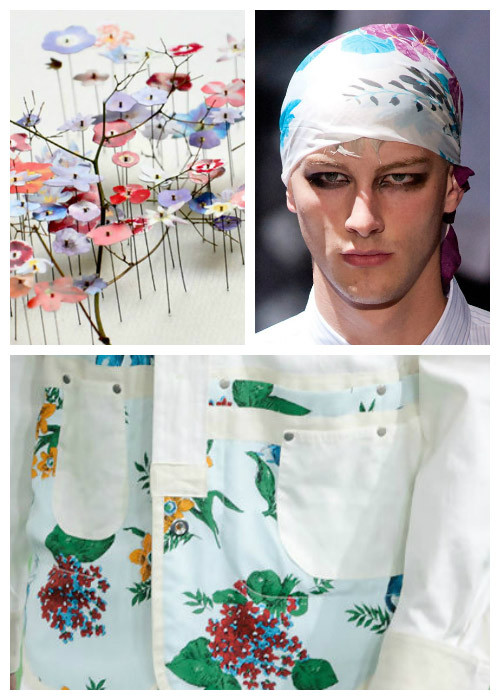 image courtesy Trendstop: Junta Watanabe MAN, Comme des Garcons, both Spring/Summer 2014, Anne Ten Donkelaar Flower Constructions.
Simple flower designs are applied to clean white backgrounds in simple one-tone or vibrant multicolored shades, breathing fresh life into florals with a modern finish. Minimal jackets see utility pockets interrupt graphic placements for a print vs. plain play design at Junya Watanabe MAN. Elsewhere, delicate blooms are applied to a simple headscarf at Comme des Garcons.
image courtesy Trendstop: 3.1 Phillip Lim, Ann Demeulemeester, both Spring/Summer 2014, Nadamoto Yukiko Architects.
With its stark organic aesthetic, this trend is ideal for making a fresh injection into Junior and Contemporary Market ranges. Pure white shapes catch the eye with pops of intense red, as seen with large abstract graphics at 3.1 Phillip Lim. Ann Demeulemeester adds interest to black floral silhouettes with red stripe contrasts through layered styling.
MONO MARITIME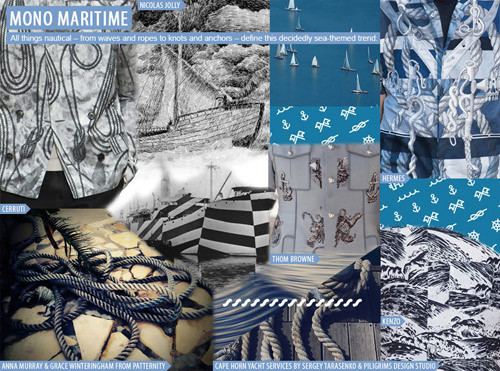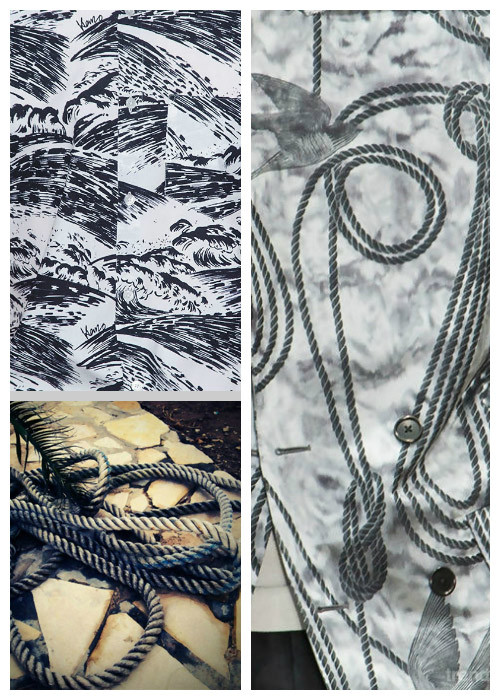 image courtesy Trendstop: Cerruti, Kenzo, both Spring/Summer 2014, Anna Murray & Grace Winteringham from Patternity.
A nautical print story returns as a key trend for Spring/Summer 2016, on show in an austere monochrome palette for a more refined approach to seafaring style. Graphic waves crash in repeat form on Kenzo button-down shirts, stripping back the traditional Japanese art aesthetic in stark black and white. Meanwhile, Cerruti apply the look to a formal double-breasted blazer, combining recognizable motifs like ropes and birds with a soft dappled grayscale base.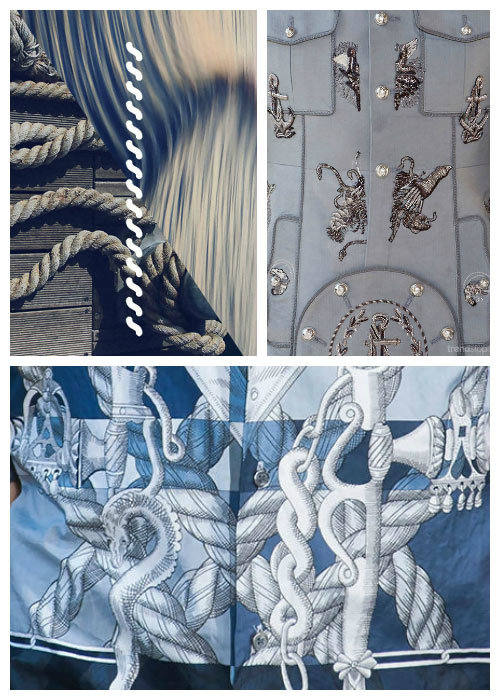 image courtesy Trendstop: Hermes, Thom Browne, both Spring/Summer 2014, Cape Horn Yacht Services by Sergey Tarasenko & Pilgrims Design Studio.
Suitable for all Market levels, in this trend we see signature maritime blue hues tempered with cool tonals or hints of ashy gray. Ornately wrought metal anchors, sirens and krakens are embellished on blue-grey jackets at Thom Browne, while Hermes makes a coordinated statement with an interlocking pattern of ropes and hooks on color blocked apparel.
More Report Details

Trendstop.com is one of the world's leading trend forecasting agencies for fashion and creative professionals, renowned for its insightful trend analysis and forecasts. Clients include Forever21, Ralph Lauren, H&M, Hugo Boss, and L'Oreal.