Revamped Florals, Women's Prints S/S 2016
The arrival of Spring/Summer 2016 inspires a host of fresh and directional takes on the seasons quintessential floral print stories, adding an updated relevance to established styles, say the trend analysts at Trendstop. IIn Multi-Applications, Offbeat Oriental Blooms appeal with a contemporary elegance, as The New Daisy blooms on urbane designs. Early Indicator Trend Alert: a first look at two key print trends, Florals, for Spring/Summer 2016.
Offbeat Oriental Blooms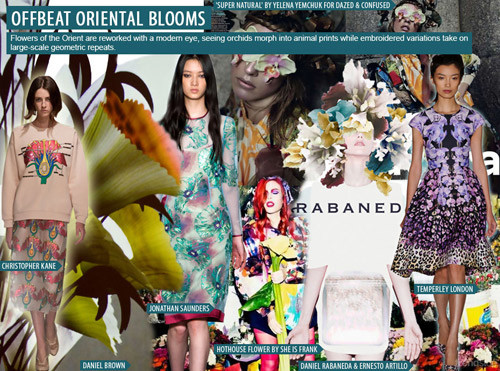 image courtesy Trendstop: Christopher Kane, Jonathan Saunders both Spring/Summer 2014, Daniel Rabaneda & Ernesto Artillo, Temperley London Spring/Summer 2014.
APPAREL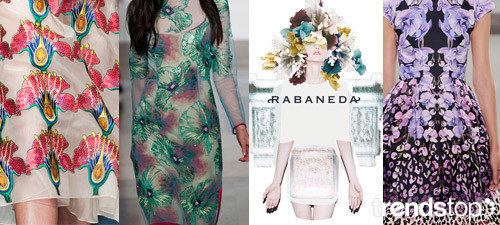 Flowers of the Orient are reworked with a modern eye, infusing Spring/Summer 2016 apparel with an organic edge of sophistication. Botanical blossoms stand out in large sizes at Christopher Kane, as sheer layering makes for double the fun at Jonathan Saunders. At Temperley London, delicate florals materialize in multiple scales and come fused with leopard print paneling.
ACCESSORIES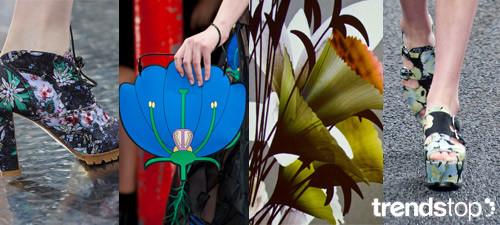 image courtesy Trendstop: Mary Katrantzou, Christopher Kane, both Spring/Summer 2014, Daniel Brown, Erdem Spring/Summer 2014.
Suitable for all Market types, Offbeat Oriental Blooms accessories complement the apparel styles with their mood of refined exoticism. Digital print blooms stand out on dark bases on lace-up Mary Katrantzou footwear, while Christopher Kane goes biology chic with flower anatomy-shaped bags. Erdems pastel blue and green print makes a statement with plain black straps on platforms.
The New Daisy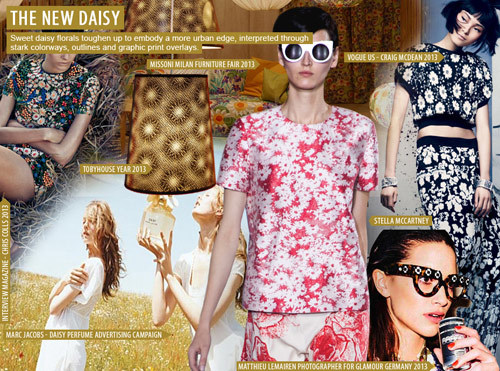 APPAREL
image courtesy Trendstop: Stella McCartney, Chanel, both Spring/Summer 2014, Missoni Milan Furniture Fair 2013, Cushnie et Ochs Spring/Summer 2014.
Sweet daisy florals toughen up to embody a more urban edge, as interpreted through stark colorways, outlines and graphic print overlays. Clean white blooms flourish on sporty Stella McCartney tees, as Chanel goes 3D with beaded embellishment on white tops. Cushnie et Ochs taps into a more artistic mood with hand-drawn doodles on an asymmetric shape.
ACCESSORIES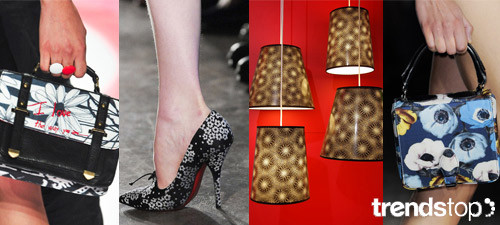 image courtesy Trendstop: Marni, Prada, both Spring/Summer 2014, Philip Treacy, Simone Rocha Spring/Summer 2014.
Proving suitable for all Market levels, New Daisy accessories take shape with a feminine flair this season. Hand-drawn blooms are complemented by slogans and stripes on Desigual bags. Elsewhere, miniature daisies stand out on ladylike Michael Van Der Ham heels and shrunken handbags take on colorful patterns at Andrea Incontri.
More Report Details
A full range of trend reports are available at Trendstop.com, one of the world's leading trend forecasting agencies for fashion and creative professionals. The agency is renowned for its insightful trend analysis and forecasts. Clients include Forever21, Ralph Lauren, H&M, Hugo Boss, and L'Oreal.