Retail Items Men & Women FW 2011
As the Recession continues to make its presence felt, retailers appeal to consumers with classic pieces that come with an unexpected twist. Versatile pieces are key, customers tempted with heritage inspired trends and reappropriated detailing that ensures an easy familiarity with new products; cosy, comforting and tactile details envelop and cocoon the wearer, providing protection against the Winter chill.
The Best Sellers at Retail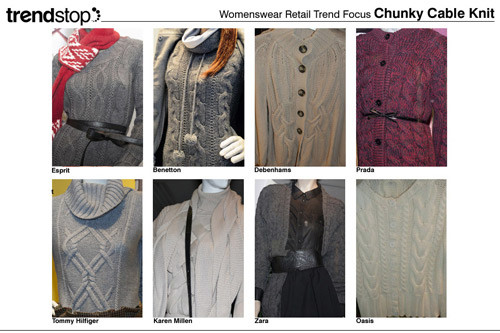 Chunky Cable Knit
A cosy Winter must-have, chunky cable knits veer from classic textured creams at Karen Millen to Prada's space-yarn knits. Oversized rollnecks cocoon the wearer; bracelet length sleeves reiterate a relevance to the youth market, whilst sturdy buttons reference a rustic heritage. A thin leather belt, complete with a flirty bow, as seen at Esprit, introduces an element of femininity.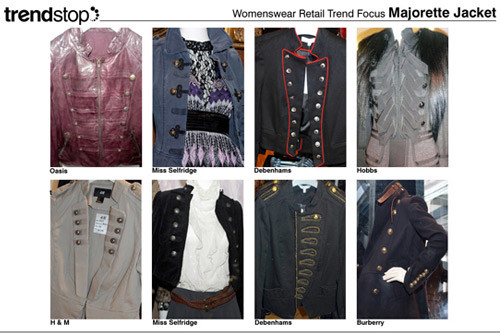 Majorette
The baton-twirling majorette uniform is reinvigorated for the mass market. Details derived from the style – including gold buttons, epaulettes, contrasting piping and braiding – add interest to hip-length jackets. Nipped in waists, in evidence at H&M and Miss Selfridge, create a flirty feminine silhouette; whilst Hobbs promotes a more luxe aesthetic with ribboning and lavish faux fur shoulder detailing.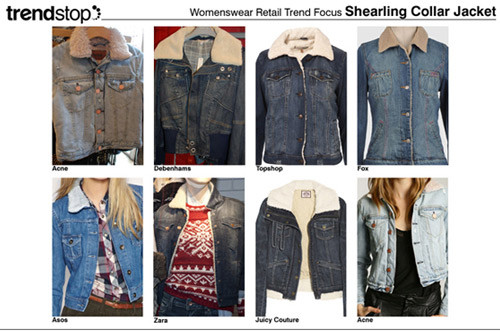 Shearling Collar Denim Jacket
Taking inspiration from the winter aviator, shearling adds interest to traditional denim jacket shapes. Juicy Couture and Moto at Topshop present a full shearling lined jacket, replete with a coordinating collar, whilst Philip Lim ups the wintry conceit with faux fur cuffs. The combination of traditional texture with practical denim ensures the shearling denim jacket is established as a new seasonal classic.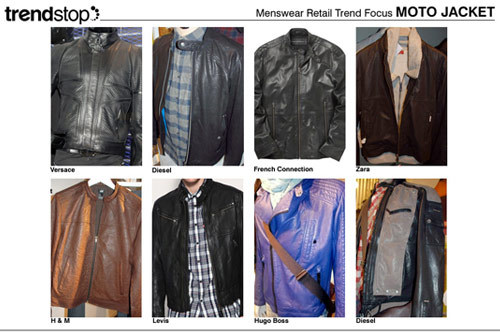 Moto Jacket
The timeless moto jacket is a wardrobe staple. Classic zip-through styles and super-soft leathers reference a man-about-town appeal, in contrast Versace's panelled stealth leather presents a streamlined option. In a reference to mod styling, lapels and collars are completed neatly curving finishes and press stud detailing. Although popular in black, retailers including Hugo Boss and H&M have enhanced retro sensibilities with muted brown a blue colorways, referencing the appeal of the Seventies.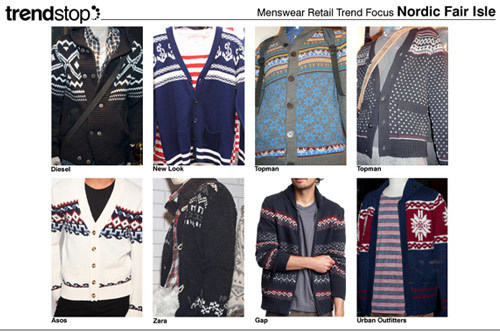 Nordic Fair Isle
Comforting Nordic patterns in navy, red and cream dominate knitwear across a selection of retailers. Ringing with a wholesome, home-spun charm, placement patterns add interest to simple shapes and silhouettes, Topman's vibrant color pops add further interest. Unusual details – including the double breasted buttons seen at Diesel, shawl collars and zip-front fastenings, in evidence at Gap and Urban Outfitters – reiterate the contemporary appeal of Nordic knitwear.
More Report Details
Trendstop.com is a leading trend agency whose clients include leading brands, luxury brands, retailers, etailers, stylists and celebrities. Trendstop.com specializes in the commercial translation of conceptual trend looks to help you create best-selling on-trend styles. With access to vast image galleries, focused key trend reports, emerging trends and major themes updates.