Quest: Men's Trend Report S/S 2009
**Spring / Summer 2009 Menswear Trend Report: **
With the uncertainties of what tomorrow might bring, Spring 2009, approaches menswear with softer, lighter silhouettes. Knits and linens are loose and weightless. Scarves provide sanctuary. Plain white cotton shirts come back to visit, this time around with a sanded hand. Fabrics offer delicate textures in jerseys and twills. Inhabit, right. A Peace Treaty, scarf, bottom center. Cavern, bottom right.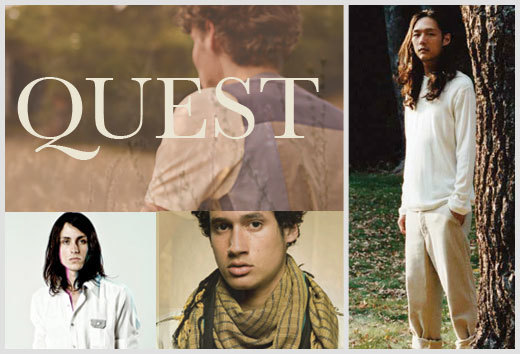 The colors in QUEST come from muted neutrals in tan and khaki. Pale colors in blues, yellows, and pinks set a subtle mood like the Cobble Stone shirts by Lenor Romano at the bottom right. On the left, Cheap Monday uses a pale mint green for the their spring collection which creates a soft contrast to the navy blue shoes and white pants.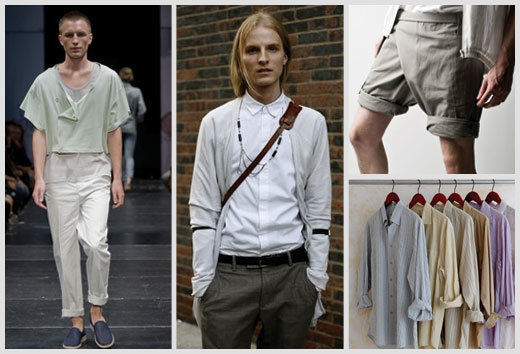 Fabrics get a slight feminine touch with loose drapes. The shirt on the right by Telfar gives a simple knit a delicate cowl. Pants also become loose like the ones shown in the center by Yves Saint Laurent S.A, who used traditional women's fabrics to make men's clothing for the spring collection. Prada, on the right, also plays with the silhouettes, especially around the neckline. The contrasting necklines and layers create an interesting focal point.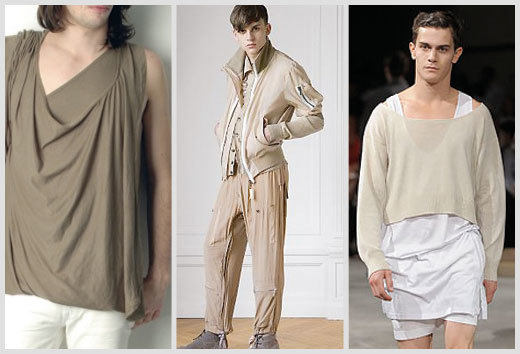 Accessories bring it all together, such as fedora hats and desert boots. The hats help protect the explorer of uncertainties, like the one shown by Eugenia Kim on the top right. The desert boots by Clarks Companies NA Inc also provide a softer, comfortable boot for any voyager. Nicholas K Studio, on the bottom left, captures the idea of a young man set out to find the answers for a better tomorrow.