Project Trade Show Trend Report
Fall / Winter 2008-2009 - For an entire week New York reveled in the Menswear market with trade shows Project, The Collective, and Blue. Project had 273 directional brands convene high atop the 7 World Trade Center for a first look at fall 2008, winter 2009 and a last look at spring 2008. Plaids and check prints were still holding strong along with shawl collars, khaki's galore, printed knitwear, innovative cardigans, and casual tuxedo shirts. The color palette was perdominently neutral: lots of black, brown, and gray. Some manufacturers did add a splash of color.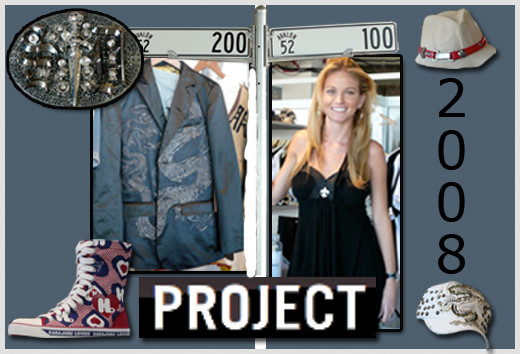 For the last look at Spring/Summer '08 tee shirts were in full effect coming in an array of colors. Zooey continued the eco-friendly save the world trend by creating an assortment of tees with world peace signs or think green slogan (pictured below left). Give And Take on the other hand takes vintage athletic tees, each with their own distinctive design and message, and recognizes the efforts of organizations such as Boys Club of NY, the American Cancer Society, the Special Olympics, and many others (view below on right).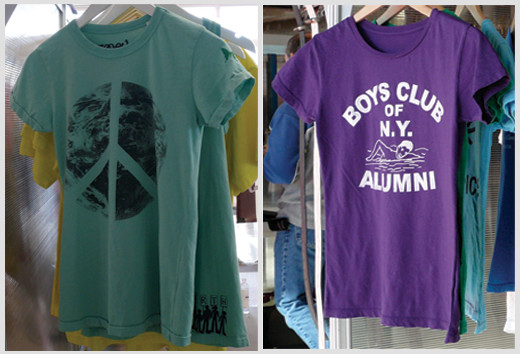 Graphic tees were exuberant and crazy as ever especially with Christian Audigier who had a very popular booth. For a more raw and elegant look, Aniki denim and tee shirt collections are who you should turn to. Their tee shirt collections came in colors like navy blue, white, black, burgundy, and gray with serpent and skull-like designs (see below right). Ruthless Art jumped a step further into the urban market with a unique oriental feel to their tee shirts. They had wild prints and designs of dragons and skulls all over their tee shirts and denim collections with more intricate detail in the graphic art (pictured below left). If you wanted a booth with clothes thrown on top of each other and maps as a tee shirt then Kill City was the spot.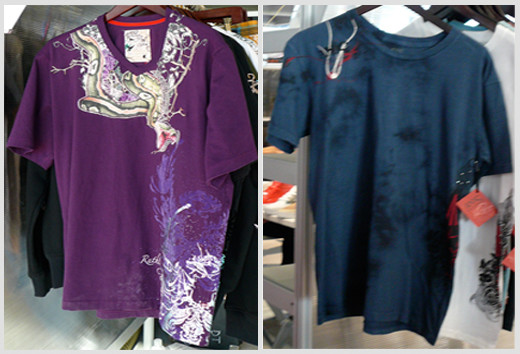 Mens outerwear was huge, every other booth you turned to on the upper floors was displaying coats and jackets. From leather jackets to down coats with a fur hood outerwear was the big hit for men. Add Down 921322 had a great display of black, blue, and gray down coats and jackets with large zipper pockets (view below). Additional outerwear companies that had exquisite displays were Vintage China and Alpha Industries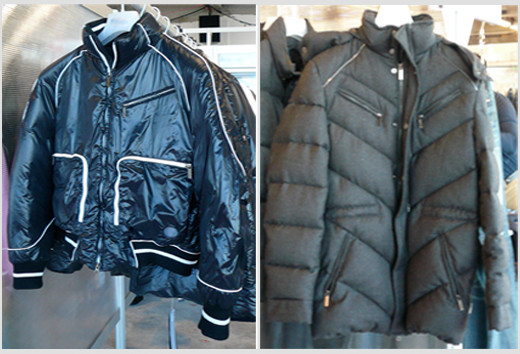 Alpha Industries had a militaristic mood throughout their booth with their leather aviator jacket (see below right) and old military ammunition boxes. They also had clean-cut leather jacket with fur lining and fur cuffs (pictured below left).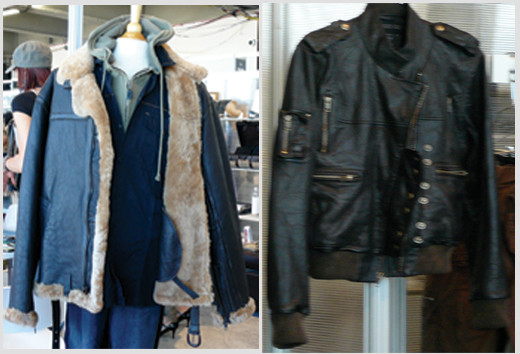 Merging the eastern and western style Vintage China had a hot spring/summer '08 collections. With their unique blazer jackets with dragons across the front and urban chinese writing on the backs of the jackets (pictured below). Aniki had a raw but elegant mid-length trench coat with a beautifully detailed white and blue phoenix on the back.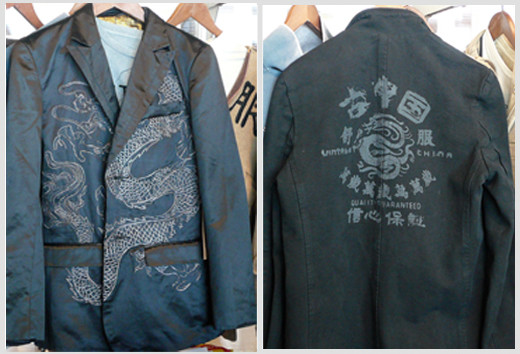 Who said you could never have enough bling. Every where you turned some piece of apparel or accessory had some type of bling. From hats and shoes to hoodies and jackets shiny rhinestones and gems were still in for fall '08. To help those dull colors pop retailers decided to add some shiny bling. Christian Audigier definitely didn't forget about their bling adding gems and stones on to their intricate men's hoodie designs (viewed below right). Silver Dagger known for their extravagant rhinestones had creatively crafted jackets with bird designs made from the rhinestones (see below left). They also had different color rhinestones to go with their butterfly designs on their hoodies for women (pictured below in middle bottom). Dream Control went all out with their premium headwear gussied up with rhinestones galore. They had an assortment of hats in all shades of colors and rhinestone studded designs ranging from flowers and crosses to animals and letter initials (see top middle).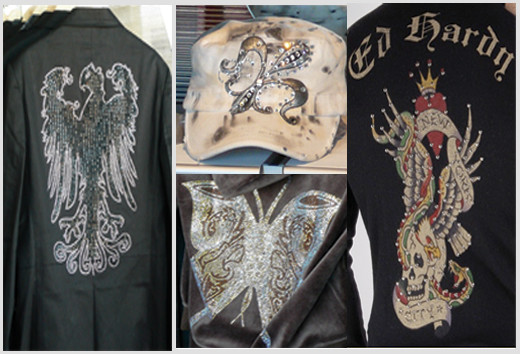 Denim collections were booming in the mens street wear market for spring/summer '08. Give it up for Vintage China : their unique washes between dark and light denim (pictured below), patch work with giant studs and colorful art design pocket details (see below left). Chinese characters running along the side of the jeans brought in an eastern style with a vintage look (below middle). Ruthless Art presented extraordinary art designs on their pockets that made the jeans pop with all sorts of color (see second set of pictures bottom right).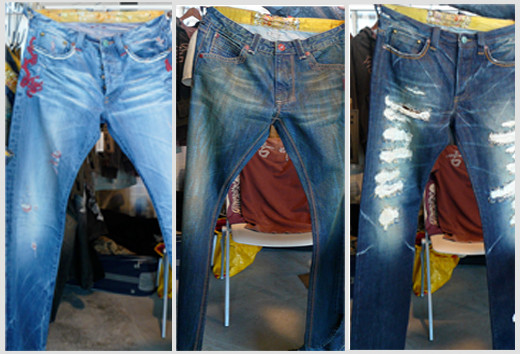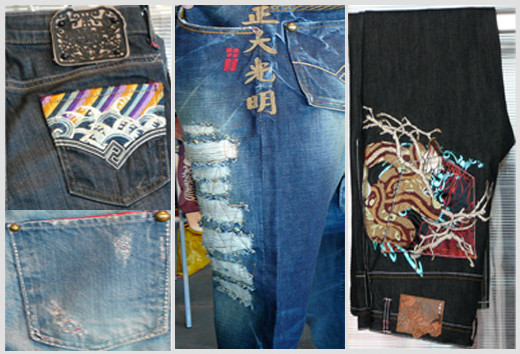 You could not appreciate menswear without the accessories. Bringing more of the skater and harajuku style into mens accessories L.A.M.B. and Harajuku Lovers covered it perfectly. With crazy animated designs and sayings in laced up boots and high top shoes (see below). If you wanted to skate into outerspace than Royal Elastics is a brand with a futuristic flare. Silver Dagger blinds once again with their diamond rhinestone belt buckles (viewed below left). Dream Control updated hats and belts (pictured below right).