Premium Magpie, Womens Apparel & Accessories FW 2014-2015
An early indicator trend, take a first look at a key fashion theme for F/W 2014-15: Premium Magpie. A fondness for sparkling trinkets leaves its mark on Fall / Winter styles, as a magpie-like sensibility inspires a range of luxurious appliqued looks, say the trend analysts at Trendstop. A statement trend where more is definitely more, rich embellishments encrust apparel and accessories in the form of shining stones and metallics.
Early Indicator Trend Direction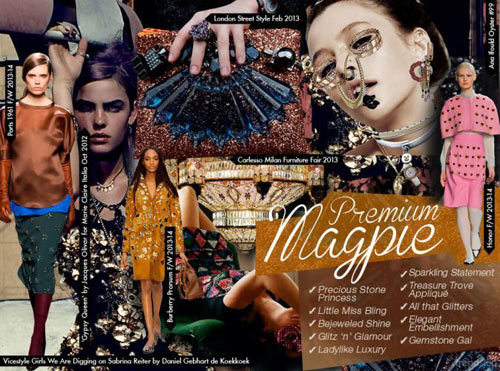 CATWALK INSPIRATION
Fall/Winter daywear receives an opulent update, transforming simple shapes in cozy seasonal textures with glittering newfound detail. Burberry dresses up a suede coat with golden leopard spots, as Giambattista Valli take inspiration from chilly weather with frosted gem placements. Meanwhile, Ermanno Scervino's chunky knit glitters with gems and Honor's girly two-piece is festooned with pink heart repeats.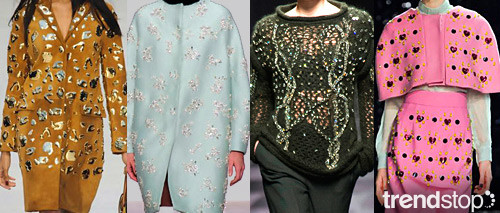 image courtesy Trendstop: Burberry Prorsum, Giambattista Valli, Ermanno Scervino, Honor, all Fall/Winter 2013-14.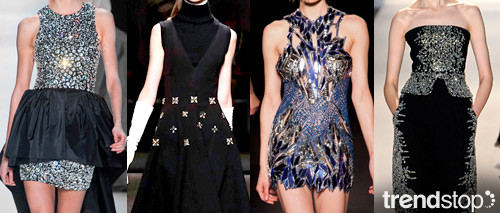 image courtesy Trendstop: Michael Kors, Ports 1961, Julien Macdonald, Jenny Packham, all Fall/Winter 2013-14.
Eveningwear options look decadent with socialite embellishment, creating new party season must-haves. Michael Kors and Julien Macdonald opt for appealingly OTT glamour with bejeweled or mirror shard mini dresses, while Ports 1961 keeps it chic with subtler appliquE on a demure midi. Jenny Packham goes modern with a sparkling bandeau and matching volume pants.
STREETSTYLE INSPIRATION
Over in street style, we see individuals interpret the trend with a treasure trove of luxe accessories, dressing up Fall/Winter outfits with a dazzling finish. In Paris and London, precious stones adorn rings and glittery clutches in oversized shapes, as chunky necklaces make a statement and feminine clutches are encrusted with floral gems. Clash colors for extra emphasis.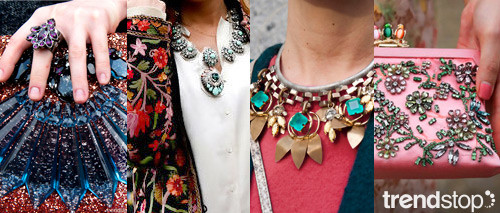 image courtesy Trendstop: London Street Style & Paris Street Style Year 2013.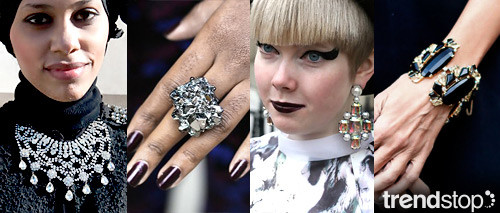 image courtesy Trendstop: London Street Style & Paris Street Style Year 2013.
The trend can also create a distinctive sophistication in pared-back metallic or dark tones. Paris and London street stylers demonstrate this with vintage beaded chokers or more contemporary looks in raw ore rings and bracelets, as well as cross shaped jewel earrings finished with pearls.
REPORT DETAILS
Trendstop.com is one of the world's leading trend forecasting agencies for fashion and creative professionals, renowned for its insightful trend analysis and forecasts. Clients include Forever21, Ralph Lauren, H&M, Hugo Boss, and L'Oreal.