Premiere Vision S/S 2009 Textile Report
**Fabric Direction Men's, Women's, Children's: **Premiere Vision presents, "a radical, fresh season, full of wit and joyous disorder, that blends nature and artifice with brio, takes clear positions on colour, and affirms, consciously and insouciantly, the energy of tomorrows. It dedicates itself to the sustainable and lauds the joys of the ephemeral. It draws on the moment, to thrust itself into motion. It soaks up many elsewheres to interpret them with skill. It makes claims on space and takes its ease. A season of nonchalant freedom,with a gently grating flavour, with a witting fullness, that dares to cast itself in the thick of life, with a light heart." Coverage from Premiere Vision, the mother of all international textile shows for the fashion sector, their fabric trend report, S/S 2009:
Spring / Summer 2009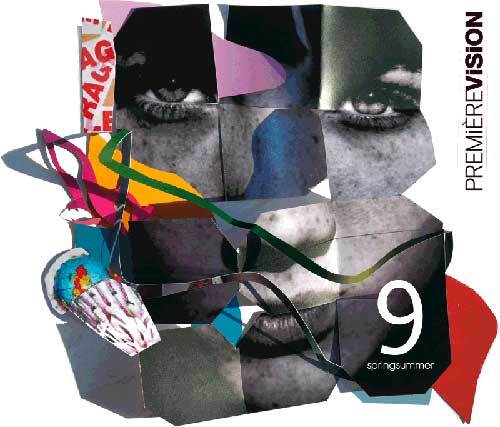 ACTIVATING
Seizing on freedom of movement as a driving force, and clearly affirming the importance of the physical and the sensory. Liberating oneself from all constraint, breaking free of rigidity, of materials or processes, in favour of action. Exploding shackles, gleefully messing up colours, decorations and textures. Saying no to fetters, leaving room between the body and fabric, and wrapping oneself at will in a sensual and lively fluidity. Lauding ease and fullness as indispensable, elaborating silhouettes with fabrics allowing graceful movement. Making the connection between elegance and nonchalance. Take a deep breath and GO FOR IT!
WITH the lightness of ultra-fine, dense and opaque fabrics, delicate as petals. Cottony or woollen suitings that are refined to the extreme, jerseys and shirtings with grains finer than the most delicate skin, synthetic ultra-featherweights to snap in the wind, ethereal silks that embrace the breeze. Floaty fabrics to favour fullness, to provide weightless cover while eschewing limpness or transparency, and to trace the body's movements without hindrance.
WITH motion, and enveloping oneself in fabrics with a boosted liveliness. Taking flight with fluid and dry crepes, foamy knits, energetic synthetic and natural blends, with cold handles. Dashing ahead with springy linens and blends with manifestly wild, dry and harsh handles. Revelling in the unexpected shivers of crepons and mini-seersuckers with unpredictable volumes. Adopting the no-fuss liveliness of shivering, softly washed and gently worn cottons and silks. Being moved by the malleability of stretch fabrics to achieve just the right dose of ergonomics, lightly sculpted to move without hindrance, and initiating cuts that alternate fit and ease.
WITH fantasy, thanks to the impertinence of disarranged motifs, of joyful disorder, of moving geometries, of scattered bouquets, of colour-woven conventions shattered by new proportions and colourways, and also by the spontaneity of sketches and scribbles.
WITH the paleness and optimism of matt, filtered, washed light. Awakening to the energy of lighter-coloured suitings, of end-and-ends or chambray shirtings. Brightening with the irregular light of chalky coatings and whitened denims. Linens washed out in sunlight and jacquards elaborated with faded halos. Illuminating with lightly pearlised reflections, with nacre taffetas and iridescent crepes. A radiance that infiltrates with a sure determination, for a sprucely fresh elegance.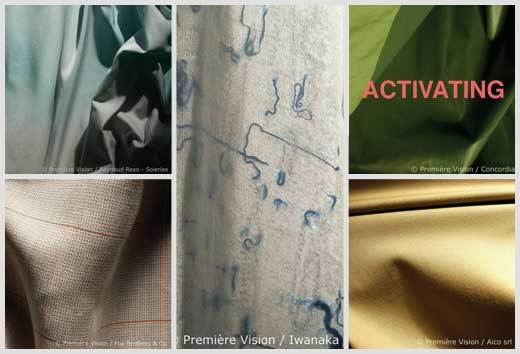 Fabric : top left, Reynaud Rexo - Soieres; bottom left, Fox Brothers & Co; center, Iwanaka Co; top right, Concordia Textiles N.V; bottom right, Aico Srl. Fabric Photos: Premiere Vision
IDEALISING
#### Determinedly the championing the freedom to be, and individual intuitions, beliefs and emotions. Embellishing tomorrows, emphasising reality, sublimating nature, ennobling the present, and exalting improvisation. Giving oneself license to choose the multiple over the binary, to believe in astonishing combinations, in the force of many. Opening one's eyes without prejudice and spontaneously playing on the richness of elsewhere to create improbable alliances. Juggling references and unhesitatingly accepting contradictions, with lightness and passion, and joyously enlisting in a better tomorrow.
exalting the natural and sublimating the artificial
Clinging to vegetal subtlety, making it discreetly evident to the touch, enjoying its delicate visual revelations, soliciting its perfect gleam and idealising it by colouring it to the extreme. Playing on contradiction through artificial gardens created from a fantasized nature, from reality that has been joyously outsized, from overly natural flowers. Ultra colours and plastic reflections elaborated with weightless, acid knits, shifted embroideries, and ultra-synthetic laces and silks.
upsetting the past and cultivating eclecticism
Flitting without prejudice among western and exotic folklores and customs. Allowing a sentimental view of idealised authenticity to interpret it impertinently. Drawing inspiration from cottony ingenuities - yesteryear's tablecloths, towelling and shirts - to invent clothing of city "farmers," imaginary and extroverted. Shirtings with electric stripes and checks, tops elaborated with a piquant transparency and biting jacquards, with resolutely contemporary accents.
Decoratively telescoping, juxtaposing selected elements of disparate styles and provenance. Collecting from all corners with the instinct of a connoisseur and the insouciance of an amateur: wittily allying yarn-dyes, ikat-looks, raffias, embroideries and prints. Overlapping genres and letting loose with touches of essential folly.
cheering up the ethical
Dreaming of a better world and creating a dialogue between ethicalness and fantasy. Signing on for a sustainable-development approach without giving in to moralising. Choosing bio-diversity and showcasing the ecological potential of synthetic fibres. Embellishing and sophisticating organic fibres and recyclable or recycled materials. Moving away from the weakness of the "totally organic" image, to connect fashion and respect for the environment with panache, through, among others, the panache of organic cotton.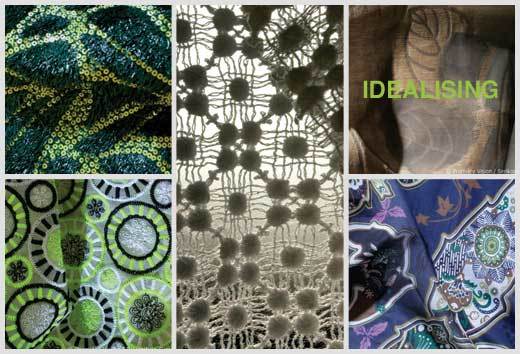 Fabric : top left, HOH Hoferrhecht Stickerein; bottom left, Ricamificio Gimar Srl; center, Antex Broderie; top right, Serikos SpA; bottom right, SET Societa Europa Tessile SpA. Fabric Photos: Premiere Vision.
RADICALISING
**Affirming individual freedom of thought, throwing oneself wholeheartedly into creation, and committing to optimism. Fighting trivialisation, propagating the power of differentiation, and enthusing over clarity, generosity and frankness. Electing mattness, thrilling to volume, creating dimension from the inside, diving into materiality, and investing oneself in the artistic with colour and without compromise. **
MATTNESS: getting to the heart of matter and refusing all deceptive vibration. Going for a deep and matt boldness. Elaborating with fabrics that absorb light and that express colour in mass. Jacquards, coatings and embroideries minimise shine. Cottons are softly emerised, linens are precisely washed, synthetics and woollens are muffled to eliminate lustre and affirm a matt regularity.
SIMPLICITY: pale and precise visuals and materials signal a need for ingenious function, free of useless artifice. The archetypes of workwear elegantly interpret their manifestly utilitarian visuals: canvas and light canvas are updated for fashion behaviours. Weightiness adapts to a material suppleness, either cottony or synthetic. Anti-stretch moves into blocked knits, thick silks, structured and strong cottons and linens.
SPACE: volumes are created from structures with an outward fragility and infallible architecture. Air is captured in structures, and volumes are configured from the inside, so the body can express itself with ease. Silhouettes are discreetly drawn from double and ethereal transparencies, are structured from rigorous pleatings and quiltings, or open themselves up generously to haphazard volumes with a light scent of libertarianism.
EXTREMES: appropriating generosity, and strengthening the vigour of contrast in shape. Choosing a mode of expression and affirming it without concession. Standing behind decoration, and going with it all the way, to refute mid-sizes, exalting the obsessively minuscule together with monumental pictorials. Getting carried away with invisibility through urban camouflage. Disappearing into urban motifs, playing on polished mimicries with suitings, denims, laces and silks. Challenging cacophony, and adorning oneself in fabrics with silent, suave and creamy handles, to advocate a synthetic and silky softness, absolutely mute, with a radiant future.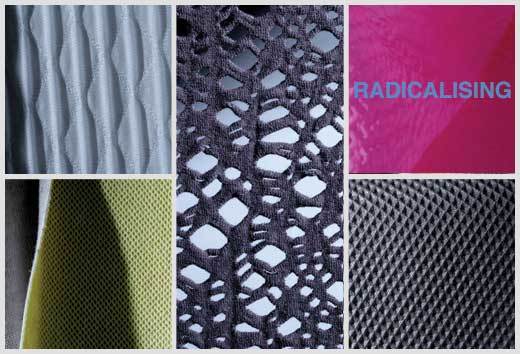 Fabric : top left, Tissages Denis & Files SAS; bottom left, New-Jersey; center, A Girl's Co Ltd; top right, Sfate & Combier; bottom right, Medaxe (of Flash Tendace). Fabric Photos: Premiere Vision.


#### The decorative and fluid universe throws itself enthusiastically into the season. Colour is a powerful vector of expression and personalisation, energising plains and magnifying decors. Silks move towards a cottony freshness, or become drier with a touch of linen or ramie. Weights grow lighter all in fineness, initiating a floaty fullness. In a luxury spirit, fluidity moves up alongside compacts and bulkiness for architectural cuts. Allying boldness, modernity and spontaneity, decoration reinvents exoticism and a countrified style, while avoiding nostalgia and cliche.
decors
floral: flowers in profusion, with highly varied handles and treatments, either scattered or accumulated flowers. Ultra-graphic, ultra-neat, ultra-contrasted flowers, or, in contrast, very pictorial. Mad botanicals interpreted in wild laces and luxurious embroideries, in direct opposition to a cloying romanticism.
natural: a cottony and elaborated spirit, absolutely matt, is expressed in laces and embroideries, flouting convention. Country-style fine linens are extroverted, the outline of lace and guipure is thickened or underlined, eyelet embroidery is spectacularly enlarged, and tulles are oversized.
ethnic: easily identified patterns, transposed through modern graphic treatments and refined by their base fabrics, from delicate cottons or fine silks far from any raw authenticity. India, Africa or Oceania set the tone for jacquards and prints, or are luxuriously shifted in precious lace and embroideries, richly beaded or set off with applications.
affirmed: quite enlarged decorations and motifs, full-width tie & dyes, prints that overrun the frame for haphazard placement on clothing. A season that also assumes its lack of limits: too overloaded, too lame, too bizarre.
fantasy jackets and women's suits
nature: fancy wools take on a raw beauty with irregular blurriness or raffia-style weaves. Lighter-coloured tweeds are set off with little touches of gold or silver.
worked: canings, piqués and matt jacquards inspired by home linens.
plain: allying marked visuals and colourful intensity, basketweaves and thick yarn fancies in perfect monochrome.
skirts, ensembles and dresses
Beyond visuals, behaviours take precedence and affirm themselves in extremes, very structured or very supple. In all: blends and aspects, knits are essential. + vegetal: vegetal fibres begin talking the language of silks, or are hybridized with silk, for a natural sophistication. Linen or cotton crêpes grow finer and drier for a springier, truly matt fluidity; ramie is allied with cotton or silk for greater fineness and crunch. Shantungs are adorned in gleam and fibrous irregularities. For decoration, jacquards, cut yarns and elaborated figureds play on a cottony mattness, and show a fine household-linen influence. + structured: ottomans and basketweaves grow denser, and structure cottons and silks. Ultra-bulky organzas and gauzes grow rounder in all lightness. + melting: silent taffetas, unpolished silk satins, creamy viscose knits target a matt and cold suppleness, for a nonchalant fluidity. + gleam: small metal accents bloom on the surface of jacquards, plastic shine comes in cellophane transparency, and metallics are darkened, looking asphalt-y or patinated.
tops
floaty: matt voiles, shivering crepons and ultra-light satin blend cottony freshness and silky softness, initiating fullness without weight.
fine: delicate jerseys, micro-ribs or openworking in cotton crepe, and linen voile jerseys with very finely slubbed aspects, for tops that are both light and less transparent.
volume: fancies puffed up with air and shirred, bubble silks and jerseys, pleats for exuberant and refined tops.

#### Guaranteeing an elegance that is continually in motion, the formal and tailored universe underlines its convictions with firmness, subtlety and sobriety. Suitings and shirtings move in a clearer or more contrasted direction. Extremely precise weights and handles modulate men's and women's silhouettes. Lightness suggests fullness and a supple density invites more ergonomic design. Knits are luxuriously refined, or grow compact like wovens. Shirtings play on extremes in radicalness or refinement, breaking free of convention to stir up the silhouette. A carefully dosed boldness free of exaggeration or overload, in a pertinent quest for elegance.
summer jackets and coats
suppleness: density and thickness without stiffness for true coat volumes in summer. Doubles are luxuriously rounded in a dry linen-y or ultra-smooth and matt cottony spirit. Marked structures, hollowed-out basket wovens and diagonals are teamed with slightly softened hands.
performance: elegant, impeccable and water-resistant cottons thanks to totally invisible treatments and coatings.
neatness: piques, honeycombs, basketweaves and ottomans incised with precision, discreet cottony fantasy to adopt in womenswear as in menswear.
men's and women's suits
paleness: ultrafine wool suitings or more relaxed linen blends grow lighter in tone. Grey and beige chines are more luminous, inversed colourways show up on light grounds, end-and-ends and chambrays are very soft. Less shine: wools with extremely subtle reflections play on phantom weaves and patterns revealed in the light. Fresh and soft wool/silk with controlled gleam.
ease: wools and cottons either pure or in high-tech blends are off-weighted to the extreme, yet remain perfectly opaque to perfect a floaty fluidity. In a more design spirit, elasticised suitings target an ergonomic and matt suppleness.
natural: wool and linen blends accentuate their urban identity through gleam, a slight woolly puffiness, and coded patterns that are discreetly disturbed by vegetal irregularities. Prince of Wales grow dryer, getting crispy right up to grainy aspects. More willingly un-formalised, linens, cottons and ramie interpret ticking-style herringbones and denim aspects with a nonchalant elegance.
cotton: true suiting cottons with fineness and hold, highly woollen visuals, fine weaves, stippled semi-plains and end-and-ends, micro tennis stripes, houndstooth and Prince of Wales.
forthright: radical, contrasted or enlarged tennis stripes.
shirtings
fineness: cottons with almost silky handles, impeccable voiles, percales and lawns, very light chic stretch, delicate elaborated plains.
colour: ultra-punctuated, with striking two-tone stripes, or extremely faded-in, with flamboyant rainbows.
discretion: kitchen checks are transformed into semi-plains, stripes grow smaller and lighter on end-and-end or oxford bases, complex and ultra-composed stripes are reduced to the extreme, prints play on an obsessive minuteness.
natural: subtly languid poplins or very refined and smoothed linen asperities for a less finished elegance.
knits
Polos and small knit tops are divided between cotton and linen. On the one hand, an ultra-light neatness, either pique or mercerised, and on the other an ultra-chic vegetal fineness.
linings
Linings imitate or contradict the city panoplies. Either stretch or more fluid to adapt to the behaviours of suitings, fresh and graphic to imitate shirtings, or ultra flashy to play on bursts of surprise.
menswear focus
full light: rigorously chic suitings and shirtings, deliberately chalky denim and sportswear, a composite silhouette unified in lightness.
radicalness: structure in raised weaves and in firm behaviours, forthrightness in intense plains, affirmed stripes and decors, boldness in contrasted and surprising combinations.
phlegmatic elegance: an elegance approached with a distinguished nonchalance, and a distance tinged with humour. The natural and thechemical negligently intermixed. Shirtings and suitings that are gently un-pressed.
chic fullness: a generous minimalism, a nobility to unfurl and consume without moderation, for clothing with "urban" codes, and audaciously out-of-sync proportions.
Report courtesy of Premiere Vision. To view the full report, visit the Premiere Vision, trend section.