Premiere Vision: F/W 2009-10 Textile Trends
**Fabric Direction Men's, Women's, Children's: **Premiere Vision presents a stream of clipped thoughts that provoke the mood of the Fall/Winter 2009-2010 season: "setting differences ablaze, drawing on fabric and colour as generators of energy, strengthening the positive tensions within the fashion whirlwind, to thrust ourselves into the future, and radiate with optimism. Observing, taking, upsetting, attracting, joking, saturating, rebounding, Fearlessly experimenting, intersecting references, shuffling aesthetic boundaries, linking technology and an environmental conscience." Coverage from Premiere Vision, the mother of all international textile shows for the fashion sector, their fabric trend report, A/W 2009 - 2010: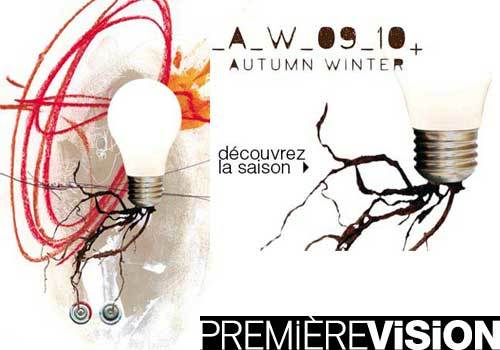 CHAIN REACTIONS
#### Relying on knowledge and adopting stimulating trajectories. Sparking unusual reactions and bouncing back with creative mechanisms, to project oneself into a radiant future. Exploiting interdependent chain sequences, playing with identifying visual markers and wittily distorting them. Moving forward in time and imagining sensitive and concrete answers to create new linkings and new silhouettes.
Finding an anchor in what is real and tangible to savour the power of materiality. Sublimating heaviness as an indication of life, with extremely dense fabrics, with sober and noble visuals. Perfecting the sensation of immutability in peacoats, broadcloths and felts. Ridding stiffness of preconceived ideas, to envelop oneself in the strong sensuality of compacts with a soft firmness, and surprising voluptuousness. Adorning oneself in roughness with generously structured, voluminous, raw and tenderknits.
Playing with the mechanical schemas of appearance, provoking new detours through fabric, thwarting the rigour of work structures and having fun with the suppleness of compositions, of basketweaves, cavalry twills and herringbones. Drawing on utilitarian and military references, inventing poetic uniforms, dress uniforms emerging from dream-like mists with markedly-drawn chinés, regimental stripes, and strongly boiled fabrics.
Drawing on the romance of the past to create improbable snags, fantastic signs of wear or delicate marks and traces of time. Imagining surreal pasts to project into today, tiring out noble wools, making luxurious silks languid, lending motion to sumptuous cottons. Distorting identifying codes and visuals such as checks, flowers or geometrics, and moving away from conventional proportions with irony. Playing on colourful stridencies, aesthetic shifts,and strange blends to exalt in uniforms on the edge: servicemen living it up, atypical pacifists and ingenue workers.
SUBJECTIVE IMULSIONS
#### Allowing oneself the freedom to be irrational, and flirting straightforwardly with boundaries. Wandering happily off into the unruly, and skilfully traipsing into insouciance. Cultivating strong emotions and giving free rein to intuition. Sweeping away all rules of good conduct, and refuting the outrageously rational and standard. Savouring the moment, the better to banish normality, and expressing oneself with all one's singularities boldly and openly.
Diving into misty, polychromatic dreams. Disturbing, blurring and diluting all in colour. Tinting silhouettes with hazy colours in shetlands, vigoureux and matt shot fabrics. Illuminating with shimmering imprecision, colouring shadows with determination. Bringing flamboyancy and coldness to life, and alternating between hots and colds, to avoid lukewarmness. Vivaciously electrifying earthy mists, sharpening the tensions between darks and brights, playing on splotchy fluctuations, floral ramblings and ethereal dreams.
Burrowing oneself in what is comforting with immense delight. Protecting oneself, instinctively, with a fully regressive softness one warm and affectionate thanks to caressing, cottons and velvets, downy knits and creamy broadcloths. Gently warming up in brushed. denims, casual cottons and embroideries and laces. Choosing the cosy nobility of woolly silks and combed, hairy,, gleaming cashmeres, alpacas or mohairs. Tenderly adopting plush and yielding to the temptation of a greedy and crafty tastiness.
Throwing off the shackles of uniformity and favouring unruliness.. Overturning structures, disorganising textures with tangled, embroideries and laces, boiled wools and snarled needle-punched. Upsetting the regularity of clothing with fabrics marked by disordered textures, haphazard decors, irregular, torn, compacted, dishevelled bouclettes, and chaotic graphics. Flaunting one's difference, and making it visible, exaggerating without taking oneself seriously. Opting for the immoderation of generous and extroverted textures. Pushing gigantism to the extreme through puffy, blown up and more voluminous knits, wovens and ribbons.
ALTERNATIVE REFLEXIONS
#### Connecting sense to reason, approach to intuition, and joining in a pertinent forward thinking attitude. Openly considering the most daring initiatives, and relying on a thoughtful examination to make considered choices, and lasting commitments. Ambitiously anticipating, to project oneself into a positive outlook and invent a better world.
Studying a pure and generous design. Connecting roundness and angularness, precision and suppleness in patterns, fabrics and clothing. Developing volumes through fabrics with the easy-to-handle solidity, of massive and softened cottons, the flexible thickness, of stretch double faces and dense milanos, the consistent suppleness of silks and mouldable broadcloths. Moving away from rigidity and rounding out the angles, softening the geometry, structuring in arabesques and favouring the curvilinear with moving fabrics, with a woolly lightnessand controlled vivacity.
Allying the exigencies of fabric conception and the pertinence of fabrication to build exceptional clothing with puffy quiltings, firm guipure, sculptural pleats, and articulated. cut-outs. Using asymmetries and foldings to structure silhouettes with fabrics with invisible performance. Building an alternative formalwear and working both as far and as close to the body as possible, with agile, smooth, stretch and matt fabrics, for hold without stiffness, and flexibility without limpness.
Closely studying plays on ambiguity to project oneself into the gears of pretence.Interfering with the boundaries between womenswear and menswear, between knits and wovens, between lightness and consistency with menswear dress weights and reversible coatings. Seeking a balance between individual well-being and a respect for the environment. Aspiring to a harmony between sustainable, development, a healthy lifestyle and a fashion dynamic. Developing with functional and elegant, recycled, antibacterial, climatic or waterproof/breathing fabrics, to bring forth a healthy, high-performant and appealing minimalism.
Allying the scientific and the senses,,the natural and the pretend. Appropriating developments that enhance the malleability and sensory appeal of fabrics, and trying to reach the plasticity of skin. Protecting oneself in epidermal, fabrics, reasoning with fantastic hybrids that oscillate between improbable scales and incredible hairs. Camouflaging oneself in strange surfaces and patterns, masking oneself in blurry and fragmented accidents. Surrounding oneself with a nature transposed without any fidelity, in imaginary cellular decorations, fabulous foliage, and impossible stones. Heading forth into the unknown and daring experience.
Opening up to a a piquant aridity, leaving behind what is common to tame clandestine handles, reach the uniqueness of what cannot be cloned, and learn to be borne away by unsuspected behaviours, in all sensuality.

#### THE FANCY AND FLUID UNIVERSE
The seduction universe is bravely written into the present and contemporary lifestyles. On the one hand, silks and decoration are closely connected to the everyday with a cosy woolly spirit, comforting handles, and an easy-to-live suppleness. On the other hand, imagination knows no limits, andextravagance is at the ready to showcase exceptional pieces of clothing. Decoration affirms its independence, liberating itself from established codes. Aesthetic, historical and geographical codes are boldly assimilated and reinvented, and digital imagery is combined with the spontaneity of hand gestures to better distort realism.
FANTASY JACKETS AND COATS wrapping up in light thickness
puffy voluminousness: familiar or wild plush, dishevelled hairy woollens, extroverted bouclés, blown-up mohairs and roving yarns. mosaic blurriness: multi-coloured thrown yarns, kaleidoscope tweeds, undulating two-toned herringbones. #### articulated structures:
heavy visuals and a heart of softness, enlarged weaves, spectacular basketweaves. fantasy opulence: thick damasks, wool and silk jacquards and double faces, oriental carpet spirit, embroideries on woollens.
DRESSES AND ENSEMBLES **sophisticated and easy ready-to-wear silks **wool spirit: for everyday, with fluid and warmed-up twills and satins, lightly boiled wool voiles, tartans on dress-weight etamines, warm viscose blends. Dense embroideries and laces on wool grounds, elaborated with an almost casual suppleness and softness. softened thickness: double silks, featherweight multilayers, quilted structures, limpened waffled jacquards, a quilting-spirit in silk, a cosy lightness with tender behaviours. Washed finishings for dense taffetas and duchesse satins that move away from stiffness for a syrupy tenderness. dry or liquid fluidity: in knits as in wovens, matt crepes and draping viscose blends.
EXCEPTIONAL SILKIES, evening dresses, for small or big occasions, playing on "over-dressing" minimal luxury: ultra-opulent plain silks, a pared-down couture spirit, discreet and extravagant minimal decoration, thrown cut jacquards with simple but oversized motifs, either darkened or without contrast. parade luxury: woolly/silky jacquards and brocades, opulent ornamentation with folk or ethnic touches, limitless accumulations, embroideries, cut-outs and applications, lamé cut yarns, patinated brocades, velvets and panne velvets in a liquefied metal spirit. tender luxury: grandiose jacquards and decors in sugary colours, vanilla/strawberry lace, acidic iridescence, and dazzling and greedy flowers.
KNIT TOPS AND BLOUSES
warm delicacy: the refinement and casualness of wool twills and voiles, washed and supple silks. Featherweight knit lace, plays on openwork stitches in cosy mohairs. matt fluidity: viscose knits with soft handles.**
DECORATION starring: base fabrics that are light and warmed up with wool trompe l'oeil: creative interpretations in jacquards, embroideries and prints imitating lace or scaled animals, playing on the imitation of weaves, or abstract material effects. coded influences: orientalism, African geometry and folklore with unexpected graphics. blurry psychedelic: patterns that are in full motion and partly recognisable. Flowers, palmettes, and geometric shapes undergo twists and deformations, breaking up into out of focus marblings and moiré aspects.**
MEN'S FOCUS
confidential fantasy: a dandy city spirit, a graphic silhouette, precious and deceptively low profile, stripes, dots and undulations broken down from head to toe in tone-on-tone, in matt/shine, in plays on 3D structures, on wool suitings, carded coatings or figured silks. electrifying tuxedos: the excellence of fine evening wools, taken off their pedestal by mixes with sports tee-shirts, or dynamic wind breakers. A ceremonial spirit short circuited by a bumpy coat, a disarticulated jacket, and a silk shirt soaked in ink, for a James Bond who's been through the wringer!

#### THE ELEGANT, FORMAL AND TAILORED UNIVERSE
The distinction universe heralds city and formal fashions that are either soft and elegant or solidly protective. Sober and discreet wool visuals are subtly warmed up or made tender, flannels and washed or boiled finishings are broken down from suit weights to coat weights in wovens and knits. The influence of utility clothing is felt in weaves and blends with cotton. Coats and shirtings are a vector of expression in the silhouette. They show off their characters with determination, taking on fantasy in colour and in patterns, with checks playing a starring role.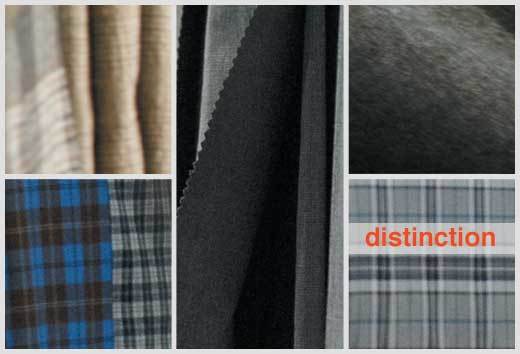 SUITS, discreet or warmed up ultra plain: ultra-fine wools or cottons, nobility and perfection in pure plains, satin density to concentrate handles and colour, deep ink blues with wet reflections in an evening or formal spirit. hyper discretion: the minimal contrast and subtlety of end-and-ends, herringbone weaves and barely visible checks. softness: more compact or softer flannels, brownish grey vigoureux and diffuse patterns. everyday performance: true functionalities, with waterproofing, bi-stretch with exacerbated elasticity, or a simple easy-to-live comfort with stretch and natural stretch, stain resistance and easy-care.
JACKETS, consistent or washed warm consistency: woollens allying a warm firmness and a protective compactness, with brushed or delicately felted flannels. workwear influence: wool and cotton blends with vigoureux visuals and "hard" handles, thrown covert cloths and herringbones, and uniform-style diagonals and cavalry-twills. washed suppleness: surfaces that are lightly washed and puffy, limp and relaxed behaviours for deconstructed jackets. double faces: fancy contrasts or opposing handles for chic and unlined clothing pieces.
COATS, architectural or enveloping voluminous thickness: splittable doubles for ultra-soigne fabrication, fabrics with an enveloping roundness, brushed and ultra-soft hairy fabrics, thick mohairs, cashmere broadcloths and ultra-puffy and cosy shetlands with washed finishings. compact density: vigoureux or plain felts, peacoat broadcloths, solidified bouclettes, flattened tweedy looks, diffuse checks. #### structured surfaces:
weaves with salient textures, marked diagonals in wool or cotton, thick carded fabrics with basketweaves or oversized herringbones, raw visuals, rustic yarn effects in wool/vegetal blends. striking checks: tweedy tartans, windowpane checks on shetlands.
WOMEN'S
material suppleness: veritable moss and grainy crepes with a retro look, springy fluids in viscose or cupro blends, half-wool half-silk gleam with a dynamic drape for ultra-feminine dresses or trousers. sculpting elasticity: compact, hyper-stretch wool or synthetic blends, either matt or lustrous, and structured or milano knits. recoded tartans: recoloured, redrawn, of medium scale and daring colour for citywear.
SHIRTINGS visible or silent
intensity: stripes in savoury polychrome, shadowy darks, multicolour boldness or contrasted simplicity, stripes that are enlarged almost to deckchair size, linear checks and small, quite citified tartans. whiteness: precise figureds, miniaturised elaborations, white grounds set off with fine, pale stripes, the brightness of the light-coloured shirt discreetly enlivened in semi-whites. softness: chic pyjama stripes in non-contrasting half-tones, city stripes in "denim" greyish blues.
POLO KNITS
**More wool, ** with lustrous or washed finishings, more compactness and hold for mercerised cottons and piques, more softness and shine with silks. Highly graphic checks, diamonds and stripes.
MEN'S FOCUS
land & fog: a subtly warmed up formalness, a softened severity, greys warmed up with browns, charcoal grey combed wools striped with brown, greying chestnut flannels, shirts striped or printed in dark, crepuscular tones. functional & dress: a silhouette that freely mixes references to work gear and dress uniforms, with robust broadcloths, peacoats and cottons, clothing marked by an assumed rigour teamed with all-terrain rubberized fabrics and knit or woven casual shirts with an asphalt gleam. banker's checks: The City and Wall Street transgress the codes of business stripes, the discretion and elegance of shadowy checks or diffuse Prince of Wales, micro graph-paper checks for shirtings, the schematic boldness of a coat drawn with windowpane checks. warmth and freshness: from trousers to coatings, luxuriously supple, seemingly washed woollens, for a relaxed and knowing chic, while fresh and floral shirtings lend a new spin to silhouettes with a whimsical romantic accent.

#### THE CASUALWEAR, SPORTSWEAR AND JEANSWEAR UNIVERSE
The relax universe determinedly affirms its sportswear identity, inviting shapes to a reasonable ampleness, combining ease and protection. Fabrics show off unambiguous weights, reinforced behaviours with a tender heart, marked visuals and washings. From outerwear to tops, knits confirm their dominant position. Colour, elaborated with virtuosity, is expressed in subtle and underlying vibrations. Double faces play on all combinations to reveal a back/face fantasy. In all products, organic cottons affirm their presence, and propositions with more and more fashion relevance multiply.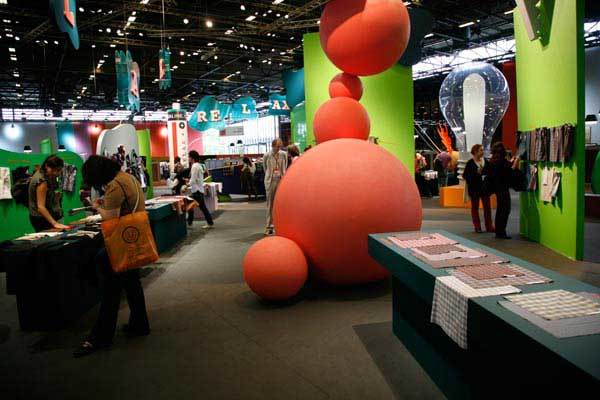 TROUSERS
identifying: the flannel spirit, work weaves, tartans and coded patterns are no longer in the domain of imitation, but reconnected with a sturdy cotton spirit: heavier weights, thicker yarns for enlarged weaves, herringbones and diagonals that are marked both in plains and in yarn dyes. stand-out finishings: washed and washed-out: gabardine cottons with «attacked» colours, fabrics that are «broken down» through intense washings that render them more supple and are visible, distressed wools and partial boilings. extreme emerisings: smooth cottons with intensely soft handles, with highly supple moleskins, and ultra-tender corduroys. waxed impregnations: to stiffen corduroys, to firm up and waterproof, to flatten weaves and compress moleskins.
OUTERWEAR
very heavy: ultra dense cottons with a nearly stiff crunch, or supple and emerised for a soft consistency. Overweight knits with ultra-comfortable brushed fleeces, the roundness of bondings including shock-resistant foam for pullovers and sweatshirts to be worn outdoors. leathers and skins: tarred cottons, technical fabrics with rubbery coatings evoking patinated leathers. Matt suede-type fabrics resembling skins or smooth leather aspects. Shearlings that are wrinkled and damaged with use. fantasy: extroverted quiltings, smocked plays on geometry, extravagant undulations. Dream-like evocations of feathered or scaly beasts, either varnished or aged.
DENIM
nuanced vibrations: indigos woven through with grey or brown, undecided half-tones, discreet vibrations of thrown yarns for new ultra-subtle nuances. #### warmed-up:
with a touch of wool or cashmere. consistent suppleness: with ultra soft cotton or intense washings. lightness: with dress and shirt weights.
SHIRTS AND DRESSES
relaxed: poorly-ironed plains or washed figureds, city stripes without ironing. #### lightened plaids:
tartans with shifted or muffled colours on featherweight grounds or twills with a flannel softness.
KNIT TOPS
more wool: tee-shirt weight jerseys, micro open workings, fine ribs, coloured chinés. double faced and warp-plated: with plays on colour or recto/verso fantasy. soft: comforting fleeces and cosy terries. winter sports jacquards: scandinavian geometry.
PRINTS
neo-camouflage: enlarged or fragmented pixellisations. folklore, two-tones, mini-florals: inked as if overdyed or bleached out. forest-like vegetation: mysterious or nearly surrealistic.
MEN'S FOCUS
camouflage fantasy: concealing oneself in fantasy. Layering, mixing, blurring decors, zapping from washed-out tartans to printed moleskins, handling flowers in a camouflage style from shirtings to parkas, and shifting club and tennis stripes in cottony baggy trousers. #### raw & tender:
outdoor wear that is both rough and of a peaceful roundness, woolly or cottony fabrics, hermetic, solid and compact, to wear down to the threads, tamed with foams and fleeces with a tender heart and delicate shirtings. Hefty volumes, for an all-terrain ease. #### minimal design:
pared-down, lightweight sportswear with «tailored» lines shorn of formalism. Hybrid silhouettes that mix ampleness and ergonomics, organic cotton and recycled polyester, in a friendly and futuristic spirit. Jackets and trousers with a cottony nobility, or in ultra-matt synthetic blends, featherweight wool tee-shirts, wind-resistant raingear to unfurl.

<b2>THE SPORT, TECHNICAL AND PERFORMANCE UNIVERSE** #### The pulsation universe confirms its firm anchorage in fashion with handles and behaviours that are more and more tended and elaborated, inviting structured shapes with elegance. City inspires everyday and functional textiles, with aspects, patterns and silhouettes influenced by tailoring and a bodywork shine. Natural fibres, especially wool, are enriched by high-tech performance, while keeping their colour identities. Synthetics grow more "human," to generate sporty or technical products with sensorial and well-being qualities. Man and nature lie at the heart of cutting-edge research, with fabrics that are protective, unharmful or quite simply easy-to-enjoy and care for.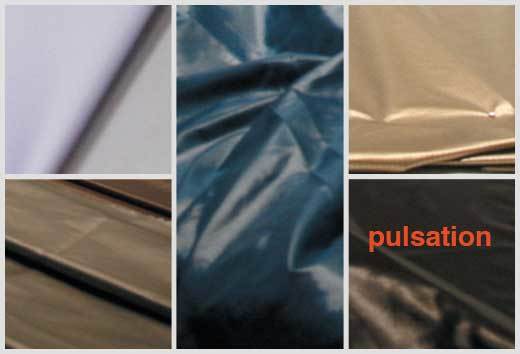 OUTDOOR
extreme weights: independence of weights and functions. Extra dense fabrics are both water resistant and breathing, those lighter than 65 grams/m2 guarantee maximal efficiency against rain, snow or wind. #### refined:
still as protective and efficient, soft shells grow thinner and lighter. Smooth, matt, plain and elegant, they reconcile sportswear and citywear. #### naturals:
bonded, membraned real wool suitings, flannels or broadcloths, natural fleeces in chine colourways, with properties that combine waterproofing and protection against cold.** #### enlarged:
magnified and visible structures for knit or woven active sports synthetics.
PERFORMANCE IN THE CITY
sensorial: intensely soft handles, matt density, firmness and a peachskin suaveness, sensational rainwear! #### urban elegance:
suiting patterns, yarn-dyed plains, cottony mattness and chicness or the nobility of combed wool with must-have functionalities. #### bodywork shine:
lacquered with polish, anodized reflections, dulled shine or crinkled sheet metal, rainproof and breathing featherweight fabrics for an everyday citywear, or to be quilted for precious down outerwear.
INNER/OUTER KNITS
temperature mastery and control: "thermal," "fast dry," "breathing," functions that combine together for knits and fleeces for inner or outer wear. #### double faces:
compacts with recto/verso effects in contrasting colours or fabrics, or opposing a smooth plain and a fantasy structure, for a comfortable and unlined outerwear.
LINGERIE/SECOND SKIN KNITS
dynamic stretch: matt or semi-shiny knits. creamy handles: in polyamide microfiber. acid-toned corsetry: stretch laces in tangy colours.
PERFORMANCE CODES
high-resistance: ultra light or very sturdy weights, unexpected combinations, from high-resistance polyamide silks to Kevlar suitings, truly diversified visuals for products that are more and more in tune with fashion. #### breathing:
ultra heavy, ultra dense fabrics with breathing properties for indispensable comfort. #### easy-care and stain resistance:
casual cotton, wool suiting, chic shirtings, practical performance fabrics, easy-care linings. #### responsible production:
milk casein for its well being and anallergenic properties. A complete range of fabrics derived from recycled polyester or cotton: knits, denim, water-resistant technical fabrics, fleece.
MEN'S FOCUS
invincible chic: seamlessly passing from the office to the motorcycle! Impeccable and invincible suits and ties with Kevlar suitings, high-resistance technical fabrics with urban visuals, and rainwear with bodywork visuals.
Report courtesy of Premiere Vision. Download Now!
</div>