Pomegranate, Women's Color SS 2014
Sweet, bold and vibrantly feminine, Pomegranate's red-tinted pink tone is ideal for making an optimistic Spring/Summer 2014 statement. Demonstrating its versatility across all market levels, this fresh update enlivens day and eveningwear with a jolt of energetic tone - essential for those seeking a new version of pink each season.
Key Color. Retail Buyer Trend Alert.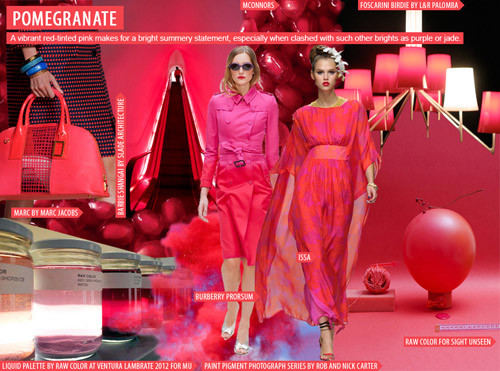 Pomegranate's vivid hue surfaces in a number of high-end Spring/Summer collections, enlivening ensembles with a shot of bright intensity. Burberry Prorsum updates a classic trench with a pink-red ombre effect, while Marc by Marc Jacobs' handbag utilizes a sporty mesh panel. Issa's floaty, floral confection exudes a luxe exoticism, as Mark Fast keeps it modern with an asymmetric mini dress.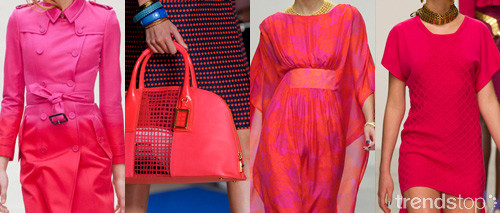 image courtesy Trendstop: Burberry Prorsum, Marc by Marc Jacobs, Issa and Mark Fast, all Spring/Summer 2013.
Directional retail is already demonstrating the versatility of Pomegranate's energetic tone, with the shade being adopted across a diverse variety of apparel and accessory designs. Zara's shift dress makes for statement daywear styling, while Topshop's jelly shoes feel fun and playful. James Pant keeps it simple on a pair of bottoms, letting the color speak for itself, and the bold pop of Dita's transparent sunglasses will appeal for city and beach breaks alike.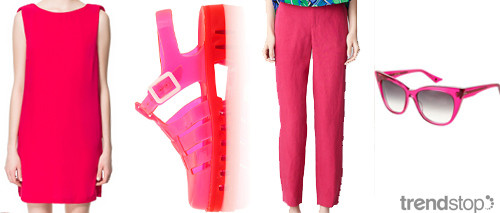 image courtesy Trendstop: Zara, Topshop, James Pant and Dita, all Spring/Summer 2013.
MORE TREND FORECAST DETAILS
A full range of trend reports are available at Trendstop.com, one of the world's leading trend forecasting agencies for fashion and creative professionals. The agency is renowned for its insightful trend analysis and forecasts. Clients include Forever21, Ralph Lauren, H&M, Hugo Boss, and L'Oreal.