Pin-Up Road Trip, Women's Trend Theme SS 2013
To get you all inspired at the start of 2012, we bring you an exclusive preview of one of Trendstop's S/S 2013 forecast themes. Their trend, Pin-Up Road Trip reflects a consumer mood where classic femininity and sex appeal of Marilyn Monroe, TV's Pan Am girls and 50's pin-up meets a kick-ass tomboy Route '66 road trip for an independent 21st Century girl. The full theme incorporates relevant runway and street style references, color, and CAD drawings.
Seasonal Mood & Street Style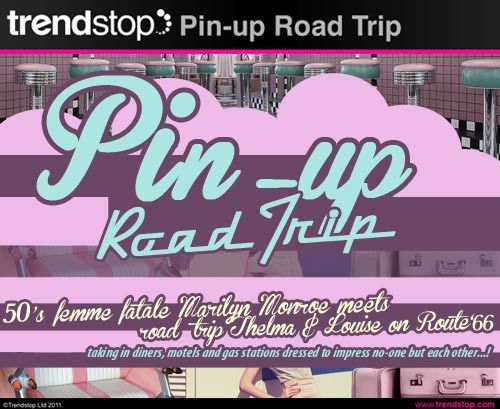 Pin-up Road Trip takes to the open road for a playful reinvention of the popular Fifties' vocation – The Road Trip. Think Thelma & Louise in their Thunderbird convertible, tailfins and taillights ablaze, getting their kicks along Route 66.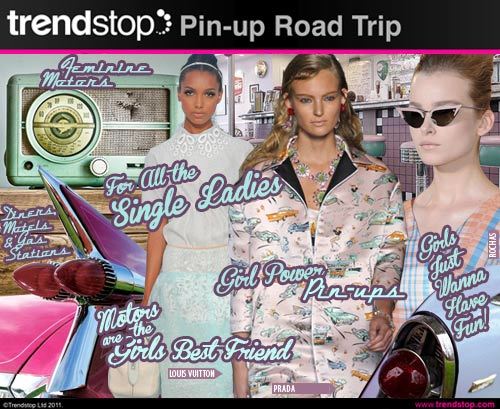 Aspiring to a sense of freedom, fun and escape, a weekend road trip turns into a lifestyle. Celebrating the romance and independence of automobile travel, each diner, motel and gas station calls for an outfit change! Here, classic feminine silhouettes are balanced with traditionally masculine self-assuredness, introducing an All American Girl Power Pin-up: Sexy and Independent.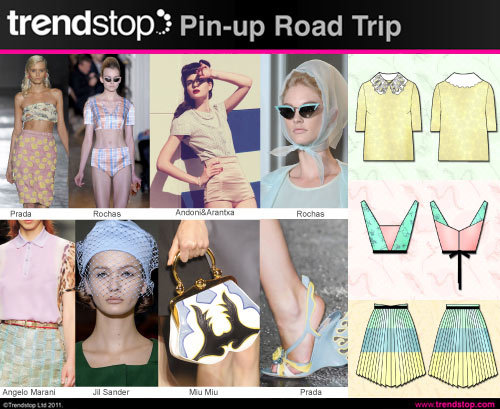 Inspired by the retro looks seen on the Prada and Louis Vuitton Spring Summer 2012 catwalks, and mirrored by the new movie "My Week With Marilyn" and the "Pan Am" TV series, which follows the iconic early Sixties' Pan American World Airways hostesses, the Pin-up Road Tripper celebrates classic femininity that is endowed with a freedom that is now taken for granted and is full of limitless possibilities.
A selection of product keywords: Cocoon Baseball Jackets - Vintage Car Coats - Casual Swing Skirts - Summer Pencil Skirts - Chic Vintage Shorts - New Capri Pant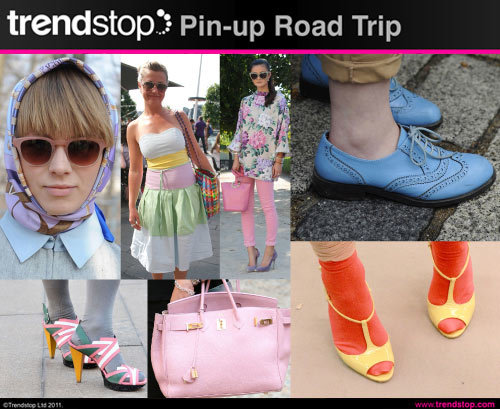 Here are some Pin-up Road Trip Street Style looks from Trendstop.com's global trend spotters.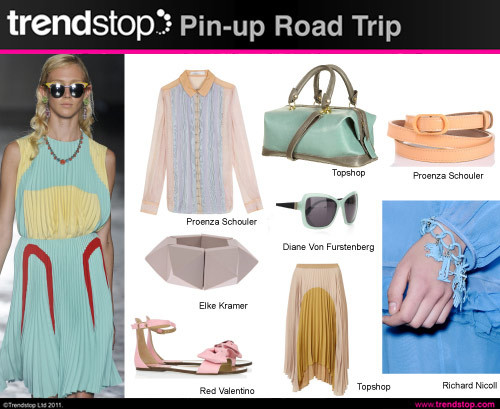 Here are a few visuals from visionary brands and designers already embracing this trend at an early stage.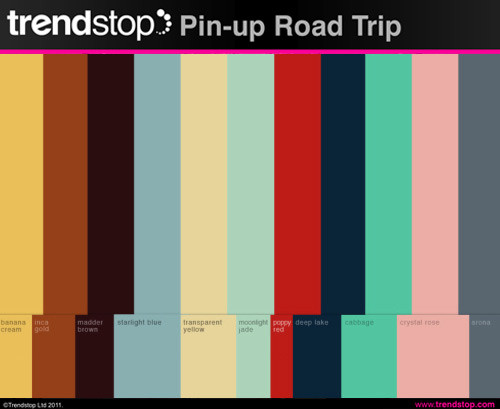 The color palette is a blend of ice cream pastel femininity, and masculine 50's convertible inspired shades. Sign up to Trendstop.com for more thematic trend inspiration!
MORE TREND FORECASTING DETAILS
A variety of trend reports are available at Trendstop.com, one of the world's leading trend forecasting agencies for fashion and creative professionals. The agency is renowned for its insightful trend analysis and forecasts. Clients include Forever21, Ralph Lauren, H&M, Hugo Boss, and L'Oreal.