Pin Up Girls: Intimate Apparel Trend Report
Spring / Summer 2009 Women's Intimates Trend Report:With a look to the glamorous pin-up girls of the past, Spring / Summer 2009 brings cheesecake lingerie into the present. The rise of idols such as Ditta Von Teese is evidence that our obsession with by-gone eras is intensifying as we seek elegance combined with campy fun once again. Honeydew Intimates does this perfectly with their selection of frilly shorts and bras. Duta Von Teese.
Delicate and girly lingerie inspired by the girls of 19040's Vargas paintings. Dainty baby dolls that accentuate the female curves in an old fashioned and innocent way, left, Fifi Chachnil, right original Vargas painting.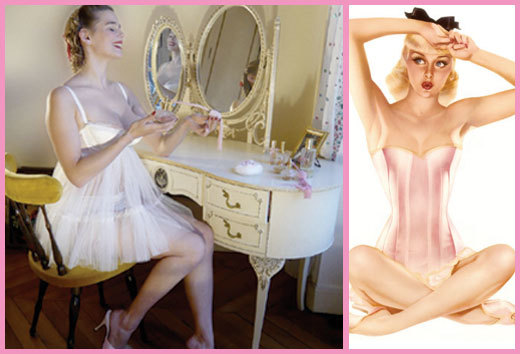 Pin-Up Girls color palette is a mix of pastels, with pinks, whites, peaches and flashes of brighter colors such as the blue and red used by !!! INFWG0000909 !!!. Both 2belles New York, on the left, and Hanky Panky Ltd, on the bottom right, use candy pink.
Intimate apparel fabrics are feminine and delicate, with shear chiffon, silks and satins. Touches of lace are also used to add detail like these hold-ups by Aubade. Detail is also added through bows and frills, !!! INFWD0001169 !!!, left, and !!! INFWM0002168 !!!