Pin-Up Girls Accessories Trend Report Women's 2008
Oversized or scattered, pins make a dramatic come-back, as seen in this report, both on the runway and previewed in directional collections. Take note: pins are an uptrending must-have jewelry category… Part of an ongoing series, *Trend Of The Week * newsletters are usually only accessible by subscription and are made available to WeConnectionFashion visitors courtesy of AccessoriesDirections.com, the accessories only trend forecasting group.
F/W 2008-09 Jewelry Inspiration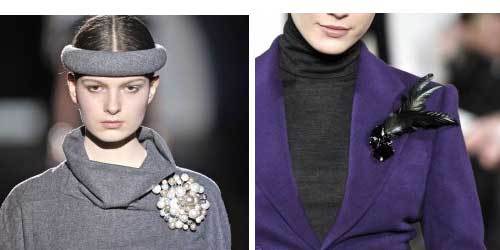 Designers have always "pinned" their dreams on an item that goes around and comes around, but always returns in a new way. This fall, "brooch" the subject with both vintage-inspired pieces AND contemporary styles, making this a must-have item for all ages. Oversized single pins made dramatic statements on the Fall runways, but brooches in pairs, triplets and multiples were the most popular and looked the freshest.

Designers used virtually all materials, from feathers and faceted beads to pearls and modern metals. Most interesting were Chanel's multicolored enamel button versions, Sass & Bide's metallic sequin circles, Marc by Marc Jacobs' variably sized mirrored disks and Max Azria's fabric flowers.