Performance Textile Trends F/W 2015-2016
In preparation for their upcoming event 26-29 January 2014, ISPO Munich has released a comprehensive trend report which includes mega trends, color palettes, and five detailed textile trends to provide a vision where the future of textiles will take us. The color cards and the textile trends result from a range of influences, from consumer behavior to the global economy. The mega trends show visions that are not specific to one particular area but will influence the entire textile chain right down to the consumer. Courtesy of ISPO MUNICH, the leading international sports business trade show.
Global Trends, Textiles to Consumers.
MEGA TREND, Transparency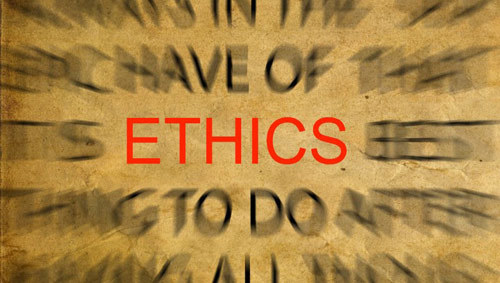 The need for brands to adhere to strong environmental, sustainable and socially acceptable levels of conduct is key through the entire supply chain. The consumer is in control, especially through Twitter and Facebook, as todays news and views travel fast! Transparency is essential in delivering the demands. It is no longer just a case of pursuing eco friendly and sustainable processes purely in the textile chain; social responsibility and a strong sense of ethics in the activewear sector dictate the end purchasing power.
MEGA TREND, Idiosyncratic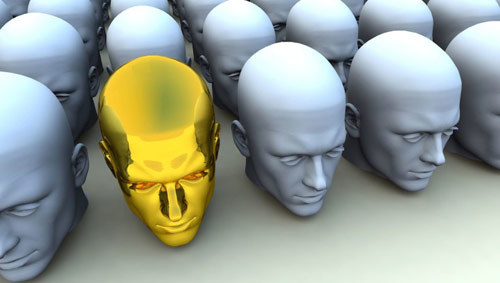 Being distinctive from the competition drives the activewear market. Fabrics continue to perform but it is the new generation of multi-functional fabrics that continue in a lighter, smarter direction, offering added comfort and function to existing favorites. Embedded technology and intelligent fabrics form part of this digital decade, bringing together a connection with todays globalized market. Differentiation is the name of the game.
MEGA TREND, Balance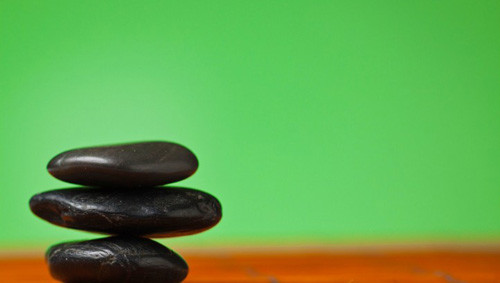 In a frenetic world consumers will pursue recreational activities to bring a balance into their lives. The trend for well-being continues, physically, mentally and emotionally. And easy aspect features, from light leisure pursuits through to the high-end performance levels. Health and performance marry, not just from the consumers activities but from the fibers, finishes and fabrics too, embedded with ingredients that enhance and protect the wearers well-being.
Textile Trends FW 15/16
TEXTILE TREND 1, Collaborate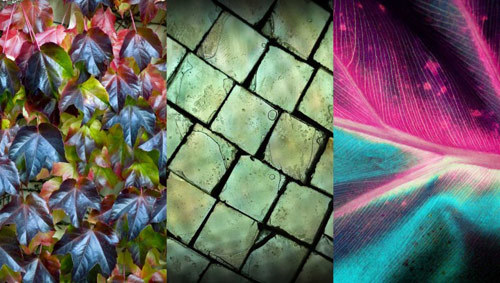 Natural fibers continue to evolve in the activewear sector, revving up revolutionary new developments. Wool and cotton are kept pure or partnered with eco-conscious recycled synthetic counterparts and bio-synthetic options for new hybrid blends. Recycled synthetics enhance natural aspects with nano technology finishes bringing the preferred eco protection to both knits and wovens. Natural to the core through touch and surface structure, it isnt without function as moisture management, UV protection and thermal regulation all feature. Organic textures inspire surfaces, from soft moss-like pile fleece to embossed structures and jacquard effects.
TEXTILE TREND 2, Connectivity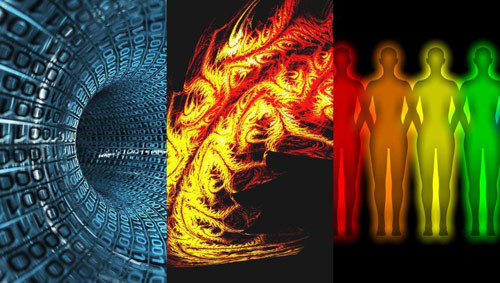 Energized and compact, surface fabrics charge up performance at the high performance end of the activewear market. This trend is all about enhancing active achievements and well-being, the fabrics and finishes engaging with the wearer and amplifying the performance at all levels. Mineral based fibers increase circulation, innovative structures massage the body, thermal regulation, and moisture management and functional finishes take garments to a new level. Body mapping precisely targets key areas that need a range of performance from thermal regulation, breathability to moisture management or muscular support.
TEXTILE TREND 3, Illusive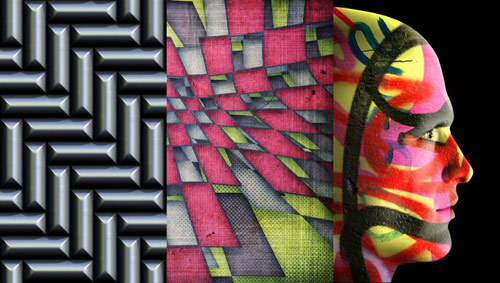 Appearances can be deceptive with Illusive, as optical aspects and innovative fiber content create a completely different look to the final fabric and trim. Changeant effects, digital prints, heat reactive transfers, fabrics and tapes create chameleon-inspired metameric finishes. Camouflage is reworked and resized in new colorways and weights to offer a funkier direction, especially for the urban sportswear scene. Colored metallics also feature yarns and performance coatings, moving away from traditional metal tones and taking up ISPO Textrends' ethereal color palette Phantom.
TEXTILE TREND 4, Enlightening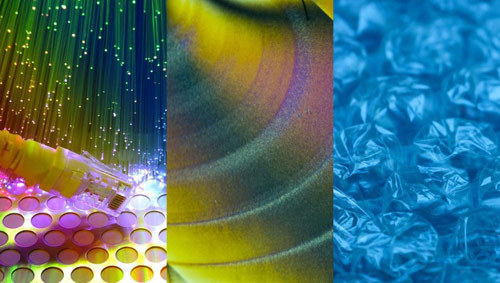 Translucent and iridescent surfaces create a visually appealing direction in new generation multi-functional light weight. Crisp to touch on the woven front, for knits there is silky soft touch with a high luster. Tri-lobal yarns deliver light catching brilliance to surfaces and reflective and holographic tapes and trims feature in bringing added detail and safety aspects to activewear. Functional finishes move up the color scale applied in brilliant and metallic hues for added detail. Cire coatings and prints are reflective in appearance, particularly appealing on multi-functional outer shell wovens. Lighter weight wovens should be encouraged without neglecting the warmth the heavier weights bring, look to hollow fibers and hybrid blends in delivering new generation functional fabrics.
TEXTILE TREND 5, Maverick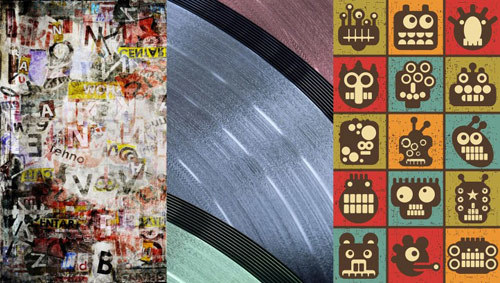 Rebellious in spirit, the younger consumer of the digital era is looking back to the roots of technology as a strong sense of heritage and retro styling from the resurgence of vinyl records to images of the original video consoles inspire, the forbearers of the smart phone and iPod, quintessential equipment in todays global society. Key to this trend is a natural touch, soft plush surfaces and aged graphical prints. Intrigued with the past, the consumer wants the look but wont forego the high-level performance that they have become accustomed to.
Color Trends FW 15/16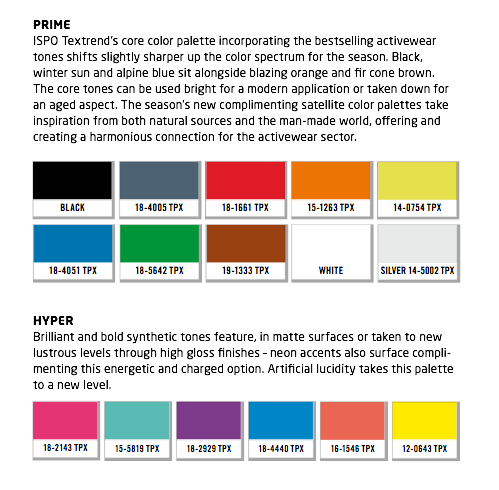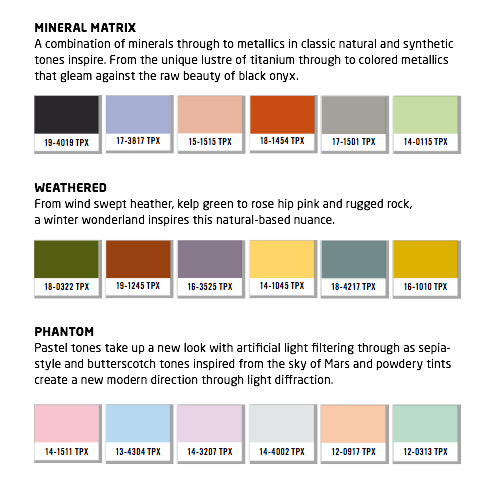 More Report Details
View this report in its ENTIRETY! The version in English can be found here, ISPO Presentation Platform for Performance Textiles, F/W 2015-16. ISPO Munich a leading international sports business trade show.