Outerwear Key Items FW 2013-14
Here's a first look, an "early indicator" trend, for Fall Winter 2013-14: the humble sweater staple is updated with an appealing range of luxe new styles for Fall/Winter 2013-14, transforming it from a casual sports item to a sophisticated must-have piece. The trend is versatile across both menswear and womenswear designsed translation.
Women's & Men's Incoming Trends
The humble sweater, winter sweatshirt, staple is updated. Though the trademark details of the clean crewneck silhouette and rib-knit collar and cuffs remain, traditional cotton jersey forms are discarded for textures like leather, wool and fur, creating ideal outerwear styles for frosty winter nights.
STATEMENT TEXTURE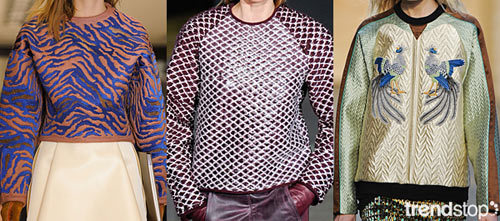 Textured detail adds an extra dimension to Winter Sweatshirts, infusing designs with tactile appeal. Styles inspired by the animal kingdom are a key look, as seen in Balenciaga's raised tiger skin and Proenza's embroidered oriental bird motifs, while Alexander Wang offers a laminated textural grid print.
images courtesy Trendstop: Balenciaga, Alexander Wang, Proenza Schouler Fall/Winter 2012-13
QUILTED COMFORT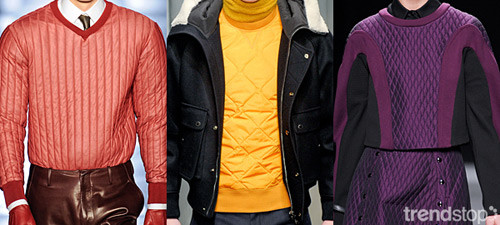 Cozy quilted sweaters are infused with an opulent feel in a spectrum of rich tones, creating pieces that work as both day and eveningwear. Contours are kept clean and sleek, while the quilted texture accentuates volume. Colors range from spilt wine at Viktor & Rolf, egg yolk at Neil Barrett and winter violet at Sportmax.
images courtesy Trendstop: Victor & Rolf Monsieur, Neil Barrett, Sportmax Fall/WinterWinter 2012-13
COLD WEATHER LEATHER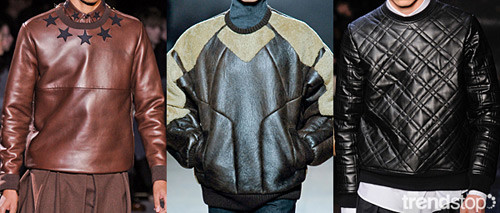 Tough leather textures in dark seasonal colors add an appealing edge to designs, ranging from vintage-inspired looks to contemporary sportswear styles. Givenchy's iconic stars decorate the neckline on a chocolate hued model, while Juun J's paneled sweater gives a nod to retro aviator culture. Classic diamond quilting is given a modern edge in black leather at Qasimi.
images courtesy Trendstop: Givenchy, Juun J, Qasimi Fall/Winter 2012-13
WOOLEY WARMTH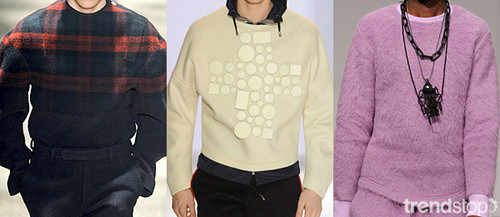 Soft wools endow Winter Sweaters with an appealing comfort factor; perfect for layering with during the cold winter months. Traditional plaid print is made tactile on a Lancin design, while Christian Lacroix's cream model is detailed with kooky cross motif. Walter van Beirendonck opts for a statement look in shaggy lilac mohair.
images courtesy Trendstop: Lanvin, Christian Lacroix Homme, Walter van Beirendonck Fall/Winter 2012-13
ELEGANT FUR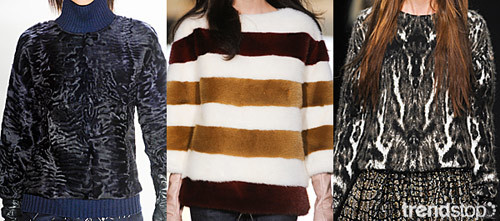 Luxurious fur lends an elegant touch to the sportswear silhouette, making for ideal eveningwear pieces that also hold up well against the seasonal chill. Carolina Herrera's astrakhan design features a contrast collar and cuff detail in inky midnight blue. DSquared2's chubby style offers a more casual take on the trend in natural toned stripes, while Roberto Cavalli dresses the trend up for party season with an opulent animal print model.
Carolina Herrera, DSquared2, Roberto Cavalli Fall/Winter 2012-13
THE FULL REPORT IS AVAILABLE NOW
Trendstop.com is one of the world's leading trend forecasting agencies for fashion and creative professionals, renowned for its insightful trend analysis and forecasts. Clients include Forever21, Ralph Lauren, H&M, Hugo Boss, and L'Oreal.