Off=On: Offline-Online Mirroring Lifestyle Report
While in many parts of the world the new business quarter may be all about inflation and expensive oil and collapsing housing markets, the online world remains a hotbed of innovation and opportunity. So this month, let's look at some new ways the offline world is making the most of the online steamroller. Compelling as always, this report is courtesy of Trendwatching.Com.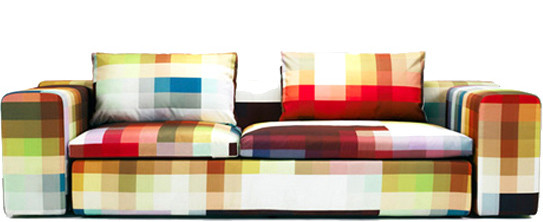 Introduction: When something previously deemed 'emerging' has managed to completely invade the mainstream, you know it's time to throw overboard any remaining doubts and inhibitions, and just get going to claim your shrinking piece of the pie.
Case in point: the near-total triumph of the "online revolution: (1.4 billion people online, anyone?), which now has the 'offline world' more often than not playing second fiddle in everything from commerce to entertainment to communications to politics.
In fact, "offline" is now so intertwined with "online" that a whole slew of new products and services and campaigns are just waiting to be dreamed up by … well… you? Our definition:
OFF=ON More and more, the offline world (a.k.a. the real world, meatspace or atom-arena) is adjusting to and mirroring the increasingly dominant online world, from tone of voice to product development to business processes to customer relationships. Get ready to truly cater to an ONLINE OXYGEN generation even if you're in ancient sectors like automotive or fast moving consumer goods.
For this briefing, Trednwatching focuses on hands-on innovation. Which means coming up with new goods, services and experiences. And as this is about current OFF=ON developments, we're excluding researched-to-death topics like straightforward ecommerce or cross-media strategies.
After all, it's the start of a new business season, we're all busy, and you're all ready to get something new executed fast. So here we go:

Let's start with some fun stuff that nevertheless falls into the sign-of-the-times category. To marry well-known digital visuals (from pixels to logos to black-and-white QR compositions) with physical objects creates a powerful OFF=ON message. Learn from: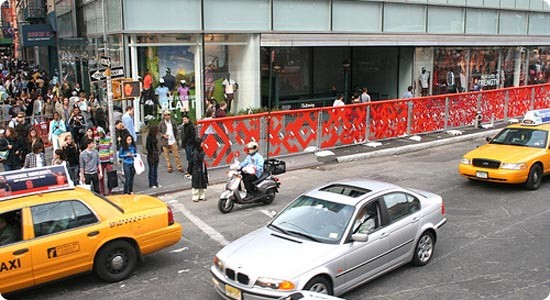 The Houston Fence, located on the corner of New York's Broadway and Houston, is a temporary outdoor installation inspired by QR-code patterns. These bar codes, when scanned with a mobile phone, allow pedestrians to seamlessly connect to online content such as websites and blogs. Meant to be read in different scales and speeds (pedestrian, cars, bikes, etc) the two sided-fence uses put-in cups as 'pixels' to create a permeable pattern in the sixty chain-link fences that have been set up alongside Houston Street as safety barriers for the Houston corridor reconstruction project.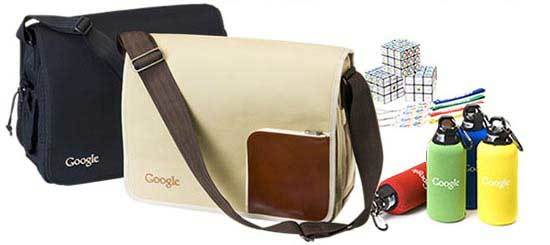 Japanese casual fashion retailer Uniqlo is offering special Google-branded goods to selected users in Japan who install a Uniqlo button for the Google Toolbar. Products range from keitai straps to Google bags.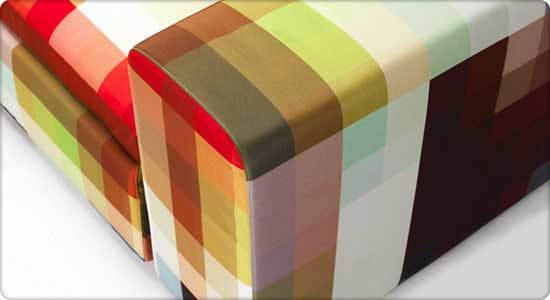 Spanish-born Cristian Zuzunaga, a 2007 graduate from the Royal College of Arts in London, believes the pixel is the icon of our time and has designed a Pixel Couch that will be produced by Danish manufacturer Kvadrat and sold through Moroso.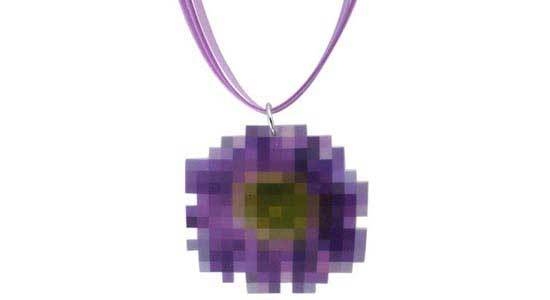 Hanging from a purple ribbon, this now sold-out pixelated lilac was offered on ModCloth.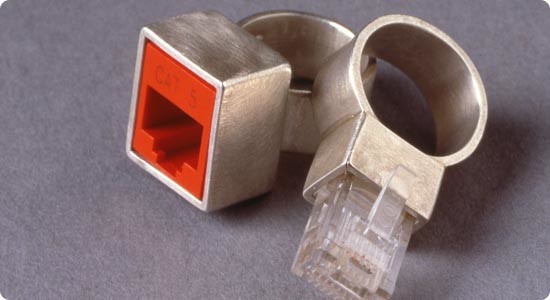 Seattle-based designer Jana Brevick regarding her Jacked-Cat 5 Compliant Wedding Set: A wedding set for the unconventional! The female ring has a choice of four opaque colors: turquoise, white, orange or black. The male ring stands tall and dramatically transparent. The world is your technological oyster." These rings, too, are sold out.

The by-now-commonplace practice of letting customers customize and personalize an existing offline product online (from Nike ID to personalized M&Ms) is being joined by products that start out online-only, then find their way into the offline world. Witness: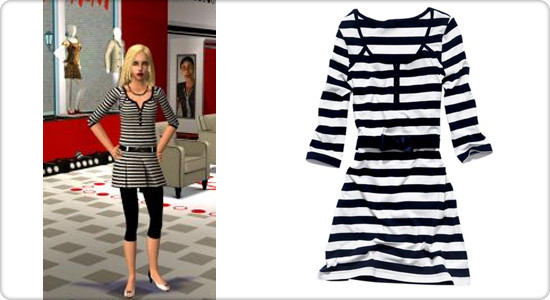 With the rise of virtual worlds, the burgeoning fashion market for avatars brought real-world brands and designs into the virtual realm. Now, the trend appears to be going the other way as companies begin to let consumers get their avatar fashions made into real-world clothes. EA and H&M recently held a Sims 2 H&M Fashion Runway Contest in which any Sims 2 player could participate by designing an H&M-inspired outfit using the game's design tool and uploading it to TheSims2.com Exchange. The winning outfit has been made available for purchase in nearly 1,000 H&M retail locations in the US, the UK, Sweden, the Netherlands, Belgium, France, Germany, Hong Kong and China for USD 14.90.
The Sims also got into bed with IKEA, making available digital versions of existing IKEA furniture, but no (known) plans exist yet to introduce new Sims-made IKEA furniture in a real world IKEA store near you.

A new partnership between Swedish avatar dress-up site Stardoll and German t-shirt commerce site Spreadshirt allows users to take virtual clothes they create or see online and get them made into the real thing. Users will be able to take logos or graphics from popular labels in the Stardoll world and get them emblazoned on real-life t-shirts, hats and other items.

But let's not forget about the avatars themselves: Fabjectory turns virtual world characters/avatars into detailed, full-color, real-life statuettes. The figures are built on a Z-Corp rapid prototyping machine. 1/400th of an inch at a time, the machine lays down a plaster powder that it covers with a type of colored glue. Fabjectory currently is available for Second Life, Nintendo Mii and Google Sketchup and is looking for other virtual world operators to partner with. Prices for a real-world avatar vary between USD 50–200 depending on character complexity and the virtual world it's from.
Oh, and then there's FigurePrints for World of Warcraft characters, and Japanese Tsukulus, which lets its customers print 3D figurines on the spot in their Tokyo showroom.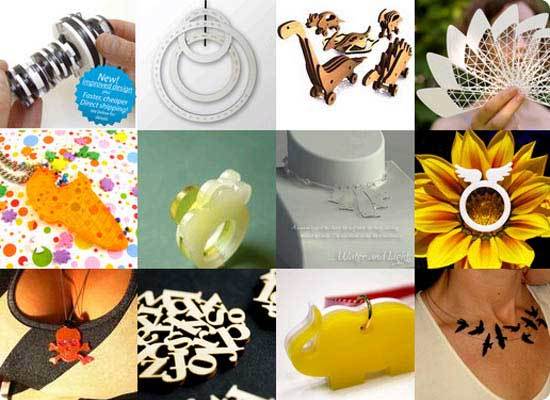 Moving on from avatar gestation to turning any virtual design into atoms: as discussed in our earlier MAKE IT YOURSELF trend description, New Zealand's Ponoko turns two-dimensional designs into three-dimensional objects by way of laser-cutting plastics and wood products. Besides creating products for themselves, users can also sell their designs through Ponoko, with the company handling payments and shipping. Which makes this OFF=ON venture into a great GENERATION C(ASH) showcase, too.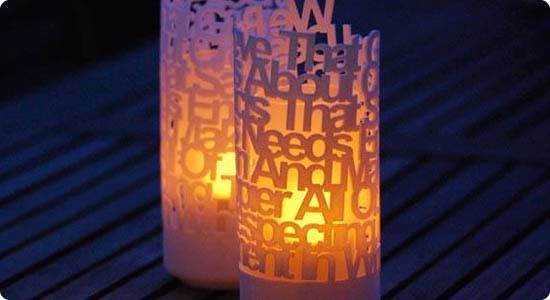 Ponoko was recently joined by Shapeways. Part of Philips' Lifestyle Incubator, Shapeways lets users upload 3D designs and have them produced on one of its 3D printers.
And let's not forget about yet another 'born online' sub-category: crowd production, which sees groups of creative consumers build new products from scratch online. From phones to sneakers. It just doesn't stop ;-)

A booming OFF=ON category all by itself, a digital lifestyle lubricant is a traditional product that incorporates functionalities and enablers to make it more compatible with the online world. From iPod chargers sewn into coats to web-based connections for plush toys. Want to add your own lubricants? Here's a selection of examples to get you going: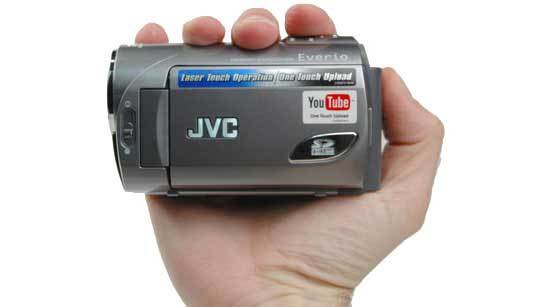 The new JVC Everio camcorder enables one-button uploads to YouTube. The button also limits recordings to 10 minutes, which matches YouTube's file-size limit and eliminates the need to manually time recordings or edit and shorten footage before uploading. Casio offers a similar service. Now that's what we call 'thinking with your audience'. It also fits with our 'END OF TRIBEVERTISING'and the beginning of 'TRIBE OFFERINGS' trends, but we'll saving those two exclusively for our 2009 Trend Report ;-)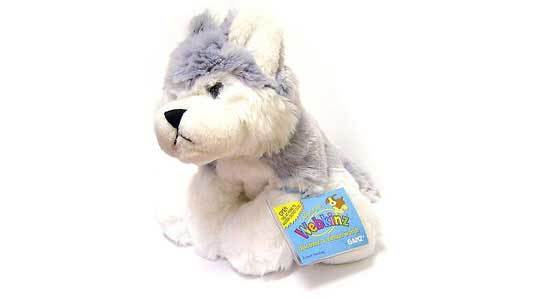 Webkinz are stuffed animals that each have an attached tag with a unique Secret Code printed on it that allows access to the virtual Webkinz World, where users will find a virtual version of their pet. Every pet gets its own room in Webkinz World and kids can decorate the rooms and buy items for their pets from the W Shop.
Webkinz has begun the process of localizing Webkinz World to broaden its international reach. Aiming for a roll-out by mid-October 2008, Webkinz is translating key features, like the adoption process, into French, Italian, German, Spanish and Portuguese.
For more web-connected toys and objects, see Chumby, Nabaztag and Dash Express

Made of Bavarian leather, Noon Solar's Corland Solar Powered Bag incorporates a flexible solar panel that allows for charging a cell phone or iPod. Check out these other solar bag makers, too: Reware, Eclipse, Picard and Voltaic. Hey, marrying ECO-ICONIC with OFF=ON is as good as it gets.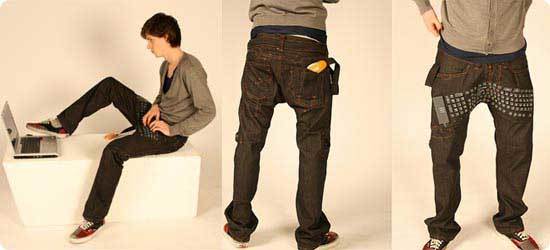 Fashion and tech have an ongoing love affair, from O'Neill's NavJack to the above creation (which made us smile); Erik De Nijs-a third-year product design student at the HKU school of arts in Utrecht, the Netherlands-came up with these "beauty and the geek" concept jeans. Surprisingly enough, there's no dedicated website, but that may just be part of a budding 'ON=OFF' trend ;-)

This is where OFF=ON gets most interesting. A whole new set of business practices and processes, not to mention client involvement and marketing techniques, have emerged online, and the offline world is slowly but certainly adapting. To clarify, this is not about "linking" online to offline (which is very useful but not new; think, for example, of brick & mortar pick-up locations for online purchases), but instead about "mirroring" offline what's being done better online.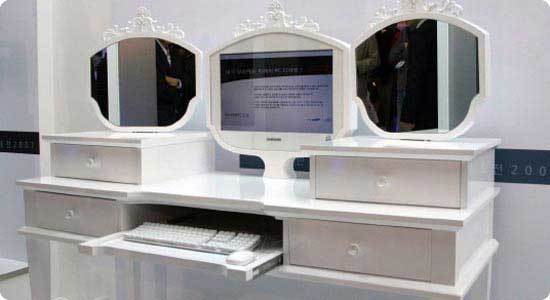 Case in point: last December, The Wall Street Journal reported on shops (Brookstone, Staples and Canadian supermarket Loblaws) taking a page from the e-commerce world, featuring endorsements from shoppers on product displays in their physical stores.
Clearly, that's just the beginning. From real-world supermarket layouts mirroring more intuitive website layouts, to allowing for more in-store customization, catering to consumers who are accustomed to mixing and matching whatever they feel like online.
It's a pretty heady mix of trends like INFOLUST and FREE LOVE and other trends that encompass changing behavior and expectations among consumers who live part of their lives in a limitless online world. Please re-read our EXPECTATION ECONOMY briefing for more on the drivers behind changing and ever-higher expectations.
To view the Off=On report in it's entirety, visit Trendwatching, their reports are truly inspirational.