NYFW Runway Recap S/S 2015
Get a first glance into the upcoming season with the S/S 15 women and men's runway recap by Fashion Snoops. In this exclusive preview, we bring you coverage and analysis of the top emerging trends and most influential collections from the New York runways. Also included is a sneak peak into the array of fashion-forward women and men's street style spotted at NYFW.
WOMEN'S NEW YORK COLLECTION HIGHLIGHTS
Summer Of Love
The Summer of Love girl is festival-ready at Tommy Hilfiger and Anna Sui. Both designers incorporated looks for the bohemian spirited or pyschedelic hippie. Flowing chiffon maxi dresses were often printed or embroidered, and denim was a highlight with patchwork techniques. Crochet and openwork knits were used for layers.
Uniforms
An Army Navy look surfaces with uniforms that that embrace pockets and neutral military tones.
Inner Calm
The Row progresses from last season's Inner Calm story into an equally sublime Zen approach, which confirms Fashion Snoops' Stop trend in Visionary. The spiritual look is reliant on solid neutrals and minimalist lines, with the exception of intricate wrapped techniques at the waist. Linen and natural fibers exude the message of purity and elongated silhouettes are favored.
MEN'S COLLECTION HIGHLIGHTS
All-American
This all-American spring weekend style, brings together all of the outfits you might find huddled around a grill. Slim cut polos with fun color usage, spring-weight materials, and a range of short lengths, depending on the man and his chosen activity.
Lounge Surf Vibe
This lounge-surf vibe consists of loose fit shorts, a lightweight jacket and relaxed summer shirts and knits - all interpreted into a contemporary metropolitan feel.
Minimalist Sport
Modern sporty minimalisms based on comfort and clean blocking, layered with fashion driven styles with subtle branding and a neutral palette.
PURCHASE THE FULL REPORT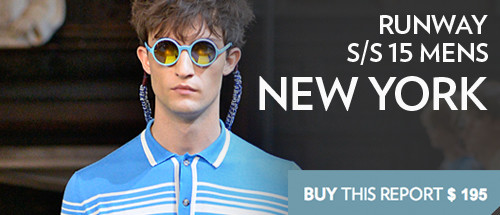 The complete runway recap reports for Spring/Summer 2015 are available now for purchase. Additional comprehensive runway reports are also available across all markets. Click the banners above for more details.