NY Fashion Week F/W 2009-10 Runway Trend Report
Runway Report Women's: New York Fall 2009 runway collections reviewed by inCOLOR, a new weblog that presents art, design, fashion, and entertainment.
inColor, meaning from the perspective of people of color worldwide. Featured fashion designers include: Stephen Burrows, Ports 1961, Zac Posen, Chado Ralph Rucci, Yigal Azrouel, Tracy Reese, Rachel Roy, Jason Wu, Baby Fat and a collective of African designers as presented by Arise Magazine. Courtesy of InCOLOR.
BANKABLE BURROWS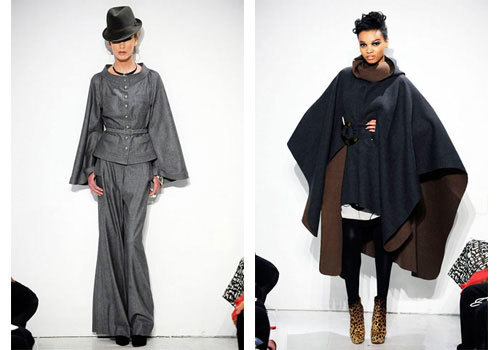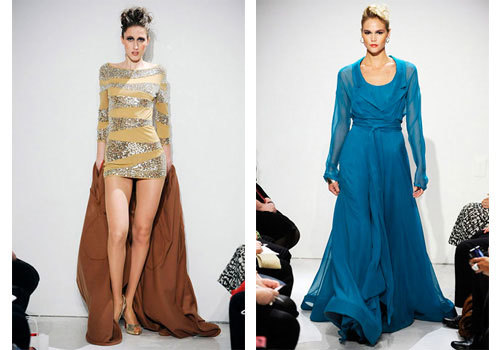 Legendary fashion designer SBX Holdings Llc Fall '09 fashion show titled "Bankable Burrows" proved to be appropriate for these recession times. He is the first African American designer to achieve international fame. He graduated from the Fashion Institute Of Technology FIT in 1966 and launched a ready-to-wear collection for Bonwit Teller in 1969. He received five nominations in the '70's from fashion's highest honor the Coty award. He has been in the fashion industry for over forty years and the CFDA also honored him with the Board of Directors tribute award. He is known as the master of "matte jersey and colour combination's." He also originated the "lettuce edge," that became his signature and remains in his collections every season. He has a strong celebrity following which includes Cher, Diana Ross, Lauren Bacall, Liza Minnelli, Jerry Hall, Laura Hutton and Barbara Streisand. For fall the Robert Lee Morris jewelry and Christian Louboutin, USA shoes added sex appeal to his collection that was almost sinful. Top hats, capes, bright colors, bold prints, belted blazers and a over-sized coat paired with a mini made this collection fire. (Photo: Marcio Madeira)
JOURNEY TO INDIA WITH PORTS 1961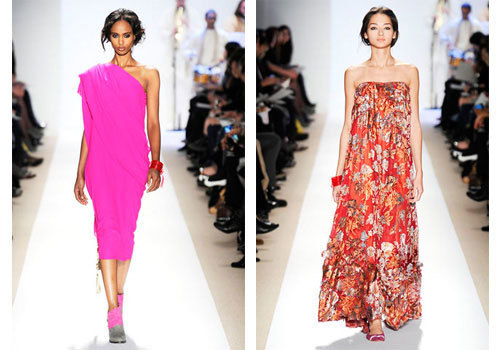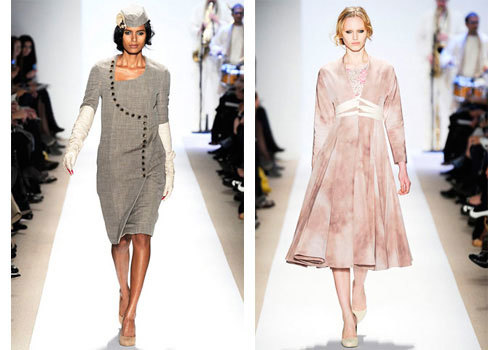 Designer Tia Cibani for Ports 1961 took inspiration for her Fall '09 collection from her heritage of India. She took everyone on a jornney to India's Mughal Dynasty in which lead to her Persian descent of Nur Jahan. She enlisted Red Band Festival to play as the models took the runway. Moonstone gray, Jasmine white & tea, ruby and henna red were some of the colors from this show. Masculine tailoring with ornate detailing and asymmetric looks added some appeal to her collection. Elongated coats, sari inspired drapes from dresses to tops, pleated velvets, volume cinched with ruching and controlled trousers set the pace for her fall show. Ports 1961 fall looks definitely had pieces that could add spice to your wardrobe. (Photo: Marcio Madeira)
ZAC POSEN THE VICTORIAN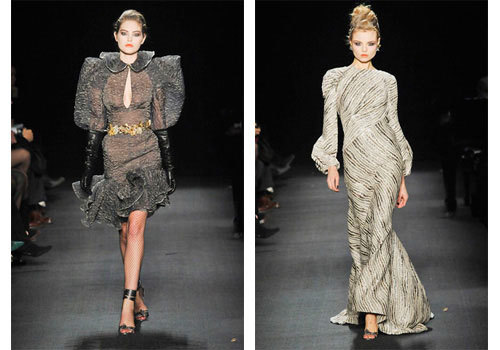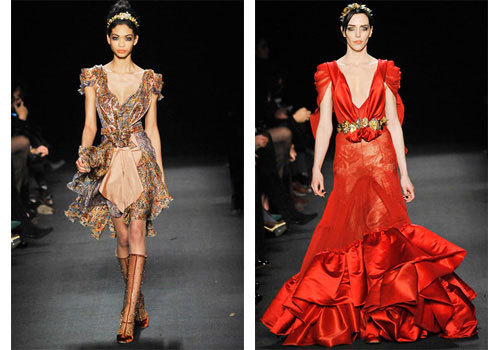 Zac Posen is one of those designers whose show you must see. The show was packed and overcrowded but it was the best show to me. Alicia Keys, Estelle, Joy Bryant and Vogue's editor-in-chief Anna Wintour were some of the big names that sat front row. Zac went back to the forties with his Fall '09 collection. He focused a lot on dresses which I know will create red carpet stunners. Pouf sleeves, bare backs, Victorian style tops, ruffles at the hip and trains of fabric dragging in you can hate me now metallics, silk, plaids and double layered floral prints. Kate Winslet, Kim Cattrall, Rachel Bilson, supermodel Liya Kebede and Rhianna are hugh fans of Zac. Zac Posen is known for making celebs shine on the carpet in his gowns and drawing attention to his creations. He has made a name for himself in the fashion industry and world wide that will always keep people wondering what will he do next? (Photo: Marcio Madeira)
JET SET CHIC AT CHADO RALPH RUCCI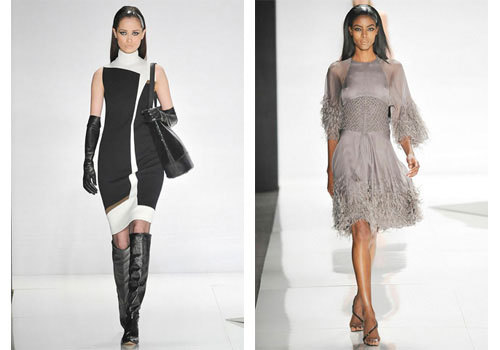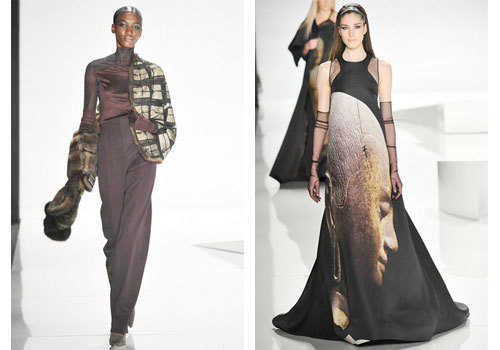 Designer Ralph Rucci chose his collection name Chado, from the Japanese tea ceremony, which is noted for its attention to detail. Rucci is highly regarded for the quality of his clothing and used basic colors to showcase his craftsmanship this season. Rucci's attention to detail is evident throughout this collection through the use of clean and sharp silhouettes, intricate cutouts, and inspired mixture of fabrics and patterns. The collection progresses from neural tones, to pops of orange and purple mixed in with prints varying from zebra to Asian inspired then to prints reminiscent of cubist art at the end of the show. With such variety !!! INFWC0000421 !!! offers the perfect wardrobe for any jet setter. (Photo: Marcio Madeira)
YIGAL AZROUEL'S UPTOWN GIRLS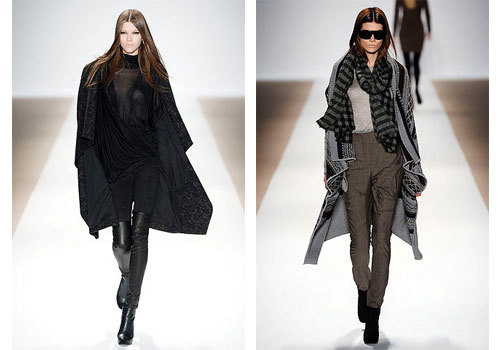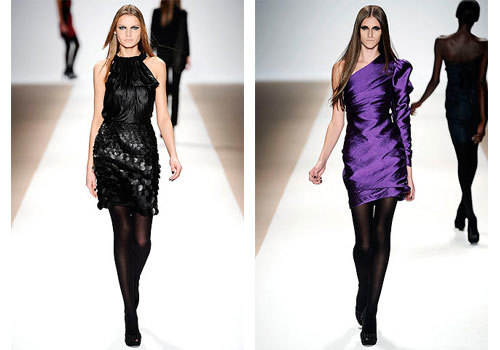 Born and raised in Israel of French-Moroccan descent, Yigal Azrouel is a New York City-based designer. His women's wear label was launched in 1998, followed by his debut at Seventh on Sixth in 1999. For his ready-to-wear fall 2009 collection, gray and black are ubiquitous. The designer places volume on the upper torso, slimming down the silhouette with form-fitting pants. A flowy charcoal cape with over-the-knee boots, a black top with a Victorian-style collar and sleeves paired with PVC skin-tight pants, an oversized poncho that guarantees to keep you warm, and a little black sequin dress transforming the model into a walking mermaid. All was discreetly elegant except for one outfit where a checked scarf was paired with a knit cape reminiscent of an old blanket pulled out from your granny's closet. In contrast was a light gray shirt with a peacock-colored blotch that alludes to a paint stain. A touch of seemingly carelessness that borders being contrived but looks completely natural. Bravo to Rachel Roy did a spectacular presentation of her Fall '09 collection. She said for Fall she wanted "to be strong," and that is what she did. Cut out sheath dresses, gray flannel suits and jackets, one shoulder tops with a peek a boo piece to cover the top, over-sized jewelry and LaCrasia gloves made this collection eye popping. She arranged each piece by color palettes starting with blush, pale yellow, slate blue and black all having similar shapes. The models stood on platforms with bobbed wigs and black lipstick that was reminiscing of YSL's Fall '08 runway show. She has definitely strayed away from her usual collections when she was playing it safe. Roy stepped outside the box and took a risk that I think will pay off and open new doors for her career. The clothes reflected strength and power, as well as revealing a woman's softer side. (Photo: Marcio Madeira)
WU OF THE YEAR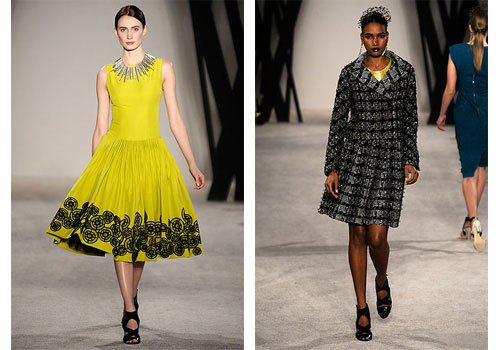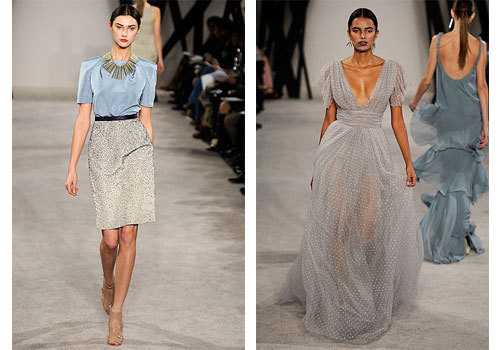 Jason Wu 's career sky rocketed in one night when Michelle Obama wore his one shoulder chiffon gown at the inaugural ball. I had the opportunity to meet and work backstage as a dresser for Jason Wu a couple years back when he first showed at the tents. He was very quite and reserved as he prepared for his destiny. This fall Wu opted out of showing at the tents but still managed to pull in top editors. For his fall collection Wu was inspired by fairy tales that included looks of body hugging sheaths, electric blues, gowns with layers of ruffles, chartreuse dresses with beading, short dresses with lacy black epaulets in the back and a strapless midnight chiffon gown with silver details that closed the show. Jason Wu stayed true to his vision and did not change his style because he is the talk of the town. (Photo: Marcio Madeira)
FEELIN IT '09 AFRICAN STYLE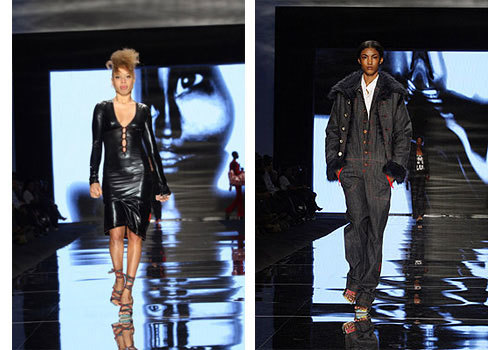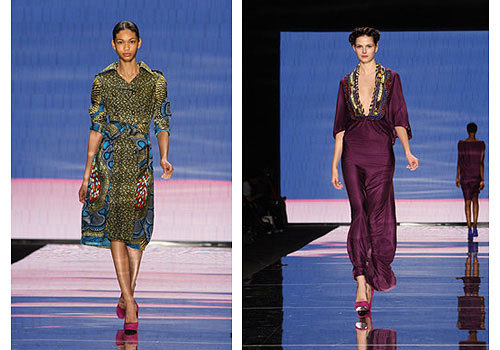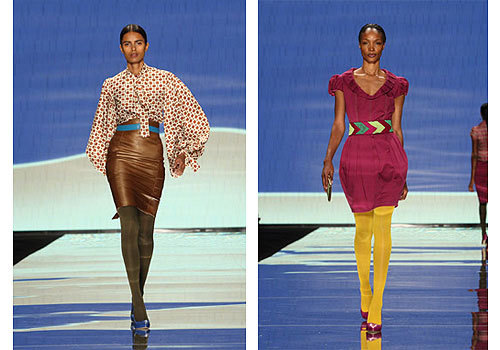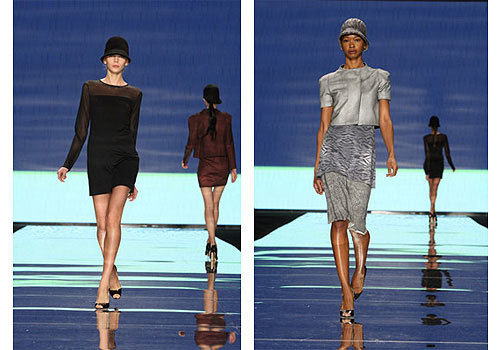 Arise Magazine presented a collective of pieces by African designers Xuly Bet (Mali/Paris, top), Tiffany Amber (Nigeria, 2nd ), Stoned Cherrie (South Africa, 3rd) and Momo (Nigeria, bottom). For so many years Africa had a big influence on fashion but it was never recognized. Designers like Algerian-born Yves Saint Laurent's 1967 collection featured a beaded ode to African art, Dolce & Gabbana's spring '05 referenced Africa and Roberto Cavailli always creates something with a African feel in his collections. African textiles, weaving techniques and skins is used by so many designers because American and European customers love this trend. Africa is soon becoming a fashion staple in the fashion community because the designers from there are creating their own style of "haute couture." This Day/Arise magazine did this for the sole purpose of making African designers' voices heard. Caftans and voluminous sun-dresses stampeded down the runway along with masculine denim suits, bold prints, big sleeves, vibrant colors including a tee dress featuring the voice of the people, President Barack Obama. With the music of Grace Jones in the background, top models Chanel Iman, Liya Kebede, Oluchi, Arlenis Sosa and Alek Wek set fashion week off right. (Photo: Robert Mitra)
View the entire report at inCOLOR.