New York Fashion Week Women's Print Trends S/S 2014
Patternbank brings you it's Print Highlights report from New York Fashion Week, Spring / Summer edition. Here they present a concise overview of the key looks sure to influence incoming seasons. In this installment Patternbank has again selected key designers showing the strongest print trends for Spring / Summer 2014. We love Patternbank, they are our go-to source for print inspiration and reporting.
NYFW Runway Print Highlights
BCBG Max Azria S/S 2014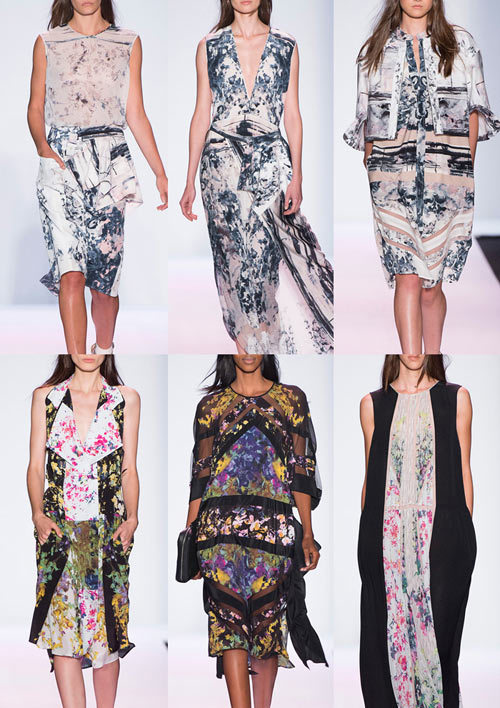 Hand Painted Florals. Pattern build ups. Flowing Florals. Distorted Beauty. Monochrome Expression. Ink Marked Pattern. Sectioned structure
BCBG Max Azria photos via Vogue.com
Josie Natori S/S 2014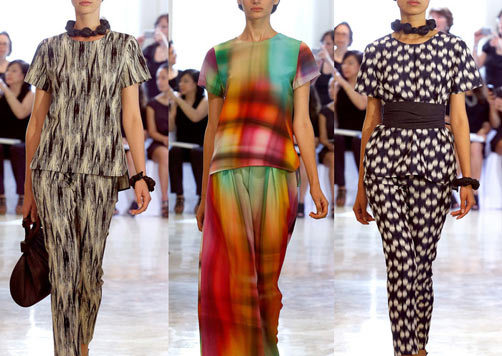 Abstract Forms. Blurred Pattern. Monochrome Patterns. Rainbow-Bright Checks - Creative Print Mixes - Abstract Geometrics. Ombre Blurred Checks
Josie Natori photos via Style.com
Diane Von Furstenburg S/S 2014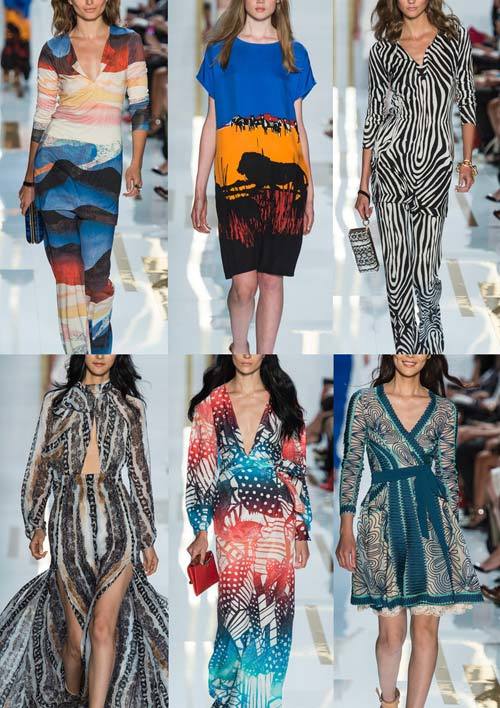 Tribal References. Linear Patter. Gradient In-fill Pattern. African Animals - Light Distortion. Graphic Pattern
Diane Von Frustenberg photos via Style.com
Prabal Gurung S/S 2014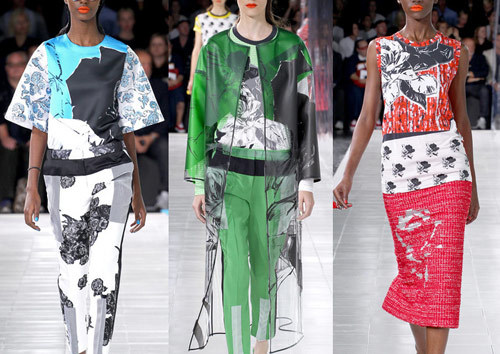 Floral Collage. Pattern Patchwork. Bright Colour Use. Black & White Floral Painted - Cut-Up Pattern use. Abstracted Structure
Prabal Gurung photos via Style.com
Whit S/S 2014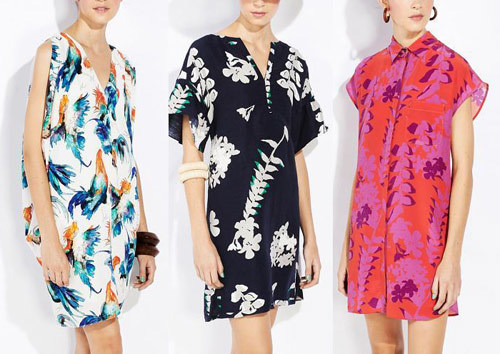 Delicate Summer Floral. Contrast Prints. Simplified Painted Blooms. Intense Colour Contrast. Fern and Flower References
Whit photos via Fashionising.com
Jeremy Laing S/S 2014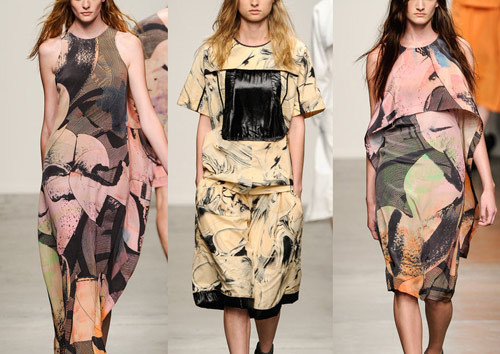 Squeegee'd Pattern - Large Scale Photographic Florals. New York Artist Julia Dault's Art - Fluid Studies. Movement Through Print - Ethereal Foliage
Jeremy Laing photos via Style.com
Red Valentino S/S 2014
Painted Floral Studies. Full-on Blooms. 60?s Gardening Illustrations. Intense Looks. Summer Blooms. Hand Rendered Studies
Red Valentino photos via Style.com
MM6 Maison Martin Margiela S/S 2014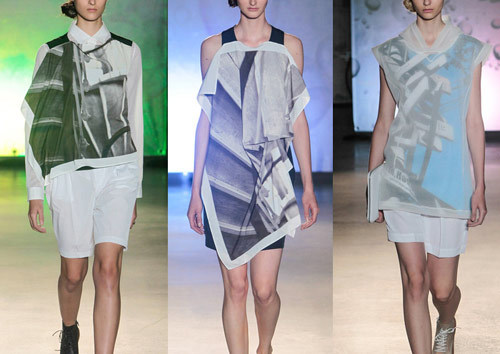 Blurring and Distortion. Tonal and Monochromatic. Fused Photographic Landscapes. Enlarged Urban Photographic. Translucent Tones. Industrial Beauty
MM6 Maison Martin Margiela photos via Style.com
Vera Wang S/S 2014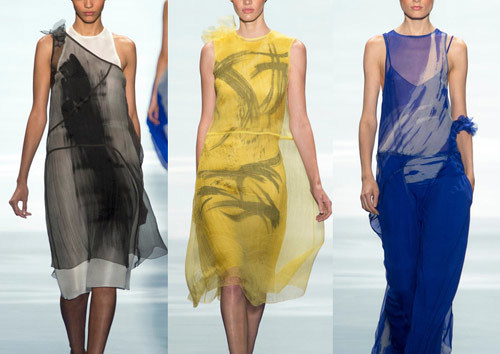 Ethereal Beauty. Blurring and Distortion. Bleed and Watercolor Markings. Over-scaled Paint Brush Marks -Watery and Aquatic Movement. Painted Brushwork
Vera Wang photos via Style.com
More Report Details
Patternbank aims to keep you up to speed with the rapidly evolving world of print, pattern and apparel graphics. Our global research brings you essential inspiration ideas for graphics, prints and patterns, making patternbank a valuable resource and intelligence tool for any business, designer or buyer.
View the Patternbank New York Fashion Week Spring/Summer 2014 Print Highlights report, Part 1 and/or Part 2.