New York Fashion Week Trend Report
Spring / Summer 2008 - The Spring / Summer 2008 collections were on the agenda at the Mercedes Benz fashion week here in New York City from September 5th - 12th, 2007. This time around, designers focused on a more neutral palette, mainly using black and white to anchor their lines, while throwing in some color here and there to make their collections more "Springy" and "Summery." Bright green, bright red, and bright blue are popular color choices, and believe it or not, hot pink is in, and it doesn't seem to be going anywhere by the looks of it. Simplistic designs are anted up by the usage of color, fabric, and trim. And a beloved cartoon makes an appearance that will not be forgotten any time soon. The upcoming seasons are all about having some smashing-good fun, and the following designers do it the right way.
BADGLEY MISCHKA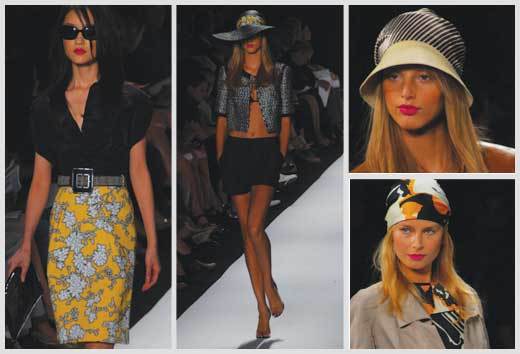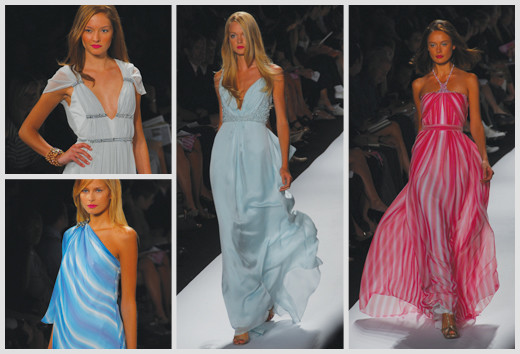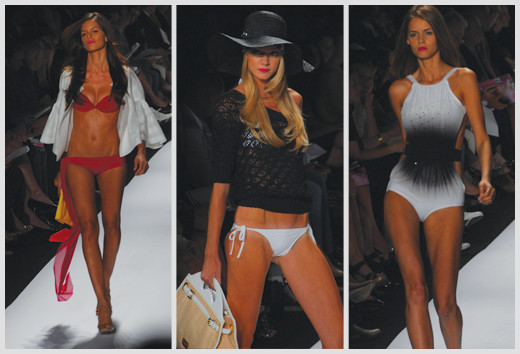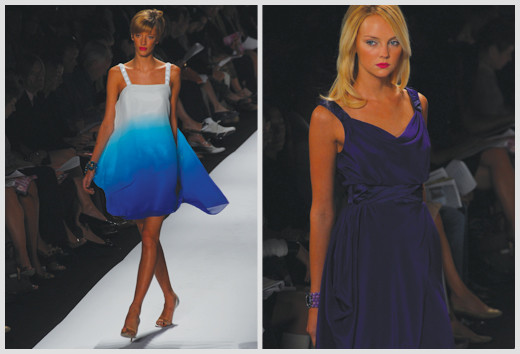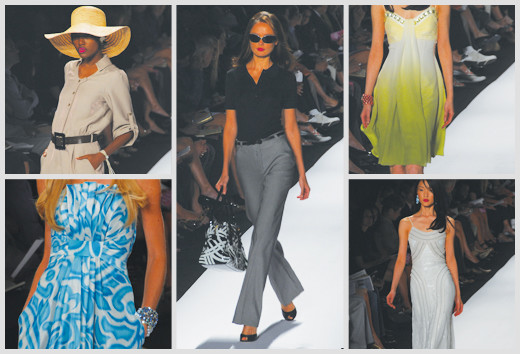 Mark Badgley and James Mischka, the Parsons students who decided to start a business together instead of competing with each other, are two of the most talented designers in the biz today. Since the creation of their label in 1988, !!! INFAB0000781 !!! has set a reputation comprised of glamour and red-carpet style, made contemporary by their usage of fabric and construction. After adding some sportswear to their label in Spring 2007, !!! INFAB0000781 !!! shone through, even in a category that they may not have had the most experience in. Their ready-to-wear Spring/Summer 2008 collection was reminiscent of 1920s French fashion mixed with the construction and tailoring of the 70s that they love so much because of the fluidity, and "doesn't grab the body "… sounds odd, but they hit it right on, and since glamour is their middle name, they didn't miss a beat. Black, white, and grey comprised a big portion of their color palette, and to lighten up for Spring and Summer, they added a funky and cute yellow print here and there, subtle greens, and some hot pink thrown in every so often. This time around, !!! INFAB0000781 !!! seemed to like the idea of the "maxi" length for skirts and dresses, and with the flow of the fabric that was chosen, it worked like a charm. They also played around with prints for head wraps and other trims. High-waist pencil skirts and trousers, along with those large, glamorous sunhats looked oh-so-classy. And with a fabulous, reincarnated version of a flapper dress, !!! INFAB0000781 !!! shows us why it is okay to wear black during the Spring and Summer seasons… and for that matter, whenever.
BUCKLER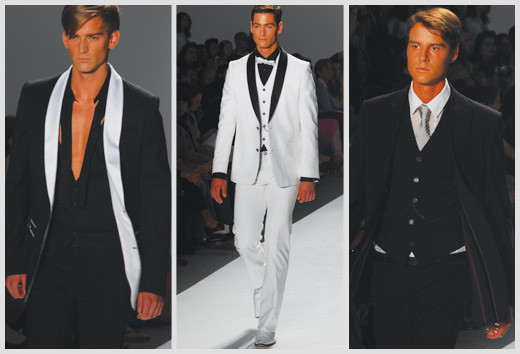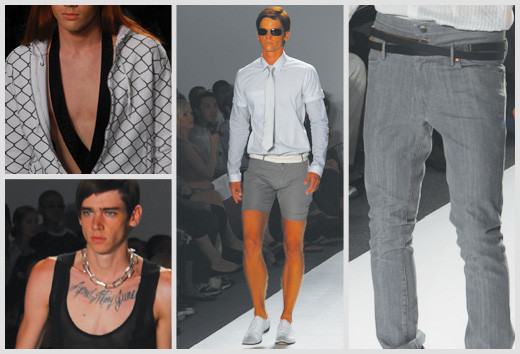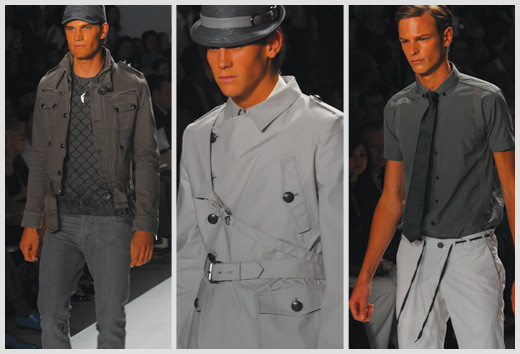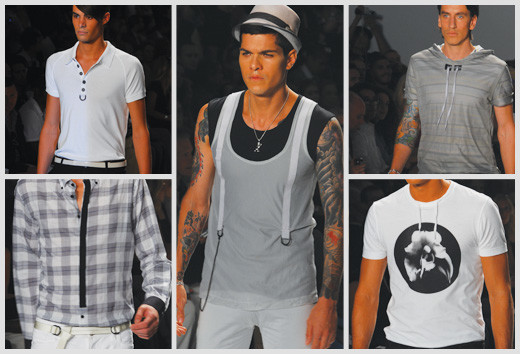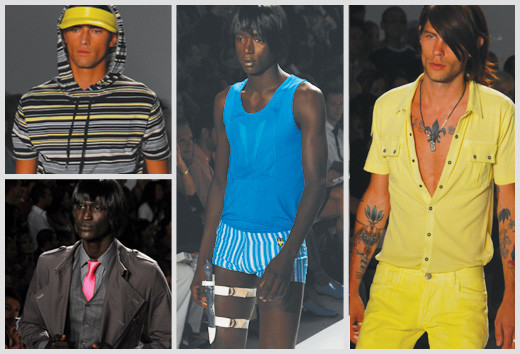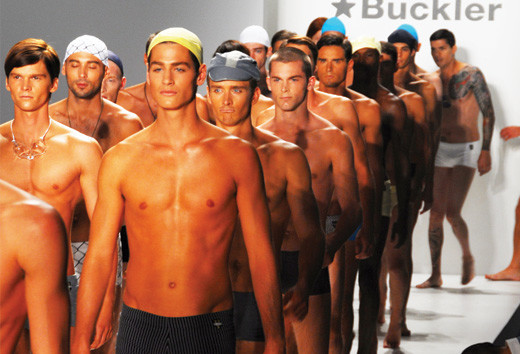 Bad boy British designer Andrew Buckler has a unique take on the menswear market. He is known for combining "blue-collar rough-n-tumble with colorful goth/punk rock." Sounds interesting, and his collection for Spring/Summer 2008 is just that. Every piece that came down the runway looked masculine, fresh, stylish, and definitely different. Again, Buckler prepared for possible rain with sporty rain coats, hooded jackets, and sweaters to keep warm. Buckler also had hints of "preppy" mixed into the lot, and for those who could spot it, Buckler gave "preppy" a whole new makeover. While Buckler stayed close to a neutral color palette, mostly comprised of the obvious black and white, creams and grey, he did throw in some color, such as electric blue and red-orange. He also took a risk and used an almost pastel hue of yellow, a little hot pink (yes, hot pink for guys) and lime green. It was a risk well taken. Skinny trousers dominated this runway and so did short shorts. As the new saying goes, "Who wears short shorts?Buckler wears short shorts." While many guys tend to stay glued to their low and baggy shorts and pants, Buckler went the opposite way and went out on a limb by creating short, tight fitting shorts, almost reminiscent of bicycle shorts, but of course, in more contemporary fabrics. He also invented Capri pants for the male wearer instead of the female, which actually looked good, especially paired with those perfect "boyfriend" style cardigans that us females just can't get enough of. The designer also showed classic tuxedo-style jackets with contrasting shawl collars, and suits and ties of a brilliant sheen, all perfectly tailored to fit the right way. It also seems that boxers and traditional swimming trunks are out and teeny tiny garments for swimming and underwear are in, and are stronger than ever. These bathing suits look to be the choice of Olympic speed-swimmers, but now, everyday men can have the look, completed with a matching swimming cap in the same color. For a fresh, sexy, and manly look, Buckler is the right choice of the season.
CYNTHIA STEFFE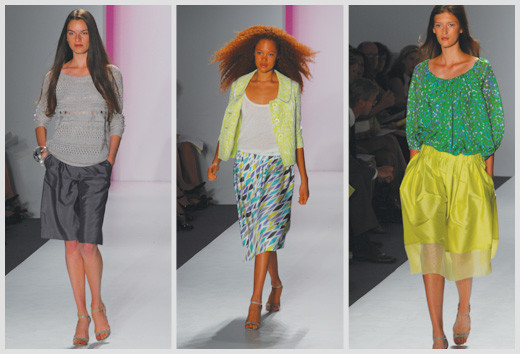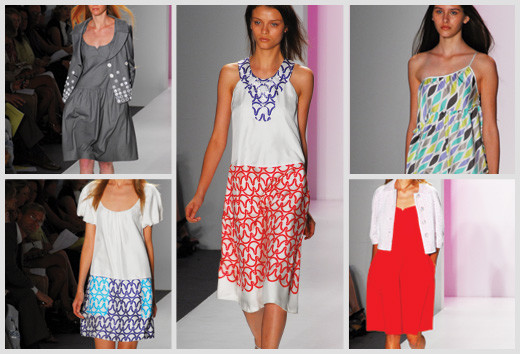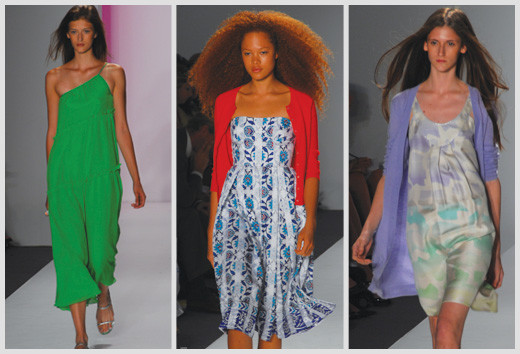 Recognized as a leading American contemporary designer, Steffe's Spring/Summer 2008 collection definitely showed off her talents. Steffe's collection was wearable, cute, and perfect for the upcoming seasons. While it was inevitable that black and white would be a part of the main color palette (as is with most of the designers for next season), Steffe didn't leave it at that. She plugged in metallic silvers and subtle greys, bright green and a yellowy-green, as well as a subtle hue of blue, and yes: hot pink. Instead of using red for the brightest color, Steffe utilized hot pink, and it actually worked quite well with the collection. She also had a good combination of above-knee, below-knee and knee-length skirts and dresses…for those gals who like to have the choice to either show off their legs or not. Box dresses were also popular, many with geometric prints. Steffe also paid attention to details, adding large pockets that are actually pockets, as well as colored trims that tied everything together. A cutesy detail that was used throughout the collection was a white, circular, "bubbly" type of trim that either decorated a hemline or the collar of a blouse. The Cynthia Steffe Inc collection was airy and fresh, and quite perfect for the season.
METLIFE'S SNOOPY IN FASHION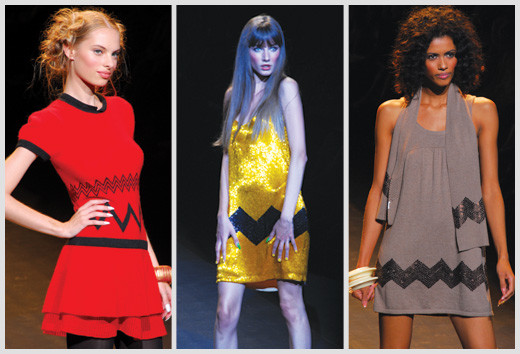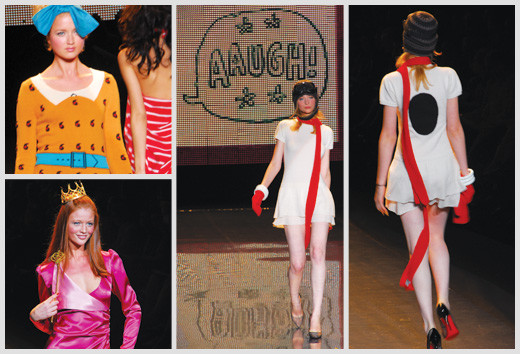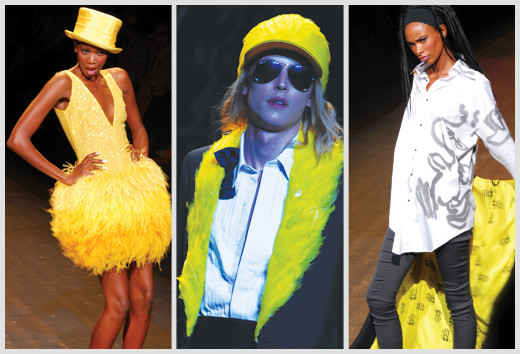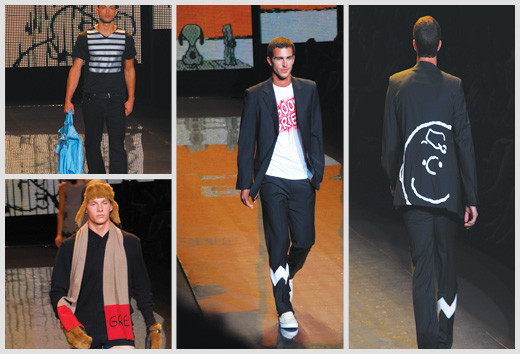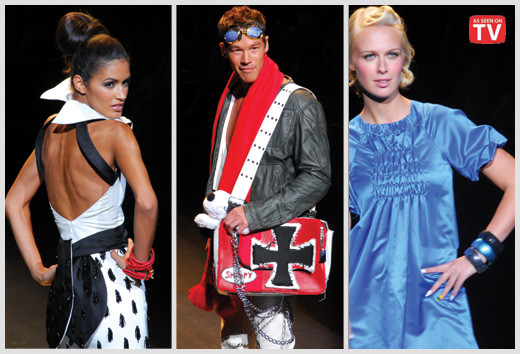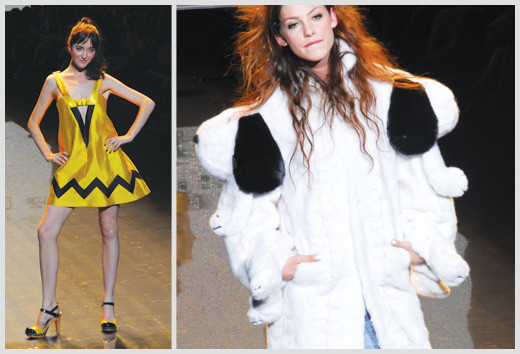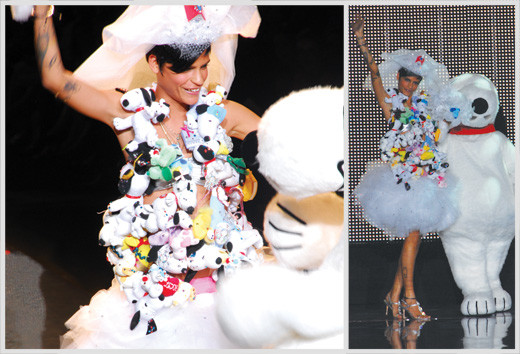 Yes, that's right, Snoopy has taken a giant leap forward and has entered the fashion world head first. And actually, you could wear most of the pieces in public. Snoopy is no longer just for kids as some his biggest fans came out for the charity event and designed a collaborative collection inspired by the lovable cartoon. The show is the first-time-ever group designer fashion show hosted by Met Life for the "Dress for Success" charity. Designers include Project Runway's runner-up Laura Bennett, Hampshire Brands, David Bromstad, Cannon, Kristin Chenoweth, Liz Claiborne, Angel Devil, R. Scott French, Whoopi Goldberg, Elisabeth Hasselback, Heatherette, Ingrid Hoffman, Betsey Johnson, Isaac Mizrahi, Matt Murphey, Hiromichi Nakano, Agatha Ruiz de la Prada, Jeremy Scott, Spijkers en Spijkers, Stuart + Brown, The Blonds, Wildchild Wear, and Jason Wu. The designs were playful, funky, cute, and all about Snoopy, obviously. Many of the pieces showcased the classic black squiggly line that Snoopy is famous for, and yellow was the most used color. From furry yellow collars to doggy eared-hats to little cut-outs of Snoopy himself, this charity fashion event showed the beloved cartoon character in a new lighte and actually, a fashionable one.
Y-3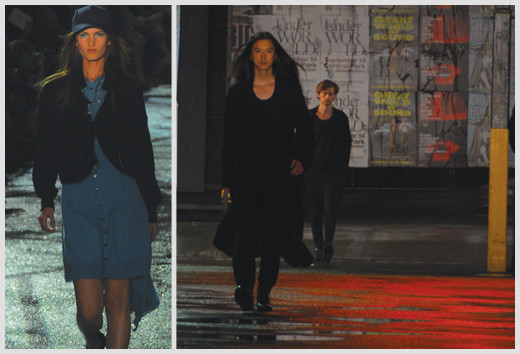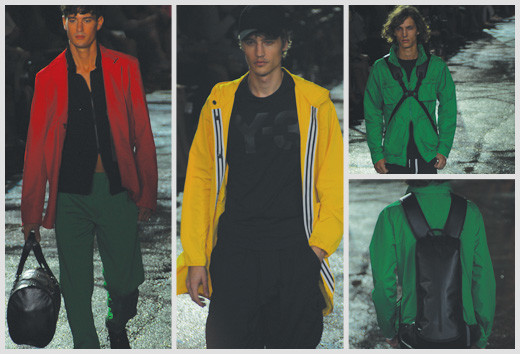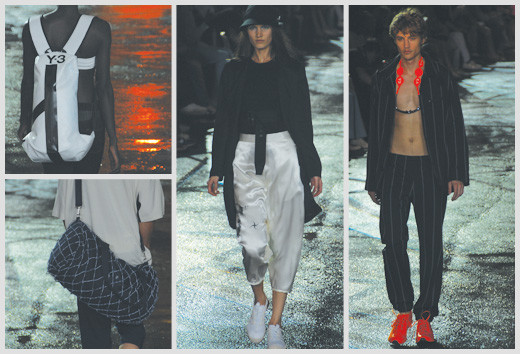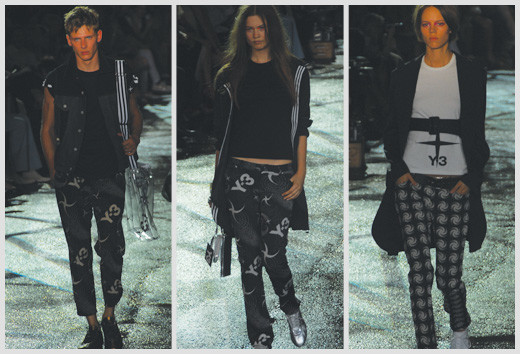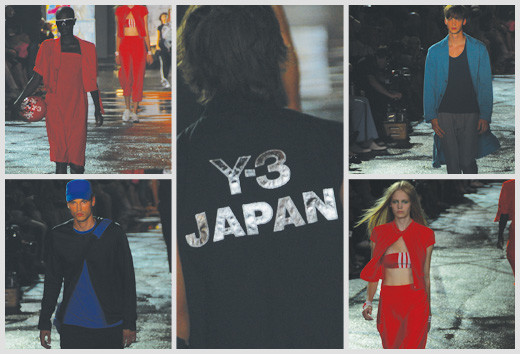 Backed by Adidas, Yohji Yamamoto, designer of !!! INFAY0000029 !!!, shows that it is possible to make activewear fashionable and yet, still functional. The designer, originating from Tokyo, is one of the first and most successful designers as a result of the "designer-activewear" marriage that many designers are now signing on to. For Spring/Summer 2008, !!! INFAY0000029 !!! takes the ordinary and makes it extraordinary by either the usage of color, print, or proportion. Not straying too far from his palette of black and white, Yamamoto added pops of color here and there giving the collection that much-needed amount of character. Bright red was definitely a favorite of the designer due to its usage throughout the line, followed by splashes of yellow and blue. Sporty hooded jackets and windbreakers, along with the occasional gear for rain, made the collection versatile. The signature three stripes of Adidas were apparent throughout the collection, and it only makes sense. How can the designer forget about who is behind him? Well he didn't, nor did he forget his own logo. If you didn't know what Yamamoto's clothes looked like, don't fear. The logo "Y-3" was splashed across plenty of the pieces, but not in an overtly tacky way. Subtle, simple and not too cluttered. The collection looked comfy, loose, and more importantly, wearable and functional. What more could you ask for in activewear?
JOHN VARVATOS - SPRING 2008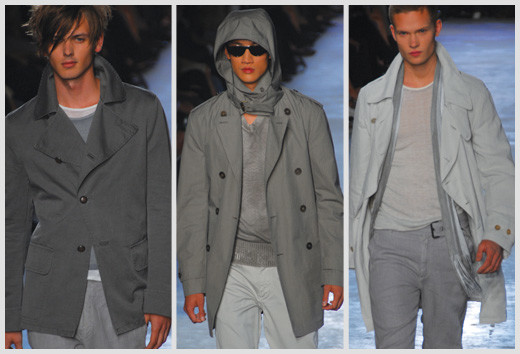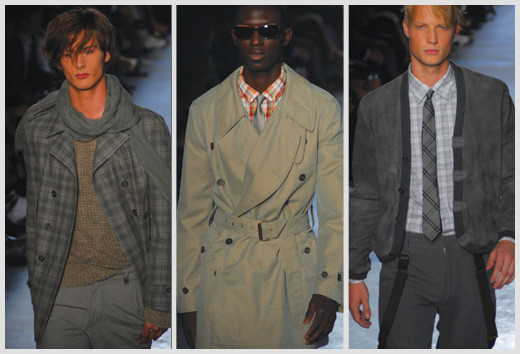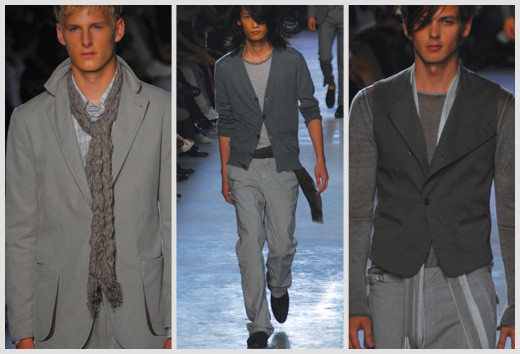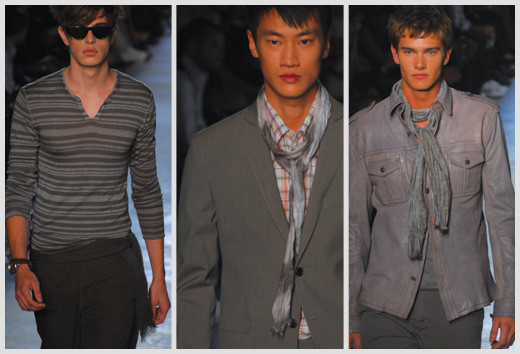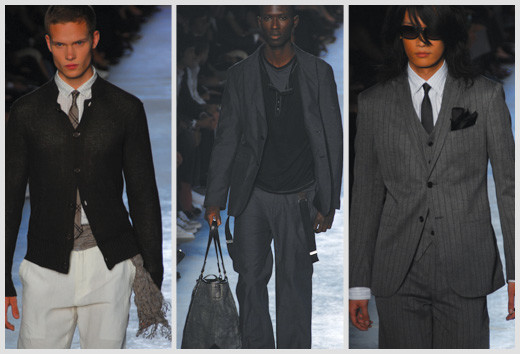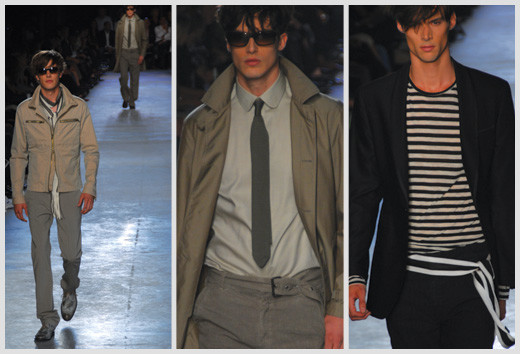 When you have the best possible experience under your belt, such as working for Ralph Lauren and Calvin Klein, its of no surprise when you have leading men such as Brad Pitt and Hugh Jackman wearing your clothes, as is the case with Detroit native John Varvatos. After winning the CFDA's Menswear Designer of the Year Award in 2005, Varvatos has carved a niche in the menswear market for those men who crave style, but isn't too flashy or trendy. As Varvatos continues to create the look of effortless American sportswear, which he is famous for, his Spring 2008 Collection is simple, stylish, and all about the color grey. Black and white made a small appearance, as well as a flash of red here and there, maybe in the form of a belt or pair of shoes, but different hues of grey dominated Varvatos' runway for the upcoming season. Varvatos seemed to like the idea of layering for Spring, but instead of thick pieces, he layered thin shirts underneath the outerwear. He had plenty of jackets, including some very nice tuxedo-style jackets, complete with shawl collars in contrasting colors. One particular jacket, or trench, stood out: a double-breasted trench with detachable hood. Varvatos has a good idea here; there should be more trench coats out there with hoods, detachable or not…it only makes sense. The suits had a very nice sheen to them, and the look of a three-piece suit and a t-shirt replacing the traditional collared shirt with tie creates a very nice look for Spring; it says "I want to look nice without looking too nice." It works. Varvatos also included some of the traditional trench coats, a few leather jackets that I only wish he made for women, and some fabulous cardigans (that I wish he made for women too). Some plaid was also thrown into the mix, mostly in the form of shirts, but once in the form of a nice jacket…and yes, plaid can be worn by more than just men who like to golf. All in all, Varvatos did good for Spring 2008, and even with all of the grey, he still managed to keep his John Varvatos collection light and "Springy".