New Nautical, Women's S/S 2016 Seasonal Mood
Fashion looks out to sea for inspiration, updating maritime styles with a modern twist. The experts at Trendstop present WeConnectFashion readers with New Nautical, an essential fashion theme for Spring/Summer 2016 womenswear. This must-have theme is ideal as the first drop to enter into a fresh new spring season, and it can also transition well into High Summer.
Maritime Styles with a Modern Twist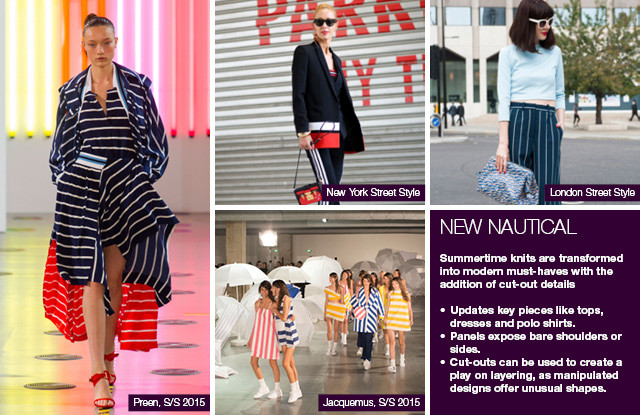 NEW NAUTICAL: Influencing everything from apparel and accessories to color, materials and beyond, discover how seafaring aesthetics can be updated with clean shapes and unexpected details to create effortlessly elegant styles.
Bringing the seaside to the city, nautical nostalgia is refreshed with a modern twist.
Classic stripe prints incorporate color pops and changes in direction.
Sportswear inspirations emphasize the clean appearance of designs.
Uneven hems and wraparound layers introduce an urban element.
Color: Boyhood Blue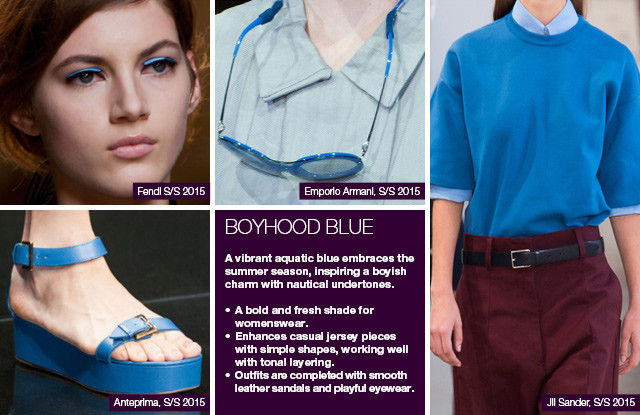 A vibrant aquatic blue embraces the summer season, inspiring a boyish charm with nautical undertones.
A bold and fresh shade for womenswear.
Enhances casual jersey pieces with simple shapes, working well with tonal layering.
Outfits are completed with smooth leather sandals and playful eyewear.
Surface Interest: Cut-Out Cotton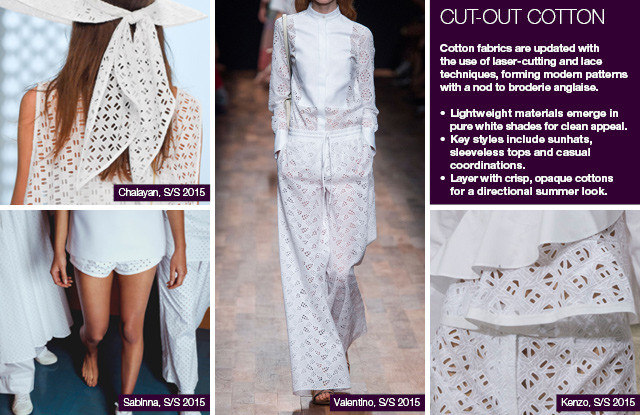 Fabrics from the cotton family are updated with the use of laser-cutting and lace techniques, forming modern patterns with a nod to broderie anglaise.
Lightweight materials emerge in shades of pure white for a clean appeal.
Key styles include contemporary sunhats, sleeveless tops and casual coordinations
Layer with crisp, opaque cottons for a directional summer look.
Silhouette Interest: Cut-Out Knit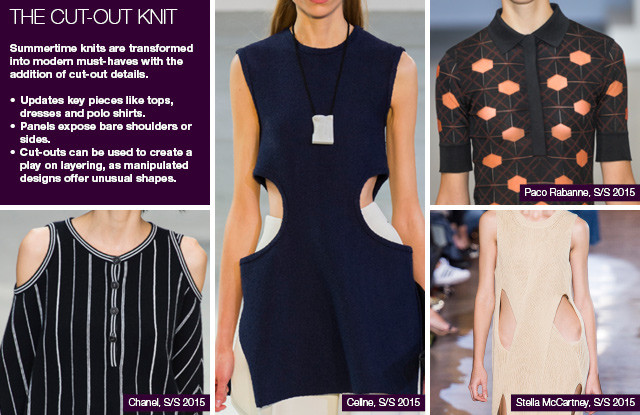 Summertime knits are transformed into modern must-haves with the addition of cut-out details.
Updates key pieces like tops, dresses and polo shirts.
Panels expose bare shoulders or sides.
Cut-outs can be used to create a play on layering, as manipulated designs offer unusual shapes.

More Report Details


Trendstop.com, is the world's leading trend forecasting agency for forward fashion forward trend information that is validated through early consumers to give you confidence in your trend decision making. Clients include Forever21, PVH, Ralph Lauren, H&M, Hugo Boss and L'Oreal.