Must Have Items, Women's & Men's Apparel FW 2010-2011
Key Items Women's Men's Best Sellers' Forecast: To combat the Fall Winter 2010-11's chill; classic aviator shearling jackets and cozy knits are key. As a hobo-grunge aesthetic prevails, look for longer lengths, including maxi dresses and long-line cardigans, lumberjack shirts with subtle style updates emphasize the conceit. Tailored city shorts represent a smart, wearable alternative… Presented on Trendstop.com, the site known for great visuals and early trend identification.
WOMEN'S BEST SELLERS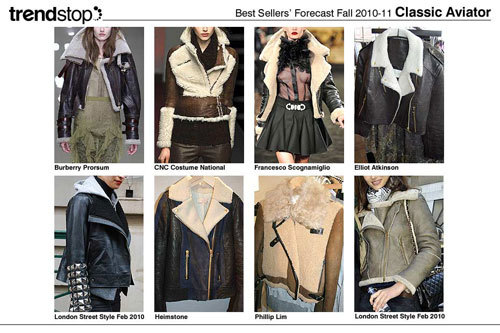 #### Classic Aviator
The classic aviator shearling jacket becomes one of the biggest must have shapes of the season. Replacing the leather bomber as the cool cover up of choice, the more reference to traditional heritage details the better. You can contemporize the style with biker zips and multi buckles. Key colors are chocolate brown and tan with natural shearling.
#### School Girl Duffle
A true classic, the schoolgirl duffle coat continues to be a staple outerwear piece for winter. Mid-thigh length, traditional toggle fastenings with rope detailing in contrast color add a heritage feel to the shape. Heavy wools in neutrals look authentic while primary brights modernise the style.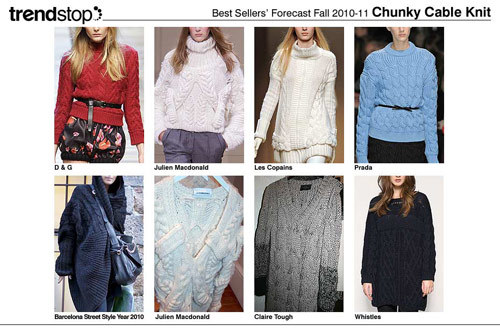 #### Chunky Cable Knit
Cable knit gets chunky as cosy winter sweaters become a must have for winter. Channelling the heritage trend, look to traditional simplistic sweater styles that incorporate the cable knit to the max. Tighter fit silhouettes are belted in for a lady like look while boyfriend sweaters take on a more relaxed looser knit cable.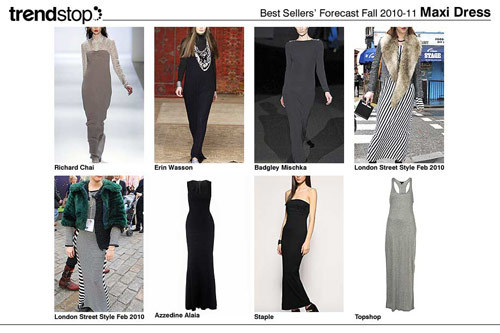 #### Maxi Dress
Body clinging column maxi dresses continue to look directional for winter. Lengths range from mid-calf for a directional feel, to floor sweeping lengths for a rock bohemian vibe. This style looks equally as good with print as it does in plain block colors.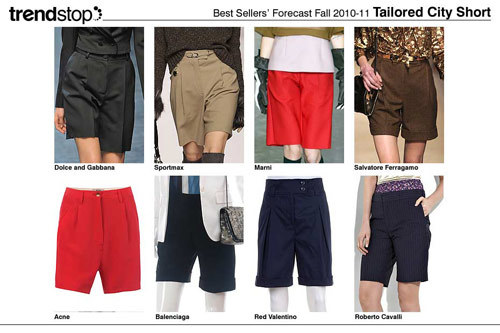 #### Tailored City Short
A smart sophisticated tailored city short looks best in wool suiting and crisp heavy weight cottons. Worn just above the knee the style should be as simplistic and detail free as possible. Flat fronted with a centre stay press seam.
MEN'S BEST SELLERS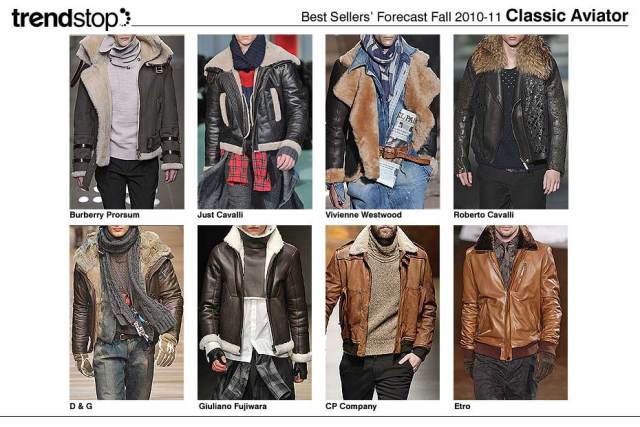 #### Classic Aviator
Let the imagination fly on Howard Hughes' Spruce goose. The romance of retro air travel and the brave men who pioneered it. Chocolate and cognac zippered bombers in soft shearling and nappa leather punctuated with contrasting fur collars. Utility belt straps and ribbing add purposeful zeal.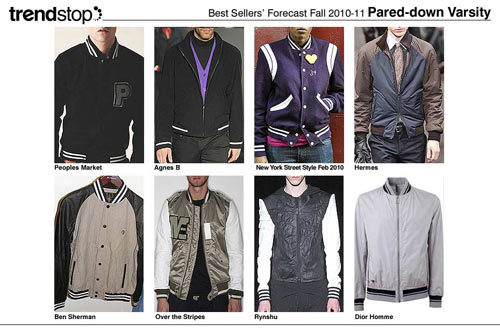 #### Pared-down Varsity
Come out and join the team in these cheery favorites. Cut short and slim in mixes of nylon and wool. Stripped down to essentials like striped or tipped ribbing at waist, cuff and collar, contrast sleeves, and discreet logos. Contrast snaps, zips and welt pockets add interest.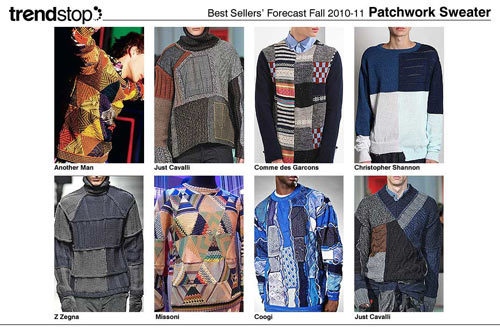 #### Patchwork Sweater
Gaze into the mesmerizing whirl of a kaleidoscope. Like childhood relics, these sweaters feel like old friends in their happy haphazard cut-and-paste style. Look for triangular quilting patterns, color blocking, asymmetric cutting and simple block forms. Vibrant retro patterns are youthful while muted neutral palettes give a refined presence.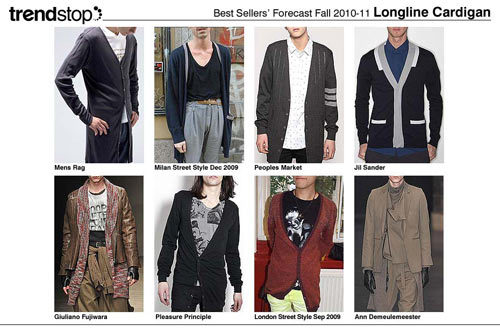 #### Longline Cardigan
Long, lean and languid, this poetic look has loads of intellect appeal. Primarily jersey knit in thin 10-12 gauges, the length elongates to mid thigh with a slightly lower V-neck fastening. Best in super-soft wool merino chine yarns but also look for darker solids with contrast trimming.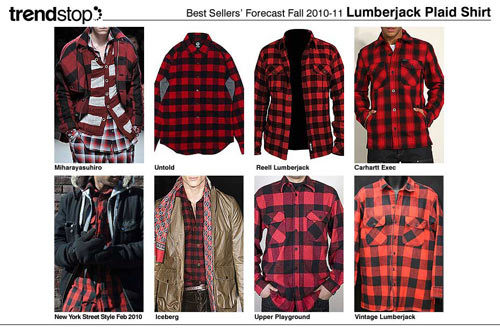 #### Lumberjack Plaid Shirt
Timber! The quintessence of brawn, this shirt comes in strict red and black hunter plaid or big check.  Cotton flannel or wool, it can also come padded with a contrast quilted lining for a light jacket. Note the bias chest patch pockets and bottom welt side pockets.
Trendstop.com is a leading trend agency whose clients include leading brands, luxury brands, retailers, etailers, stylists and celebrities. Trendstop.com specializes in the commercial translation of conceptual trend looks to help you create best-selling on-trend styles. With access to vast image galleries, focused key trend reports, emerging trends and major themes updates, trendstop subscribers are always ahead of the trend.