Mr. Minimal: Men's Trend Report S/S 2009
**Spring / Summer 2009 Menswear Trend Report: **
Like Mies Van der Rohe once stated, "less is more." The statement proves to be very true this up-coming season when it comes to menswear. For Spring 2009, a simple and modern take on menswear, with judicious blasts of color, will insure that men will be coming "back for more."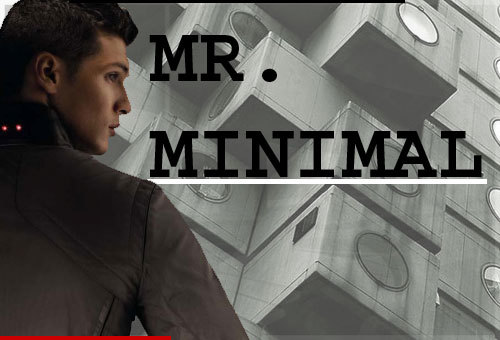 A black and white combination has always been a classic. This season, the color combination took new ideas from the world of sports. Neil Barrett (left) took inspiration from asymmetrical gymnastic uniforms. While Kris Van Assche (center), went back to the use of perforation fabrics used in the sports industry to provide breathability. This technique proves to be successful in men's apparel because it's comfortable and masculine. The minimal shirt by Saint Augustine Academy (right) resembles a jersey taken from a soccer team.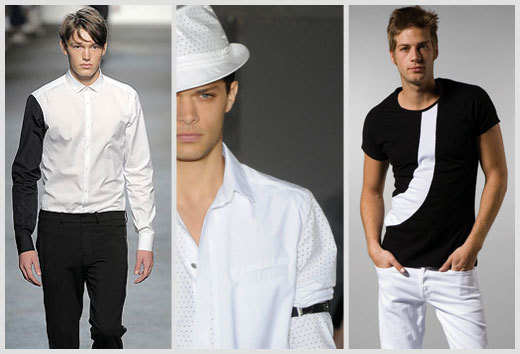 Primary colors take a front seat in the minimal approach to accessories. Calvin Klein (left) uses yellow to add a pop of color to gray suits. Bags come in colorful varieties like Bottega Veneta S.R.L (bottom right) oversized bag in blue. !!! INFWJ0001048 !!! (top center) offers wallets in an assortment of colors with sleek designs.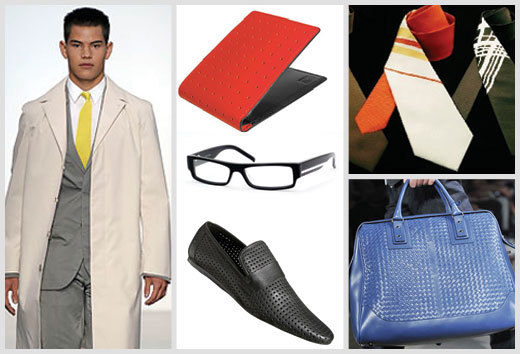 Architecture serves as a backbone for inspiration. Vertical bands provide a structural effect on the body. Miguel Antoinne (right) demonstrates what a white/black jacket can do for a men's body. He captures a reconstructed classism with the right proportions. Jil Sander (left) proves how a clean, colored jacket can look refined when paired with black. The vertical bands in the messenger bag by Ecsotype make it a sophisticated and modern accessory. Watches, such as the one from Sarpaneva (bottom center), who teamed up with Eero Aarino, become modern and abstract.