Modern Empress Prints, Women's FW 2014-2015
Trendstop takes a first look at a key print and pattern trend for Fall/Winter 2013 directional retail and Fall/Winter 2014 main stream retail, with early indication retail examples from S/S 2013. Alert: ornate, opulent and rich in regal detail, Modern Empress and vibrant Oriental Tropicana patterns.
IMPERIAL FLOURISH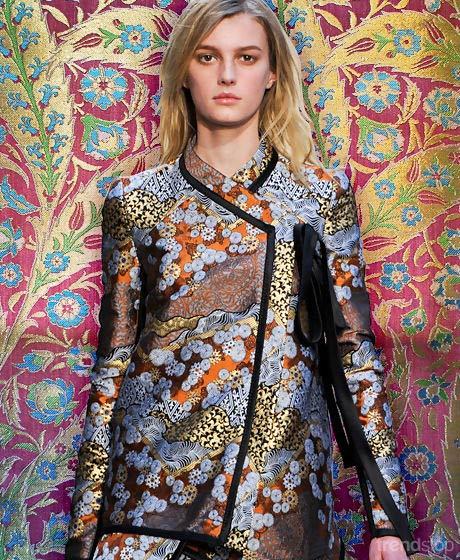 image courtesy Trendstop: Versace for H&M Campaign
Delicate Far East florals flourish on surfaces with lavish upholstery and colorful decorative details, from elegant swirls to Oriental foliage. Proenza Schouler and Zac Posen opt for luxe gold brocade on silky fabrics, while Leonard's illustrated pattern resembles a Ming vase and Holly Fulton's PJ-style top is vibrant with bold red blooms.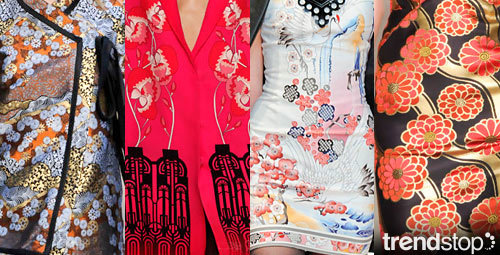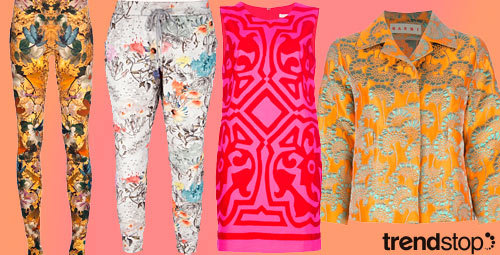 Proenza Schouler, Leonard, Holly Fulton, Zac Posen, all Fall/Winter 2012-13. E-tail images: Alexander McQueen, Paul Smith, P.A.R.O.S.H., Marni, all Spring/Summer 2013.
A key look for Fall/Winter 2013-14, Imperial Flourish is already surfacing in selected retail collections, as seen at directional brands like Alexander McQueen, Paul Smith, P.A.R.O.S.H. and Marni.
Trendstop predicts that Modern Empress Print will surface in directional European retail in Fall/Winter 2013, and will consequently be suitable to translate into mainstream US stores for Fall/Winter 2014, as illustrated here with examples from the current Spring/Summer 2013 retail collections.
KEYWORDS
Oriental Floral
Gilt brocade
Collaged floral brocade
Royal colorations, purple, blue, gold
Folkloric depiction
ORIENTAL TROPICANA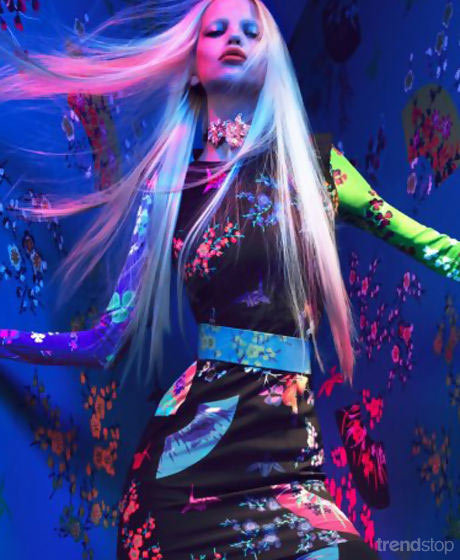 image courtesy Trendstop: Proenza Schouler Fall/Winter 2012-13
Rich imperial aesthetics are injected with a jolt of neon tropicana, revitalizing Oriental florals with Hawaiian-inspired elements. Black grounds accentuate colorful foreground prints, as seen at Osman and Peter Pilotto, while Temperley London's white-base model looks fresh and sophisticated. Ashish's heavily patterned design makes an arresting statement in vivid clashing tones.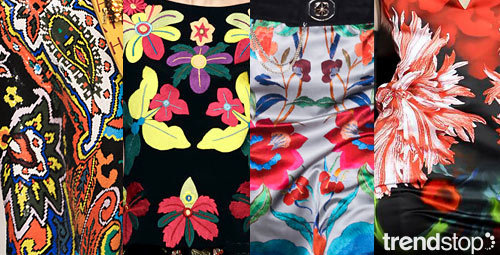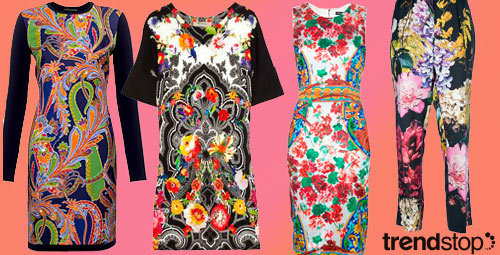 images courtesy Trendstop: Ashish, Temperley London, Osman, Peter Pilotto, all Fall/Winter 2012-13. E-tail images: Ralph Lauren, Etro, Dolce and Gabbana, Roberto Cavalli, all Spring/Summer 2013.
Validating Trendstop's 2012 prediction for Fall/Winter 2013 (or 2014 for mainstream stores), directional retailers have already started to showcase Oriental Tropicana patterns in their collections, including Ralph Lauren, Etro, Dolce and Gabbana and Roberto Cavalli.
KEYWORDS
Sophisticated Brights
Paisley Details
Painterly Orientak
Color Block Petals
Oriental meets Tropical Style Brights
THE FULL REPORT IS AVAILABLE NOW
Trendstop.com is one of the world's leading trend forecasting agencies for fashion and creative professionals, renowned for its insightful trend analysis and forecasts. Clients include Forever21, Ralph Lauren, H&M, Hugo Boss, and L'Oreal.