Modern 70's Fall 2016 Womens and Mens Color Trend Report
On view a sneak peek for WeConnectFashion readers at Modern Seventies Browns, a must-have color group trend for Fall 2016. These retro shades create 70's nostalgia with rich hues like chocolate, chestnut and coffee. Modern Seventies Browns is just one of the dozens of trends Trendstop will be covering in our upcoming Fall 2016 Trend Forecast Presentation, which we will be hosting live in New York May 6, 2015.
image courtesy Trendstop: Prabal Gurung, Most Favoured Nation, both Fall/Winter 2015-16, Chloe Gassian, Evan Robarts.
Caramelized Autumn
Perfect for fall, sticky toffee-tinted browns are injected with orange undertones to infuse collections with autumnal warmth, including our key Fall/Winter 2015-16 Fashion Color Pumpkin Caramel. Relaxed, feminine tailoring creates a look of 70's-inspired sophistication, as winter woollens emphasize comfort. Neutral color contrasts can be used to introduce a clean, forward look to ensembles, applied to details on outerwear and shoes.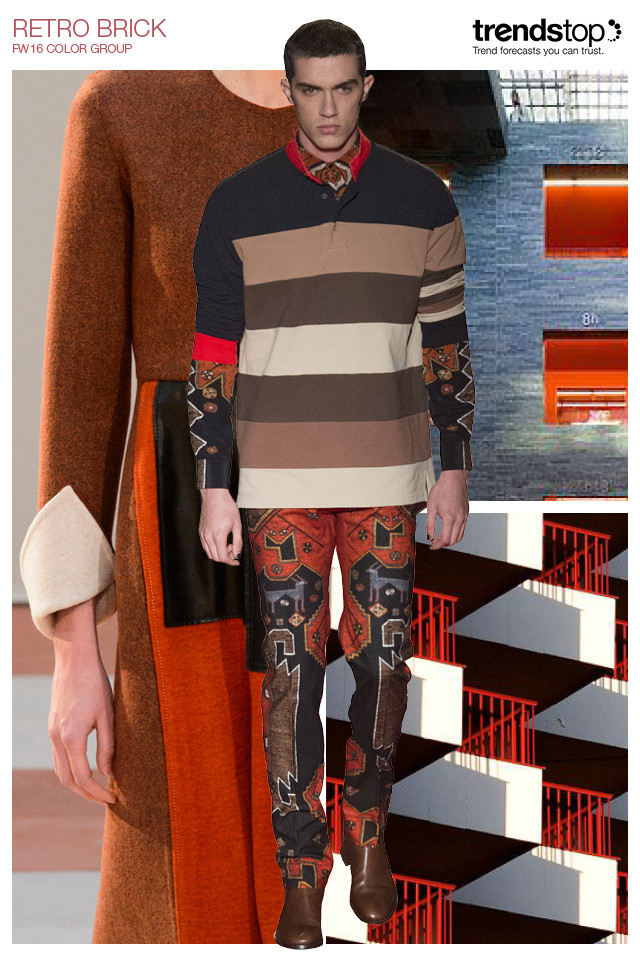 image courtesy Trendstop, Top: Givenchy, Celine, both Fall/Winter 2015-16, Neutlings Riedjik Architects, Ville Hyhko. Bottom: Celine
Retro Brick
In Retro Brick, we see how black can be paired with Modern Seventies tones to form a striking contemporary contrast, enhancing the richness of deep pumpkin tones. Blocking and repeats make a statement with geometric shapes, complemented by tactile surfaces and brown shades with reddened brick casts. This trend can also update menswear designs as well as womenswear, as shown in Givenchy's latest men's collection.

Join Our Event
More Report Details


Trendstop.com, is the world's leading trend forecasting agency for forward fashion forward trend information that is validated through early consumers to give you confidence in your trend decision making. Clients include Forever21, PVH, Ralph Lauren, H&M, Hugo Boss and L'Oreal.