Mercedes Benz Fashion Week: Los Angeles Trends
Spring / Summer 2008 - Mercedes Benz Fashion Week would not be complete without a quick, five day stop to the "fashion capital" of the West Coast: Los Angeles. So what's on the minds of LA's top designers? It's all about breaking conventions and going with gut instincts: what looks good, what looks right, and what you like. Don't miss the new trends for spring and summer 2008!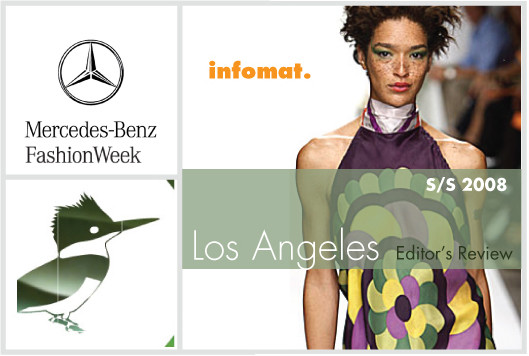 Mercedes Benz Fashion Week would not be complete without a quick, five day stop to the "fashion capital" of the West Coast: Los Angeles. From October 14th – 18th, Smashbox Studios in Culver City was taken over by the recent fashion event that closed the Spring / Summer 2008 seasons. So what's on the minds of LA's top designers? It's all about breaking conventions and going with your gut instincts: what looks good, what looks right, and what you like. Los Angeles knows the Spring and Summer seasons very well (it's basically Spring / Summer year 'round in LA), and right now, it's all about lots of dresses in lightweight fabrics that flow freely, and yet still create wonderful silhouettes. Purple holds strong as the season's number one color, while white and black still remain as an all-time season staple; and let's not forget that funky vintage never goes out of style, no matter how funky it may look. And some designers have taken the "going green" movement to heart with their collections. Also, designers stay true to Los Angeles culture by adding some of that Old Hollywood glamour with rich colors, proportions, and silhouettes that are perfect for the upcoming seasons. And a day playing golf or at the local country club has never looked more fashionable than what we have here.
VOOM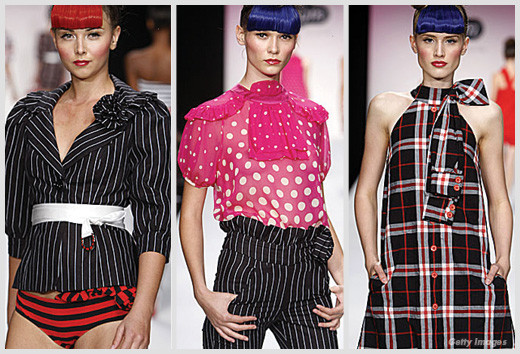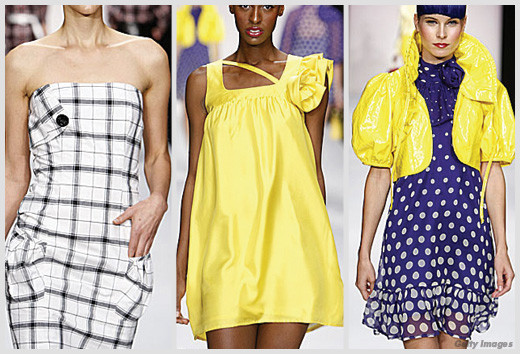 Founded by Joy and her husband James Kim in 2002, VOOM is classified as "twisted vintage." Um, YEA! Joy Han has a unique take on fashion, and has apparently been called "Ms. Galliano." As the original "VOOM" girl, Han has made her collection all about having fun. One could see Gwen Stefani and the likes of Pink wearing VOOM; I can see it now. Han was definitely not afraid to use color, which was quite apparent with the hot pink, red, purple, and yellow that trotted out. A few ensembles resembled something that the Queen of Hearts would wear if she weren't so uptight and constantly yelling "Off with his head." Probably a more laid back Queen who listened to "No Doubt" while cruising the pages of Vogue; yea, that Queen. Han played with geometric prints endlessly, and it made the collection that much more fun. Polka dots, checkers, and plaid of all patterns, came in many, many different colors; all done quite tastefully. Cutesy appliques decorated many of the pieces, such as a large bow here or a large flower there, and let's not forget the ruffles. And did I mention the plastic? Well, it might not really be plastic (I mean, who would want to feel like they were wrapped in a piece of saran wrap all day?), probably just some sort of synthetic material or really, really shiny leather (whichever you prefer), but in any case, these pieces really stood out…maybe that's why the models wore sunglasses. This collection made a statement all on its own, and it was "wear me!," if anything else. But not everything was crazy and funky; some really cute dresses and cropped jackets walked the catwalk as well, almost but not quite reminiscent of a baby doll or empire dress. So with all that said and done, let me just say "Va Va VOOM!"
MONARCHY COLLECTION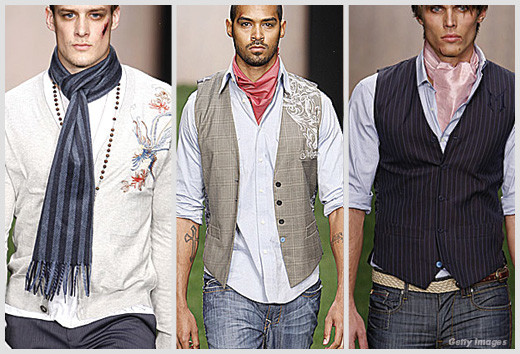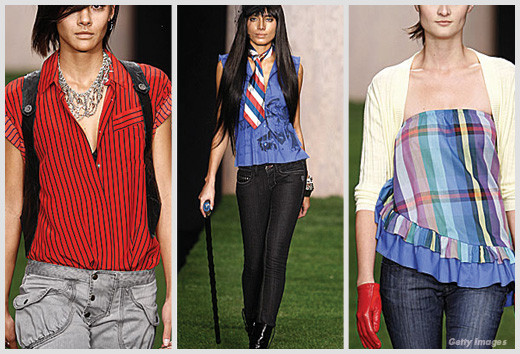 As an admirer of Vivien Westwood and the punk look of the 80s, founder, creator, and designer Eric Kim created Monarchy Collection because he wanted to reinvent the looks of London street fashion to what is "trans-globally considered hot for any decade." With his trademarked British embroidery, Kim (a native of Los Angeles) has turned Monarchy Collection into an electric apparel line for men and women, with trendsetting tees, ground-breaking denim, and hand-styled graphics. His pieces are works of art, so it makes perfect sense that A-list celebs enjoy the "creative quintessence and brooding use of artistic flare" that Monarchy offers. Spring/Summer 2008 definitely looks a bit different for Monarchy; this is the collection that pioneered the need to break conventions and be different, as well as helping to spread the word on global warming. With models stepping out onto a runway of grass (yes, green grass), Monarchy set itself apart from the rest. Tees and shirts were of original art and design and were somewhat inspiring, such as the white collared top with the bold back that exclaimed: "Global warming is so hot right now," or the white tee with a picture of a bicycle on the front, saying "Unlimited MPG." Original. With the traditional jeans and sandals, there was also a touch of deconstruction, but not over the top, which kept the collection in tune with the season. And pink ascots and red spectator shoes were just some of the interesting accessories, which included some tasteful and very fashionable suspenders, scarves, and gloves. The most apparent theme running throughout the collection was that of a day at the country club and/or playing polo. With western vests and cowboy hats, Monarchy stays true to its designer's origins, that is, the west. Monarchy also played with proportions with high waist pants and loose shirts that cut off, or stayed long. For the guys: perfectly designed cropped pants and Bermuda shorts; many ensembles were reminiscent of the traditional tennis get-up one would see at a country club. A unique pairing was that of a blazer and Bermuda shorts for the guys…interesting, but practical. As far as colors go, Monarchy kept it a bit dark, emphasizing grays and blacks, brown, and some creams, with more appropriate Spring and Summer colors, such as hues of purple (as seen in prints and some plaid), and pinky reds. An interesting touch was the juxtaposition of the classic argyle print and the traditional cardigan; this touch gave those sweaters just the right amount of panache. But what clinched the whole collection was the last piece: a metallic-gray, tight-fitting bustier dress with purple trim, completed with a walking stick, top hat, and gray stripped tights. Congratulations to the winner of this polo match!
TART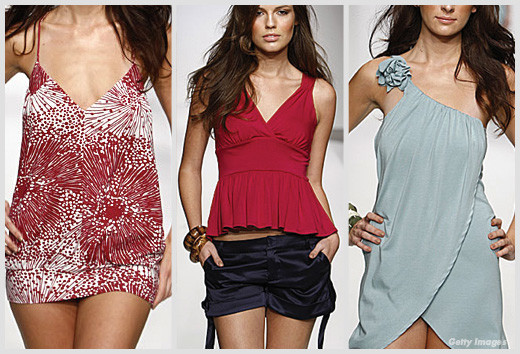 Jamie Finegold and wife Dana started their company in 1996 with JD Fine & Company. With this business, they launched their first apparel line, Softwear, which was comprised of sleepwear that was aimed at the junior market. They eventually entered the contemporary market with loungewear, sleepwear, and sportswear. Five years later, Softwear was changed to Sweet Tart, and two more brands were introduced: Lemon Tart (loungewear and sleepwear) and Tart (sportswear). TART sportswear is known for micro-modal fabric and body-skimming drape and is classified as "effortless elegance and understated style." And how true this was proven by their recent collection. Brilliant colors included a royal blue, turquoise, and a berry-"ish" color. Neutrals included white, cream, some gray, and brown. TART showed mostly dresses, with some pairs of perfectly proportioned "hot pants," perfect for the beach-goers. Plunging necklines was TART's ultimate game, as almost all of their dresses showcased deep v-necks and halters. It's also all about comfort; these pieces not only looked so glamorous, but oh-so-comfy. With some toga-inspired and goddess dresses in crisp white, Old Hollywood styles did not look so old anymore. And head wraps also prove to be a strong accessory for the season, and TART addressed that accordingly, as many ensembles were accessorized to match. TART is about clean lines, fresh concepts, and showcasing a woman's figure. Brava!
BIRD PREY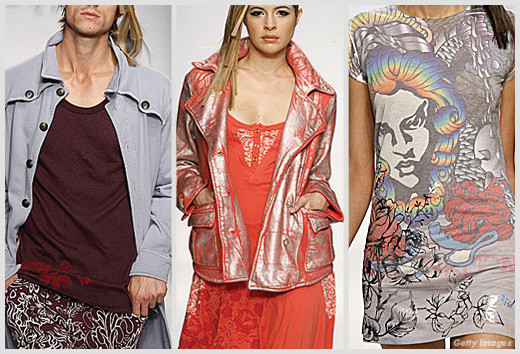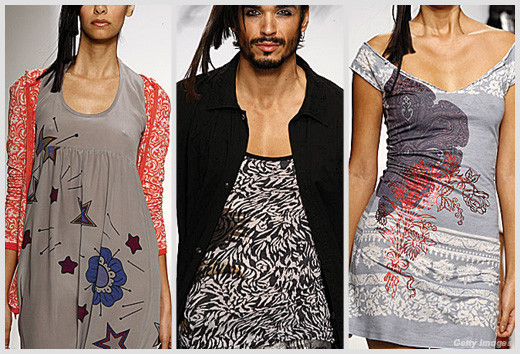 Besides the pretty cool name that this line has, not much else is known about this mystery label. Bird of Prey specializes in hand-made applique t-shirts and silkscreens, and that was clearly apparent in their Spring/Summer collection. Not knowing how long Bird of Prey has been involved in the fashion scene, their collection would make it seem as if they were pros on the subject. Bird of Prey emphasized the other color that has been holding its own for the upcoming season: silver. And not just matte silver; we are talking metallics. Among the other colors included are black and purple, and a sort of "peachy keen" color. Although the sweat pant trousers were definitely a different look (perhaps not one that I would adhere to), the different textures and patterns used was undeniably pleasing to see. Grunge art also took its place within the collection in the form of silkscreened tees. And maybe it was the interesting choice of accessories, such as the metallic head bands that were reminiscent of the hippie-era, that gave the line that slight element of futurity. But what got my attention was the awesome outerwear pieces, most of which boasted patterned trim with a black shell, or some other solid color with a patterned inside. That's all someone could ask for: a simple yet sophisticated yet fashionable jacket with a bit of a surprise on the inside.
CANDICE HELD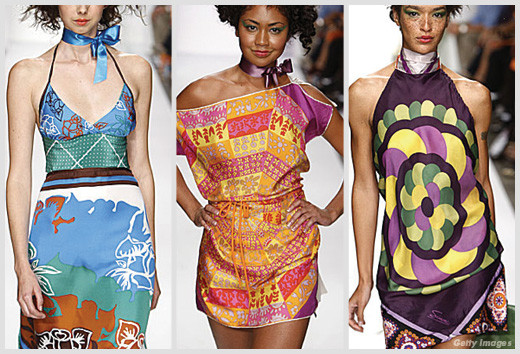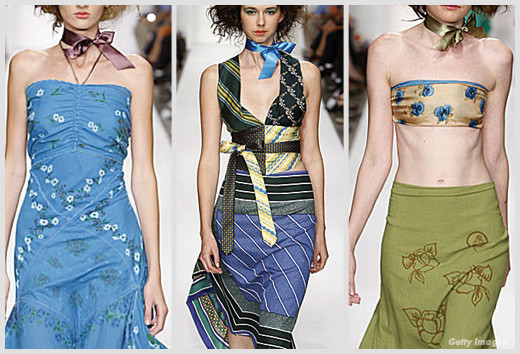 Originally a professional dancer, Candice Held's philosophy is to accentuate and celebrate the female form and spirit. Now that's what I am talking about. Out of all of the collections seen, Candice Held's was probably the most fun. With the idea of "celebrating the female form and spirit" behind her madness, Held grabbed a color palette with both hands and used it to the max. Comprised mostly of citrus colors, the collection was fun and energetic. Orange, yellow, key-lime green, blue, hot pink, and black were used in variations, either as a fabric or in a fun, whimsical print, such as the hot air balloons. Now that is something you don't see every day; well walking down the runway, that is. Probably the most fun of all the prints used was the hot air balloon prints that decorated the many dresses that came out. In this collection, nothing is simple, but nothing is complicated. It's that perfect blend of feeling coherent and confused at the same time. Held used sheen to her advantage and showcased some nice shiny fabrics in her dresses. And the geometric prints, whether horizontal lines, squares within squares, or polka dots, complimented the pieces. Held was also one of the daring designers to test the boundaries and mix and match different patterns to create original looks. It's almost too hard to describe Held's collection into words, so pictures are really worth a thousand words with this collection. Props go to Candice Held for her unique collection; I'm practically speechless.
GREGORY PARKINSON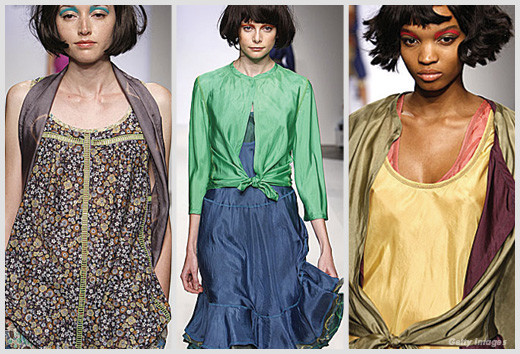 Born in England and transplanted to Los Angeles in 1989, Gregory Parkinson shows that he is not afraid of color. A signature in the designer's repertoire are his hand-dyed, spliced, and layered-together dresses. And true to his style, Spring/Summer 2008 could be considered his take on his signature aesthetic. Purple, blue, and yellow were some of the main colors used, as well as neutrals such as brown and cream. Everything that the eye could see was all about flowing fabrics and layers, layers, and more layers. Parkinson experimented with different prints by layering them together, and experimented with non-traditional floral prints, as seen in a pair of "genie" pants and some dresses. Because of the layering and colors, a Bohemian theme resonated from the collection; perhaps what Bohemian fashion would look like if it were overhauled by a Los Angeles designer. Long flowing skirts and dresses were the main feature among this line, emphasizing the designer's inkling towards more fashionable yet comfortable clothing. Even the few pieces of outerwear almost didn't look like outerwear because of the fabric or style, yet it still retained the essence of outerwear; it could be worn over almost anything. Some of the hand-dyed pieces looked reminiscent of the once popular tie-die looks of the late 80s and early 90s… is Parkinson trying to bring something back to life? If so, he did a good job.