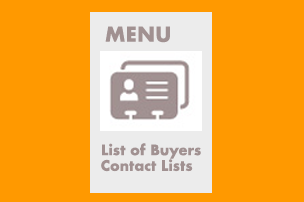 Menu of Retail Buyers Lists
Organized by market, product type and price for an at-a-glance overview. Quickly access buyers specific to your brand's marketing and sales needs. One of the most important aspects of marketing any product is having a targeted sales prospect list. That's what you will find here. You can have on-trend priced-right amazing product and crisp sure-fire messaging, but, if you have the wrong contacts you are sunk.
We are proud to tell you each of our list products is "hand built" to connect with specific fashion buyers, primarily in the USA. WeConnectFashion has been curating fashion contact lists since 1998. It's what we do and why thousands have come to rely on us.
Time Saving Contact Lists, compiled and curated by fashion professionals. After-all, it's all about starting with a solid list of targeted retail buyer prospects.
WOMENSWEAR & ACCESSORIES BUYERS
Apparel
Non-Apparel



MENSWEAR & ACCESSORIES BUYERS
Apparel
Non-Apparel



CHILDRENS MARKET BUYERS
Childrenwear, apparel and accessories buyers



WOMENS & MENS COMBO LIST
Contemporary, women's and menwear contemporary buyers



WOMENS, MENS, & CHILDRENS COMBO LISTS
Apparel
Non-Apparel, All Markets


Our lists of retail buyer contacts are curated for fashion industry Brands. We got our start in Fashion as Young Designers and know the importance of a solid contact list. A gorgeous Collection without sales is not a business.
WHERE WECONNECTFASHION DATA COMES FROM.
WeConnectFashion has been building fashion buyer lists for over 20 years. Along with the way we've established a lot of great relationships with various trade organizations and retail merchants who provide us with data.
WCF collects data from other sources too, including WCF site registration. Our team also researches fashion trade and consumer publications for new store openings and closings. In addition to all of that we scout brand stock lists. We focus our efforts primarily on US based retailers with a smattering of international online stores.
Federal business databases and public records are rarely used. The reality of using generalist databases is they require a lot of our editors' time to classify retailer descriptors, including: markets (ex: women's), tagging product categories (ex: activewear, swimwear, handbags), and price (ex: moderate, better contemporary, designer). For the most part, their lists are not worth the money. This is something you should keep in mind when using non-specialized generalist list providers, so many of the businesses are incorrectly classified. Not so with WCF!
Our fashion editors are based in the USA: east coast, west coast and in-between. We never off-shore our data work. We've tried it. The results were disastrous.

HOW OUR FASHION DATA IS VERIFIED.
The WeConnectFashion Editors verify by conducting a search for each retailer, from PR notices to online media. The store's website, Facebook and/or instagram postings are reviewed to see if the store is still in business. Once verified our editors — all of whom are fashion industry professionals — write (and often rewrite!) descriptions, tag product categories, note the number of locations, and input price points in our database.
A separate search or phone call is made to find the owner and/or buyers' names. We also email retailers asking them what email address line sheets should be sent too and to whose attention. Each and every email address you receive on our lists has been used to request information from the retail contact. In all, it is time consuming. And that's just the beginning!

HERE'S WHERE THE TARGETING MAGIC HAPPENS.
First we start with freshly verified contacts. Each contact is verified every four to six months. It's a painful time-consuming process but so rewarding. We also append and add new contacts daily. From there the fun begins.
A WCF fashion editor who knows the market, conducts a search in our retail buyer database to get to the heart of a specific list. The query is done by list criteria, for instance: Women's Contemporary Apparel buyers. The first search returns are used as a "candidate" list. Then the list is filtered to include a range of "Contemporary" price points ranging from moderate contemporary to better, premium, and advanced contemporary. Further editing is done to create a balanced list of online retailers, brick-and-mortar independent boutiques, specialty shops, and department stores throughout the USA.

WE LOVE BUILDING FASHION LISTS.
WeConnectFashion is focused solely on tracking the fashion industry. We make it our mission to create products that benefit fashion businesses. Our crazy obsession with detail is reward for your marketing and sales goals.
You think I've given away the secret sauce to fashion buyer list building? Ha! If you have an extra 80+ hours to put into compiling a targeted killer list, go for it. If not, WeConnectFashion is here.