Menswear S/S 2017 Top Forecasted Graphics
Fashion Snoops presents the SS 17 top forecasted graphic themes. The graphic expressions for men's divide between a dark and gloomy world of pessimism, to a colorful, psychedelic fun and happy one! We're unsure of which world came first, but a balance of both will make for a great pattern story for the upcoming season!
This information has been compiled into a special report for WeConnectFashion members, courtesy of Fashion Snoops. The full version of the trend report is available now for individual purchase in the WeConnectFashion Trend Shop.
Editors' Top Picks
Dire Prospects
Sitting well alongside Abandoned, this is another dark story as we take a negative viewpoint of the world we have created. There are messages of consumerism, and unfulfilled dreams, which are strengthened with in an achromatic color palette worn with grungy textures.

Living Surrealism
Another graphic expression with a much deeper meaning, Living Surrealism evaluates our over-exposed culture, and how we are losing our identity, our sanity or individuality as we are programmed by television, the celebrity-status and social media. We are stuck inside this false televised world, unable to find ourselves without the use of Google maps and think we are in control of the world and our surroundings. These cleverly edited photo-reals add humor to the serious subject.

Old World
Cuba and Puerto Rico are our main sources of inspiration as we look at the color and life of their capitals- Havana and San Juan. There is of course a retro sensibility coming through, as we think of Havana's current appeal, although the bold colors are seen with an earthy balance. There is an interest in doorways as we imagine the life within and music is a source of inspiration as we look at photoreals and retro-drawn postcards.

Psychedelic Beach
There is a youthful vibe to this trend as we see dip dyes, clashing imagery and simplistic illustrations of beach scenes and our favorite beach toys. Colors clash, imagery is bold, repeated and subsequently trippy as there is a desired heat to the season. Baz Luhrmann's 'Romeo + Juliet' further inspired, with a 90s take on the tropical appeal, as hawaiian shirts became cool again.

Quick Getaway
A perfect getaway car for an inconspicuous spy! There is a racing element coming through, linking to Off-Road Circuit as we see the racing numbers, and take a close up look of the car's details, such as powerful engine, vents and inner dashboard. The Cobra is one of the cars of particular interest, as we imagine this design as both a screen photoreal or repeated more simplistic pattern.

Purchase the Full Report
The full SS 2017 Forecasts for Men's Graphics is a visually comprehensive online report by Fashion Snoops. View Details Here.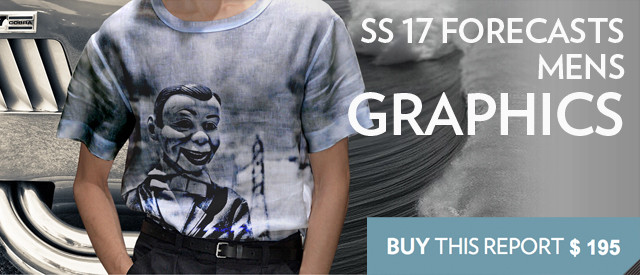 The complete series of forecasts for Spring/Summer 2017 and previous seasons are available now for purchase through the WeConnectFashion digital Trend Shop. Additional comprehensive reports are also available across all markets and incoming seasons.