Menswear Runway Recap Spring 2014
Runway Report Mens Collections & Street Style: Take a look into next season with the S/S 14 men's runway recap. In this exclusive preview, Fashion Snoops presents coverage and analysis of the top emerging trends and most influential collections from the London, Milan and Paris runways. Also included is a sneak peak into the array of fashion-forward men's street style spotted at Paris fashion week.
Fashion Week Highlights
London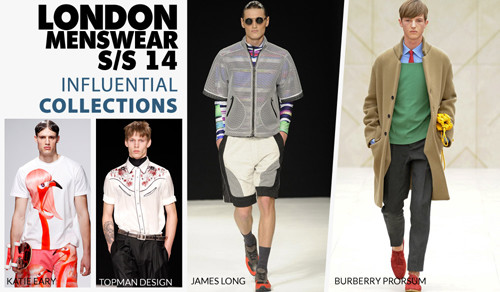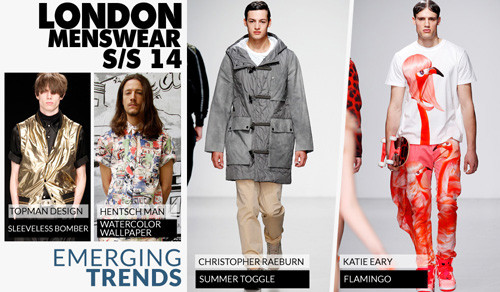 Flamingo prints from Katie Eary, Topman Design's sleeveless bomber, and plenty of kitschy allover shirt motifs were just a few of the emerging trends spotted at the Spring / Summer 2014 edition of London Collections: Men, which took place June 16th - 18th. James Long and Burberry Prorsum were among the top designers presenting the most influential collections on the London runways.
Milan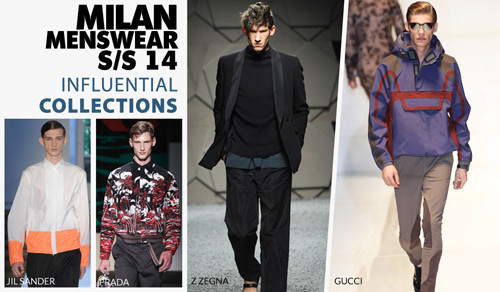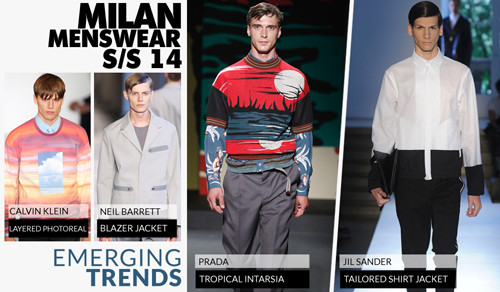 Milan men's fashion week took place on June 22nd - 26th for Spring/Summer 2014. Gucci and Prada were among top designers presenting the most influential collections of this season. The blazer-jacket from Neil Barrett and the tailored shirt-jacket from Jil Sander were some of the key emerging trends on the Italian capital's runways.
Paris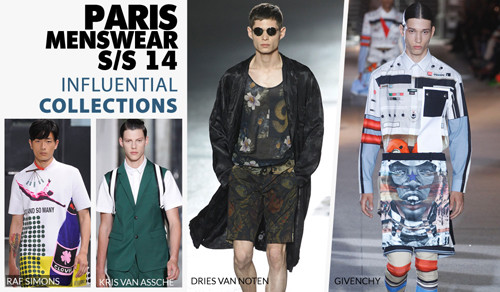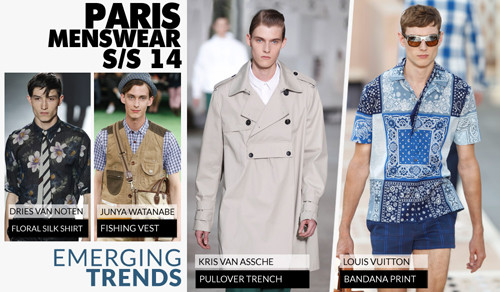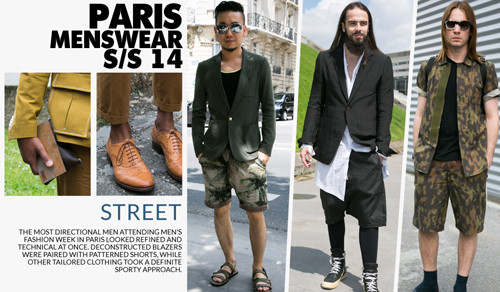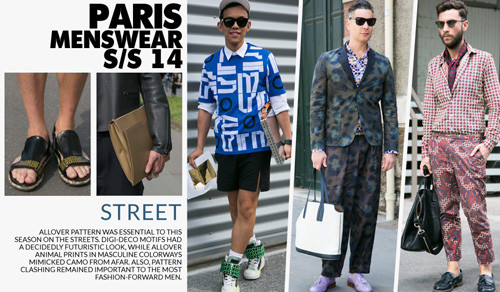 During Paris men's fashion week on June 26th - 30th, emerging trends included the bandana print from Louis Vuitton and the pullover trench from Kris Van Assche. Givenchy and Raf Simons were among top designers presenting the most influential collections on this season's Spring/Summer 2014 runway. On the Paris streets, refined, technical and sporty looks were all spotted, while all-over animal prints and pattern clashing trends remained ever-present among the most fashion-forward men.
Purchase the Full Report
The S/S 14 Men's runway reports include in-depth coverage and analysis by Fashion Snoops of emerging trends from Paris, London and Milan men's Fashion Week. Each city includes coverage and analysis of design themes, colors, materials, prints and patterns, key items, design details and trims. High-resolution, full-body, and close-up image downloads of all top designers' Spring/Summer collections are available, along with a runway recap including Runway Buzz (of-the-moment trend alerts fresh off the catwalks), emerging trends, accessory trends & directional street style. Additional features include a dynamic zoom function into all images, and the ability to save, print and email individual images directly online.