Menswear Must-Have Apparel Forecast, FW 2014-2015
Get an exclusive look at the must have trends for F/W 14/15 as forecasted by the editors at Fashion Snoops. Confirmed by the runways, this Menswear report guides you through all the most essential and influential trends to know. Key items are seen with activewear influences for an interesting contrast of sporty and dressy for must have Parkas, Bomber Jackets, Crewneck Sweaters, to Techno Blazers.
The Key Items of the Season
1. PARKA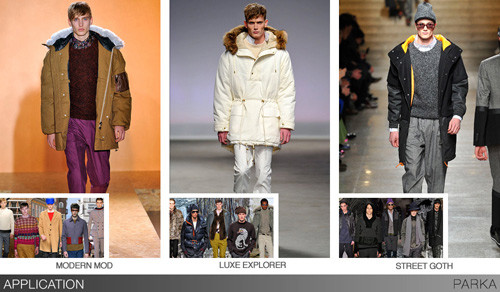 With an abundance of active influences, designers have kept parkas a key part of their assortments, and they will play an important role going forward. Available as year round outerwear, the parka stays strong through versatile fabrics, novel surface treatments, and plenty of convertible design details. In addition to technical materials, styles rendered in suiting fabrics make it a new option over tailored clothing - an interesting contrast of sporty and dressy. Fingertip-length silhouettes look new and coincide with evolved proportions overall.
2. BOMBER JACKET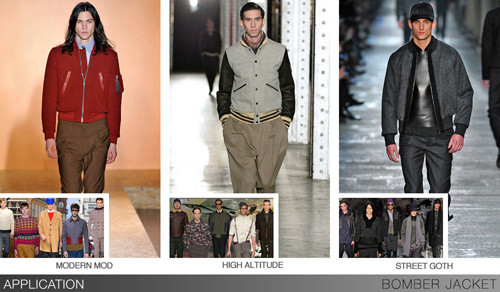 Bomber jackets get plenty of fashion updates for F/W 14/15, becoming the go-to outerwear option for all markets. Pieced construction, color blocking, fur trim, allover pattern, and super-industrial trim all help make it more than a basic. Leather, other lustrous materials, and flat-quilted surfaces keep it city-ready, while a renewed focus on updated tradition means plenty of tweed and other suiting fabrics come out to play. Silhouettes range from super-cropped for a Mod influence to oversized and relaxed.
3. ACTIVE PANT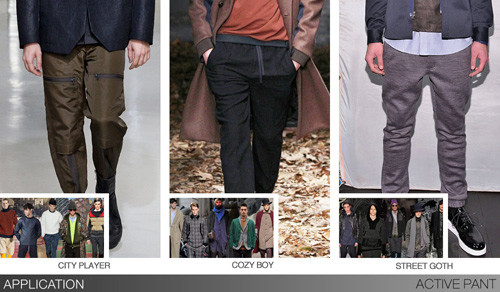 Active pants are no longer just for the gym, and for F/W 14/15 they are one of the most important items to help bridge the gap between sporty basics and refined sportswear. More designers are using jersey or tweed-like fabrics for a tailored silhouette, borrowing design details from classic pants like a button fly, back pockets, and extended tab waists. Elastic cuffs are also a key detail to help maintain a slim and clean-cut look. Other active-influenced designs include quilted nylon and details like snap cuffs and contrasting taping.
4. CREWNECK SWEATER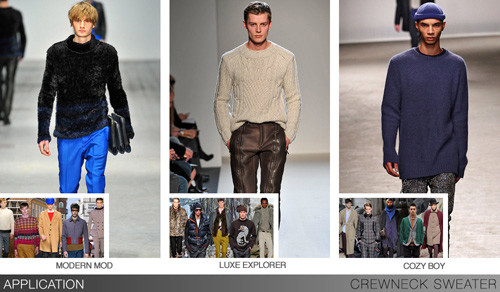 The crewneck sweater has quickly re-emerged as an essential silhouette for menswear after several years of modified basics like the V-neck. As a result of many designers focusing on neo minimalism as a theme, the crewnecks seen for F/W 14/15 are mostly dense 2x2 ribs, but chunkier knits are also relevant for added dimension. Novelty comes from sweatshirt-inspired details like faux V-insets at the collar and contrast striping on the cuffs and waist, as well as pieced construction, tactile-heavy fabrics like mohair, and stretched neck silhouettes for added layering interest.
5. TECHNO BLAZER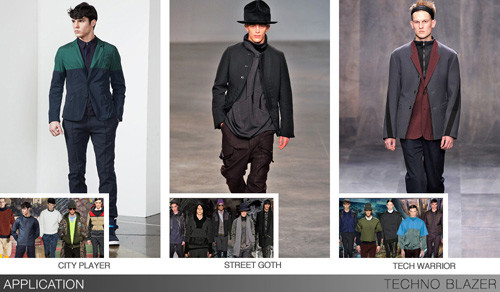 With so many active influences carrying over to tailored clothing, an increased use of knit and techno designs will be essential for F/W 14/15. Unconstructed bodies, flat-quilted surfaces, and details like contrasting taping, zip-front closures, and patch pockets come together for a decidedly sporty approach. As an alternative to the slick and hi-tech look, a cozy, knit sweater-blazer becomes the new cardigan - a three-season item that easily doubles as outerwear.
Purchase the Full Report
The F/W 2014-15 Men's Seasonal Must Haves provide a comprehensive review and analysis of the top trends for the Fall/Winter 2014/15 season. Each key trend includes an index summarizing all the top callouts, an overview and analysis, downloadable sketches, trend application, design details and a gallery with additional photos confirming the trend from the most recent runways. High-resolution, full-body, and close-up image downloads of all top trends are available. Additional features include a dynamic zoom function into all images, and the ability to save, print and email individual images directly online.