Menswear Essential Color SS 17 Directions
This week Trendstop reveals these key color directions to WeConnectFashion readers. Focusing on three of the most essential shades from our Menswear Spring Summer 2017 forecast and selected from the Earthy Spices Palette. Burnt Rouge, Springtime Chartreuse and Toasted Toffee offer an organic take on both retro and military aesthetics… The Trendstop team Identifies the trends manifesting in ready-to-wear to ensure that collections have the optimum expert analysis to inform color decision making. Take note!
Earthy Spice Palette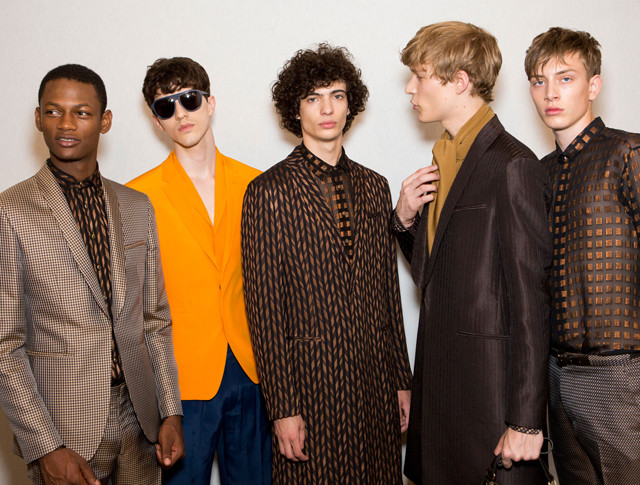 Classic, rusted shades compliment dense dry handled wovens and supple leathers and imbue sportive performance fabrications with a raw, masculine appeal.
Image courtesy of Trendstop: Etro S/S 2016 collection.
Burnt Rouge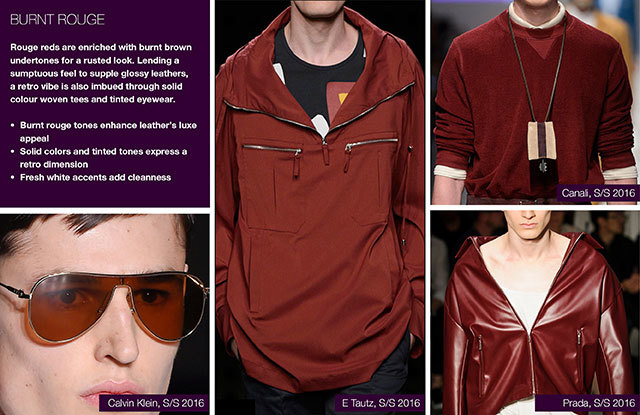 Rouge reds are enriched with burnt brown undertones for a rusted look. Lending a sumptuous feel to supple glossy leathers, a retro vibe is also imbued through solid colour woven tees and tinted eyewear.
Burnt rouge tones enhance leather's luxe appeal
Solid colors and tinted tones express a retro dimension
Fresh white accents add cleanness

Springtime Chartreuse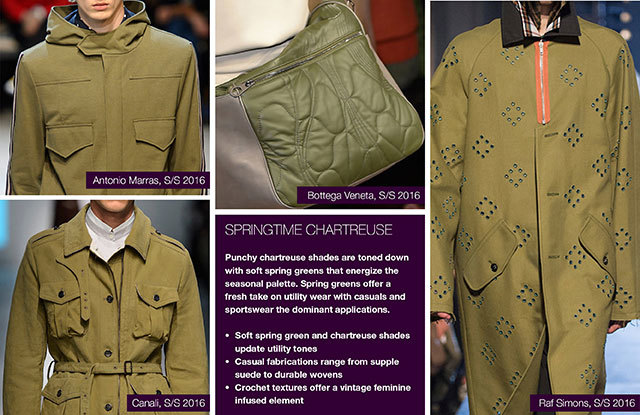 Evocative of a Provençale day but built on Japanese-inspired silhouettes, this story is about quiet comfort, natural materials and ultimate wearability.
Marled fabrics speak of willingly unrefined, soft textures
Cropped cuts and wide shapes add Asian elements
Straw and natural fibres accessories for a light-hearted summer feel

Toasted Toffee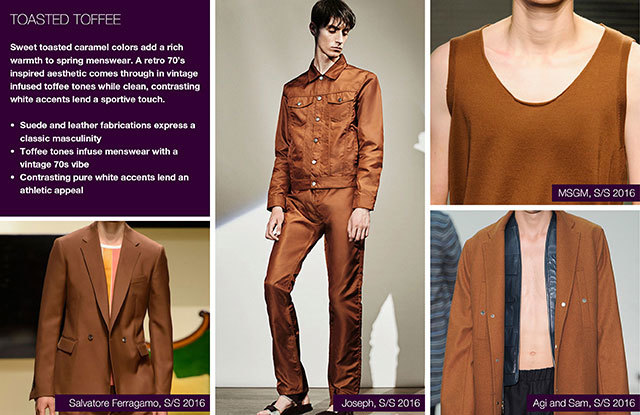 There's no compromising on the primary tones of maritime inspiration – the beauty is that the navy, red and white blocks lend themselves to ultra contemporary graphic reinterpretations.
Stripes, knots and rubber translate basic boating elements into edgy detailing
Colour blocking and bold juxtapositions
Rubber coatings and rope details translate maritime into contemporary.
All images courtesy of Trendstop.

Exclusive Offer
WCF readers can get 10% off Trendstop's complete Menswear Spring 2017 Essential Color Forecast, containing an expertly curated mix of fashion-forward tones, core shades and accents to help you plan your Spring 2017 colors with confidence. Put yourself ahead of the catwalk crowd with our insights into the must-have shades. Simply enter promo code SS17WCF to receive your exclusive discount.


Trendstop.com, is the world's leading trend forecasting agency for fashion forward trend information that is validated through early consumers to give you confidence in your trend decision making. Clients include Forever21, PVH, Ralph Lauren, H&M, Hugo Boss and L'Oreal.
Related Reports